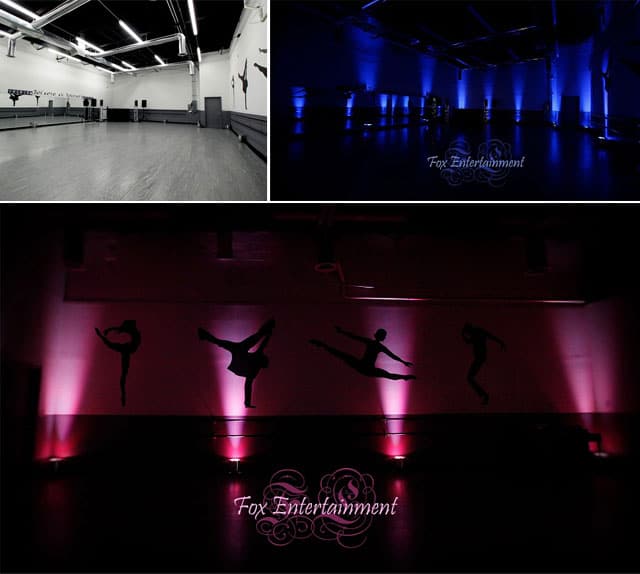 How Can One Make a Large Banquet Room or Wedding Reception Feel Warm and Cozy?
As a professional DJ and Lighting Designer I can tell you that Decorating and Lighting can create that cozy feel you are in search of. If your budget allows for you to hire a Planner it can be a wise investment as long as you find a reputable one. Either way, first and foremost you have to find the color(s) you want to go with. After that, I highly suggest hiring a Decorator and a Lighting Designer. My point of view is based more so on the DJ/Lighting Design side. I can tell you that to create the more cozy feel I would recommend Uplighting. I would use more subtle colors like slightly darker shades of blues, magentas, and maybe even dark reds. Depending on what type of event you are having I always like to provide a single darker color through dinner and as the dancing begins, put the Uplighting on a slow color fade of all the colors. This will note a transition in the event and set a faster mood for the event. When using a professional Uplighting company, they will give you endless colors to choose from. Keep in mind Uplighting typically looks its best when placed around the whole perimeter of the room. Also note that usually a minimum of 15 to 30 fixtures is the most common amount needed for an average Banquet or Reception Hall. Starting prices from a reputable Uplighting company is usually around $40 per fixture, however can be a lot less depending on the number of fixtures needed. Always ask your Lighting Company if they are able to change the colors throughout the night. If not, then they aren't using DMX. It's a lot easier for a Lighting Designer to just display a single color all night. Make sure and ask these questions to assure your satisfaction. There are other lighting effects available but overall Uplighting gives you the best Transformation. Uplighting can create the mood and cozy ambiance that you are looking for!
Photos and Article Courtesy of Fox Entertainment
www.drewfoxdj.com
Free Wedding
Giveaways + Sweepstakes
Enter sweepstakes & giveaways and enter to win a free honeymoon when you join. New winners are announced every week!