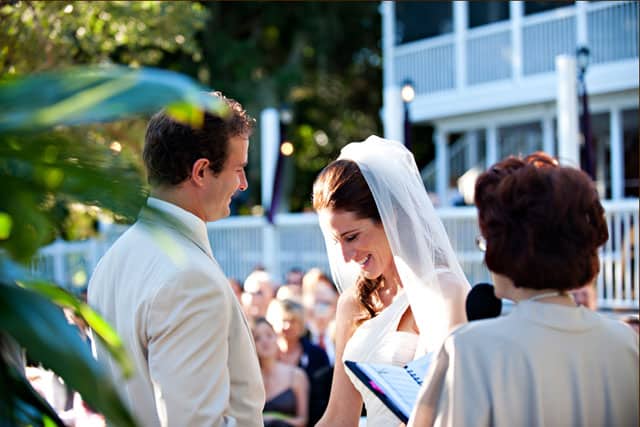 The most personal part of your whole wedding day is your wedding ceremony.  I try to make sure that the words that my couples hear on their day really portray the style of their relationship and what's important to them.  Be sure that you incorporate any sayings, poems, song lyrics or passages that feel special to you.  I see the ceremony as the very beginning of your marriage even for couples who may have lived together previously. I encourage couples to incorporate everything that is important.  That may be a rose on a chair to honor a close relative who has passed on, or involving the parents, both mother and father to walk you down the aisle.  I have had couples who have invited their moms to come up and give them their last single kiss before they say their vows. If there are relatives or friends very close to you and you want them to be more involved in your wedding you can give them a favorite passage to read during the ceremony or ask them to write something special that they will read.
Many couples now have children from previous marriages and would like the children involved in the ceremony.  To do that I have written vows to the children to be read after the couple have made their own vows.  The couple's vows should always come first, though.  I have had couples give their children a medallion and I have written a medallion giving ceremony for them.
In other words, anything you want is possible.  There are no hard and fast rules any more.  So, make sure your officiant can write a ceremony that you will remember all through your marriage as a magical time and it will remind you how lucky you were and still are to be with the one you really love.
Article Submitted By:
Dianne J. Shaver (Rev.)
Custom Wedding Ceremonies
www.customweddingceremoniescharleston.com
Photo Submitted by:
Emindee Images
Free Wedding
Giveaways + Sweepstakes
Enter sweepstakes & giveaways and enter to win a free honeymoon when you join. New winners are announced every week!