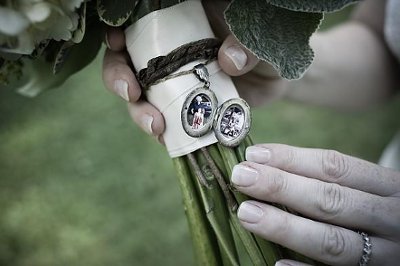 Tips:
Be creative and do what feels right to you.  There is no one right way to honor deceased relatives.
Accompany what you do with a few brief lines written in the program or stated aloud that explain why you are doing it.  For example, "We are each carrying photos of our grandmother and father with us throughout the ceremony in remembrance of these two special people who could not be here today.  Please join us in holding them in our hearts as we celebrate our marriage today."
If you're not sure about what to do, discuss the possibilities with family members who were close to the deceased relatives.  They may also be able to give you additional ideas particular to the person.
Ideas:
Get married on the birthday, wedding anniversary or other milestone date of your loved one
Photographs of grandmother and/or father and/or a memorial table including relative's favorite flowers, photographs, and a brief word or two about them
Mention them in the ceremony
Have a poem, quote, or a few lines to honor them in the program
Decorate a seat at the ceremony to signify their presence; put a photograph of the relatives on each of the seats, if desired
Light memorial candles for them during the ceremony
Bride and groom and/or the person conducting the ceremony (especially if this person knew the grandmother and/or father) say a few words or recite a poem or a piece of prose in honor of the deceased relatives
Attach a small, locket-type picture of the parent/grandparent to the bride's bouquet and/or the groom can carry small folding frames of the same photos
Use the deceased parent's favorite song during the parent bride/groom dance
Carry the same flowers that the grandmother had in her wedding or wear cufflinks that were the father's
Pass out flowers to guests as they are walking in and during a moment in the ceremony, have each person come up and place the flowers in a vase, arch, etc. while mentioning special words regarding the deceased one
Pass around an article of clothing (i.e., scarf), photo, or other memento during the ceremony to each of the guests
Carrying the father's wedding ring in the bouquet or wearing it on a different hand (for the groom)
If a couple wishes to honor the bride's father, the bride can have a brother or other relative, even a mother, walk her down the aisle in honor of her father, or she can walk down the aisle herself with a note in the program stating that she is being walked by her father in heaven
Serve as part of the meal a dish that was particularly loved by the relative or that the relative ate at his or her own wedding
Ask guests for donations to a charity important to the deceased relative in lieu of wedding gifts
Incorporate father's/grandmother's favorite hobbies, interests, or likes into the wedding.  Examples include a groom's cake in the shape of a golf course for a father who loved to golf, spring green bridesmaid's dresses for a grandmother who loved the color green or a square dance for a grandmother who loved to square dance, a bride wearing ballet-like shoes for a grandmother who was a dancer or wearing shin guards under her dress for a father who loved to play hockey, or a groom wearing one of his father's favorite ties that matches with the wedding color scheme.
Article Submitted By:
Christine Ringuette,
Professional Bridal Consultant ™
Owner, Down The Aisle, LLC
Member, Association of Bridal Consultants
www.downtheaislect.com
Register with WeddingVibe.com for tons of Wedding Contests and free wedding stuff.
Free Wedding
Giveaways + Sweepstakes
Enter sweepstakes & giveaways and enter to win a free honeymoon when you join. New winners are announced every week!