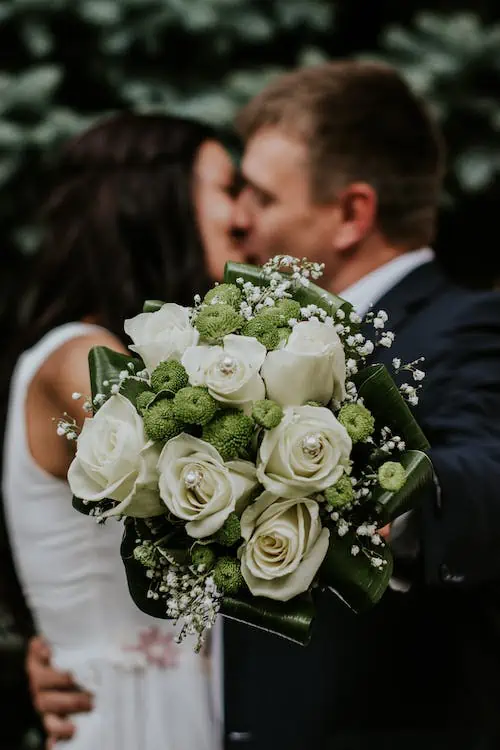 It's time to walk down the aisle; your heart is pounding, and every eye in the room is on you. What's that you're clutching to complement your marvelous dress? A hand-picked symbol of beauty and elegance—a wedding bouquet! In this post, we'll ignite your imagination with a world of stunning floral possibilities, sharing expert advice on choosing the perfect bouquet for your big day. Remember, in a sea of wonderful moments, your bouquet is not just an accessory; it's a statement. Let's dive right in!
Budgeting for Your Wedding Bouquet
Your wedding bouquet is not just a beautiful floral arrangement; it's a symbol of your style and personality on your special day. However, when it comes to budgeting for your wedding bouquet, it's important to strike a balance between your dream bouquet and financial practicality. By planning and considering a few key factors, you can create a budget that works for you while still achieving the perfect floral arrangement.
Start by determining your overall wedding budget. This will help you allocate an appropriate amount for your bouquet without overspending on any one aspect of your wedding. As a general guideline, experts recommend setting aside about 8% to 10% of your total wedding budget for flowers, including your bouquet.
Next, consider the size and complexity of the bouquet you envision. Larger, more intricate bouquets often require more expensive flowers and additional labor to create. Keep in mind that seasonal availability and flower type can also impact the cost. Consider opting for flowers that are in season or selecting alternative blooms that offer a similar look but at a lower price point.
Affordable Flower Options and Alternatives
When it comes to choosing the perfect floral arrangement for your wedding bouquet, budget considerations are often at the forefront of your mind. Fortunately, there are affordable flower options and alternatives that can help you achieve a stunning look without breaking the bank.
Traditional and elegant flowers like calla lilies, peonies, phalaenopsis orchids, gardenias, and hydrangeas are undeniably beautiful but can be quite expensive. If you're looking to save some money, consider opting for more affordable flower choices such as lilies, daisies, and carnations. These blooms may be less costly, but they can still create a charming and romantic bouquet when combined thoughtfully. Remember that the beauty of a bouquet lies not only in the specific flowers but also in how they are arranged together.
Picture this: a bouquet composed of delicate white daisies intertwined with soft pink carnations. This whimsical combination exudes a laid-back bohemian vibe while remaining pocket-friendly. Pair it with some eucalyptus leaves for added texture and greenery, and you have an affordable yet captivating bouquet that will make heads turn on your special day.
| | |
| --- | --- |
| Affordable Flower Options | Alternative Options |
| Lilies | Silk Flowers |
| Daisies | Artificial Flowers |
| Carnations | Faux Flowers |
Instead of solely relying on fresh flowers, another option to consider is incorporating alternative options into your bouquet. Silk flowers have come a long way in terms of appearance and texture. They can be designed to mimic real blooms so closely that it becomes challenging to differentiate them from their natural counterparts.
Silk flowers offer several advantages; they tend to be more durable and can withstand different weather conditions without wilting or losing their vibrancy. Plus, they can be kept as a cherished keepsake long after the wedding day is over. Similarly, artificial flowers and faux flowers offer affordability with the added benefit of lasting forever.
It's like having your cake and eating it too – enjoying the beauty of flowers without the worry of wilting petals or budget constraints.
Finalizing Your Flower Vision
The process of finalizing your flower vision involves making decisions about the specific types of flowers, colors, and arrangements that best suit your wedding theme and personal style. But where do you begin?
First, consider gathering inspiration from various sources, such as bridal magazines, online platforms like Pinterest, or even nature itself. Pay attention to the colors, textures, and overall aesthetics that catch your eye.
Next, schedule a consultation with a professional florist who can help bring your vision to life. During this meeting, be prepared to discuss details such as your preferred color palette, flower choices, and any specific arrangements or designs you have in mind.
Your florist will provide valuable insights into what flowers are in season during your wedding date and suggest suitable alternatives if necessary. They are experts in understanding how different flowers work harmoniously together and can guide you toward achieving the desired look within your budget.
Imagine discussing your vibrant summer wedding theme with a florist who suggests using a mix of sunflowers, zinnias, and dahlias to capture the essence of the season perfectly. With their expertise and knowledge, they might even recommend incorporating additional elements like foliage or berries to add depth and visual interest to your bouquet.
Remember, finalizing your flower vision is a collaborative process between you and your florist. Be open to their suggestions while staying true to your personal style and wedding theme. With careful planning and effective communication, you can create a bouquet that surpasses your expectations.
Hiring a Wedding Florist
Hiring a skilled wedding florist is an essential step in bringing your floral vision to life. They possess the artistic talent and technical expertise to create stunning arrangements that align with your style and preferences. Imagine walking down the aisle, holding a bouquet that perfectly complements your dress and reflects your personality. A wedding florist can help turn this into reality.
When searching for a wedding florist, start by asking for recommendations from friends, family, or your wedding planner. Their personal experiences can provide valuable insights into the quality of service and craftsmanship offered by different florists.
Research online reviews and browse through their portfolios to get a sense of their style and the types of weddings they have worked on before. Pay attention to the diversity of their work and whether they have experience creating arrangements similar to what you envision for your wedding.
Once you have narrowed down your options, schedule consultations with two or three florists whose work resonates with you. Prepare yourself by bringing along any inspiration boards, fabric swatches, or images that capture your desired aesthetic.
During these consultations, pay attention not only to their creativity but also to how well they listen and understand your vision. Ask about their availability on your wedding date and inquire about any potential conflicts or other commitments they may have.
Lastly, discuss budget parameters openly with each florist. Having clarity on budget expectations will allow them to propose arrangements that align with both your vision and financial constraints.
Timelines and Specializations
When it comes to choosing the perfect floral arrangement for your wedding bouquet, it's essential to consider timelines and specializations. Planning is crucial, as it allows you to secure the services of a skilled florist and ensure that the flowers you desire are available during your wedding season.
Start by creating a wedding floral checklist and timeline to keep track of important dates and tasks. This will help you stay organized and make sure you don't miss any crucial steps along the way. Research different florists in your area and consider their availability for your desired wedding date. It's important to note that some florists may have a limited number of weddings they can service in a day, so be sure to communicate your preferences early on.
When meeting with potential florists, ask about their specialization and years of experience in the industry. Every florist has a unique style and expertise, so finding someone who aligns with your vision is paramount. Look through their portfolio to get a sense of their design aesthetic and see if it resonates with your own.
For instance, if you're leaning towards a romantic and ethereal theme for your wedding, seek out florists who excel at creating soft, flowing bouquets with delicate blooms such as peonies or garden roses. On the other hand, if you prefer a modern and minimalist look, find a florist who specializes in sleek, structured arrangements featuring clean lines and bold elements like succulents or tropical flowers.
Still not sure what Wedding Bouquet you want? WeddingVibe can help.
WeddingVibe can help you plan the wedding of your dreams for you and your partner. We have a list of wedding planners who can help you make plans for your big day. You can also look through our wedding ideas to find the right wedding flower. We provide destination weddings, honeymoon planning, and giveaways. Join us today for a chance to win a Sandals honeymoon and other wedding deals. You can find all the information you need on our website!
Free Wedding
Giveaways + Sweepstakes
Enter sweepstakes & giveaways and enter to win a free honeymoon when you join. New winners are announced every week!