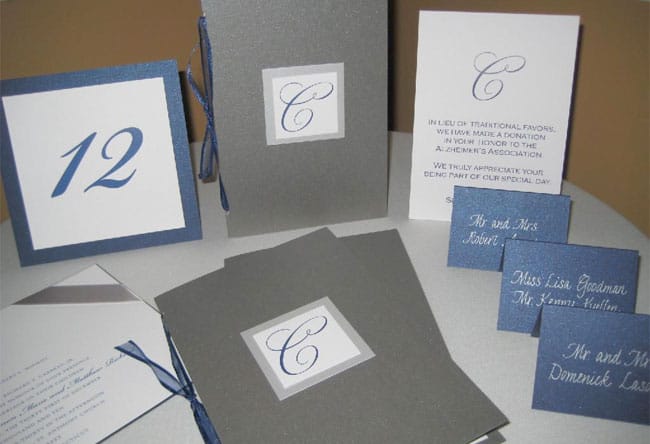 You are getting married.  Where do you begin?  Set a date, pick a venue, find "the" dress, order flowers, hire entertainment, but how do you let your guests know about the wedding?  How do you match up all of the beautiful details you have decided upon and give your guests a preview of what's to come?  You set the tone with the first thing they will see:  your invitation.
It is recommended that you order your invitations approximately 4 to 5 months prior to the event.  Using your guest list, determine the number of invitations needed and add approximately 15 to 20% to the order.  For example, if you are inviting 100 guests, order 120 envelopes.  This allows for name or address changes, errors, or last minute additions.
Your invitation provides your guests with all of the essential information they need to know about your wedding.  Add hotel and accommodation information, brunch or other get together information, your wedding website address, maps and direction cards.  And please, be sure to include your return address on the envelope.
Now, you've ordered your invitations, scrubbed your guest list and have all the addresses you need.  How do you address these envelopes?  You can choose to hire a calligrapher and add the most unique and personal touch to your invitations.
The best choice of paper for handwritten calligraphy is a fine, smooth surface paper.  Calligraphers have distinct handwriting styles.  Find a calligrapher's style that will coordinate with your invitation.  Use colored ink to match your stationery and stand out!
Consider mailing your invitations 6 to 8 weeks in advance of the event.  Because calligraphy is done by hand, get your invitations to the calligrapher at least one month before the mailing date.  This allows time for an initial consultative meeting, work to be completed, envelope assembly, and review prior to sending.
The majority of Calligraphers charge by the item (e.g., $ amount per envelope).   They also offer additional services where you would need a beautiful handwritten touch such as table cards, placecards, seating charts and monograms.
There are many time-honored traditions for addressing invitations and the following suggestions are based on those traditions.  It is traditional to use the complete, formal name and address of your invited guests.  For example:
Mr. and Mrs. Robert Smith
Versus
Mr. and Mrs. Bob Smith
It is also traditional to spell out all address information such as Avenue, Road and Street as well as the State name.  If you are providing response cards, it is customary to place a postage stamp on the reply envelope to make it easy for your guests to respond.
All invitees should appear on the outer envelope or inner envelope (if applicable).  If you are including a guest, and do not have the name of the "guest", it is correct to address as: Ms. Carol Clancy and Guest.  There are specific rules of etiquette that is conventional and a calligrapher will help navigate through these rules.
The invitation and enclosure cards are placed in the envelope (or inside the inner envelope, if applicable) in order of size and importance.  The largest enclosure cards are placed closest to the invitation.  For example, from bottom to top: invitation, direction cards, response envelope with response card (tucked under response envelope flap), and reception card.  When using two envelopes, the inner envelope is unsealed and inserted into the outer envelope so the guest's name is the first thing seen as the outer envelope is opened.
Typically, invitations are mailed out 6 – 8 weeks prior to the event; taking into consideration out of town guests who need to plan travel arrangements.  It is highly recommended you take your full invitation, with all enclousures, to be weighed by the post office.
Here's a helpful hint: use a pencil to lightly mark a number on the back lower corner of each response card. Keep a numbered list with corresponding names. If you can't read someone's handwriting, you can use your code to uncover the mystery!
A professional calligrapher will be able to help you with all of these details (and more) because your first impression is most important!
Article Submitted By:
Michelle Dowling of
Michelle Dowling Calligraphy, Glastonbury CT
Free Wedding
Giveaways + Sweepstakes
Enter sweepstakes & giveaways and enter to win a free honeymoon when you join. New winners are announced every week!