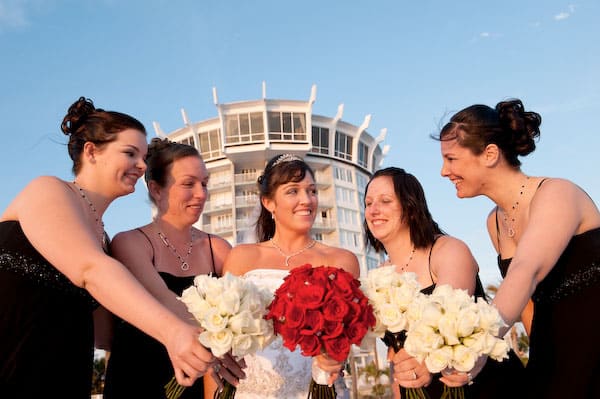 Wedding Photography is more about communication, leadership, and work ethic than simply posing people and having a digital camera. As a bride in today's market, in order to save yourself disappointment, you'll want to distinguish between the novice who is experimenting in a hobby, and the true professional who has years of experience. Due to the improvement and declining prices of technology, there has been an increase of substandard photographers entering the wedding market. These people will often use the auto functions of a camera, which are fine for consumer use, but in creating high quality sharp images it takes a highly skilled, experienced photographer who knows how to manually adjust the settings of the camera for different situations to get optimum results.
A High End Photographer also has to have the unique ability to move people around, deal with interruptions, and do so in a friendly, yet timely manner. It takes communication skills, to direct and guide them, with a servant attitude. The more time wasted during the Formals, the fewer shots you will get, and the more time your guests will be waiting at the reception. In order to do this, he or she has to be in good physical shape to be able to move equipment quick enough so as to not miss out on anything. He has to have a good 'work ethic". You will hear the word "photojournalism" used a lot. A true "photojournalistic photographer" has the ability to anticipate action so as to be in the right place at the right time. Most inexperienced photographers do not understand what photojournalism is, they think it's just taking candid shots, but there is a lot more to it than that. An Artistic Photographer has to see beyond the surface, to make something ordinary, extraordinary.
Article Submitted By:
Randy Markham
www.CelebrationsofTampaBay.com
Free Wedding
Giveaways + Sweepstakes
Enter sweepstakes & giveaways and enter to win a free honeymoon when you join. New winners are announced every week!