Wedding Dress- The Most Beautiful Thing You Will Ever Wear
From the time you were a little girl wrapping the bed covers over your head, you've already pictured what your dream wedding is going to be like. This magical event has been in the planning process for about two decades or so. Finally when the day arrives, all of this planning doesn't seem to go so smoothly. There's so much more to planning out the wedding you've always dreamed of, than what you had in mind. From save the date invites, to picking out the best catering service, booking the most exquisite location, figuring out your bridesmaids dresses, decorating the venue. Phew! Well, we could take some weight off your shoulders by guiding you with your ever-so-important dress.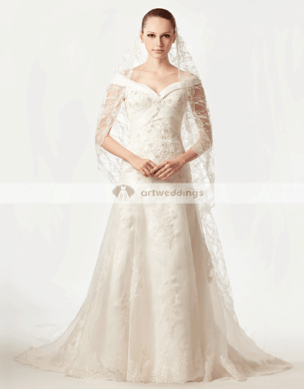 Setting the budget.
First things first, set aside budget for all your expenditures. If you were splurging on your dress then you'd want to cut down your budget for other wedding necessities. Your dress is the sole focus point but it is the other accessories that compliment your dress, which needs equal importance as well. From your veil, to your gloves, to your 'Cinderella glass' shoes, every little detail constitutes an important aspect to your wedding dress. So before you step out for your shopping quest, note down a dress budget and a list of all the other top priority-wedding details and begin your shopping quest in a more organized manner.
Stay updated with the latest fashion.
Stay updated with all the latest sales by visiting different bridal boutiques, dress rentals and check out online stores too. Even if you have don't have a particular style in mind, trying on different dress styles and cuts can give you more of an idea about fits and material. There are plenty of different shaped dresses to explore, whether you look better in an ever so charming flared fit, dangerous body con or a daring mermaid fit. Start the hunt early so that you can buy yourself more time and try out more styles. If the vision of your ideal bridal dress cannot be found, approach a designer or tailor to get more ideas and quotes.
Ordering or tailoring.
Ordering from bridal boutiques and tailoring your wedding dress can eat up a lot of your time. Fittings and trials can be a bit of a headache too, but you don't want to compromise on the smallest of details for your big day or also you can visit artweddings exclusive dresses. The final result of your perfectly tailored dress brings you closer to achieving your fairy tale wedding.
Ask friends and family if in doubt.
To accompany you on this daunting quest, although it would better to take friends or family along with you to help clear your doubts, try not to increase your entourage numbers. Too many cooks spoil the broth. Just like that too many opinions will only confuse you. So only take a few along, only those whose opinions really matter to you.
Don't let anything affect your wedding fever
Sometimes not all goes according to plan. Even if you've organized everything from start to finish with booking a quiet slot at the bridal boutique to carrying your wedding pumps and corset, in the process of preparing for a wedding, you're likely to hit some small bumps. But don't let that affect your wedding fever.
When you're walking down the aisle on your big day and all heads turn to catch a glimpse of the beautiful bride to be, all of this pain in vain will be completely worth it.
Free Wedding
Giveaways + Sweepstakes
Enter sweepstakes & giveaways and enter to win a free honeymoon when you join. New winners are announced every week!