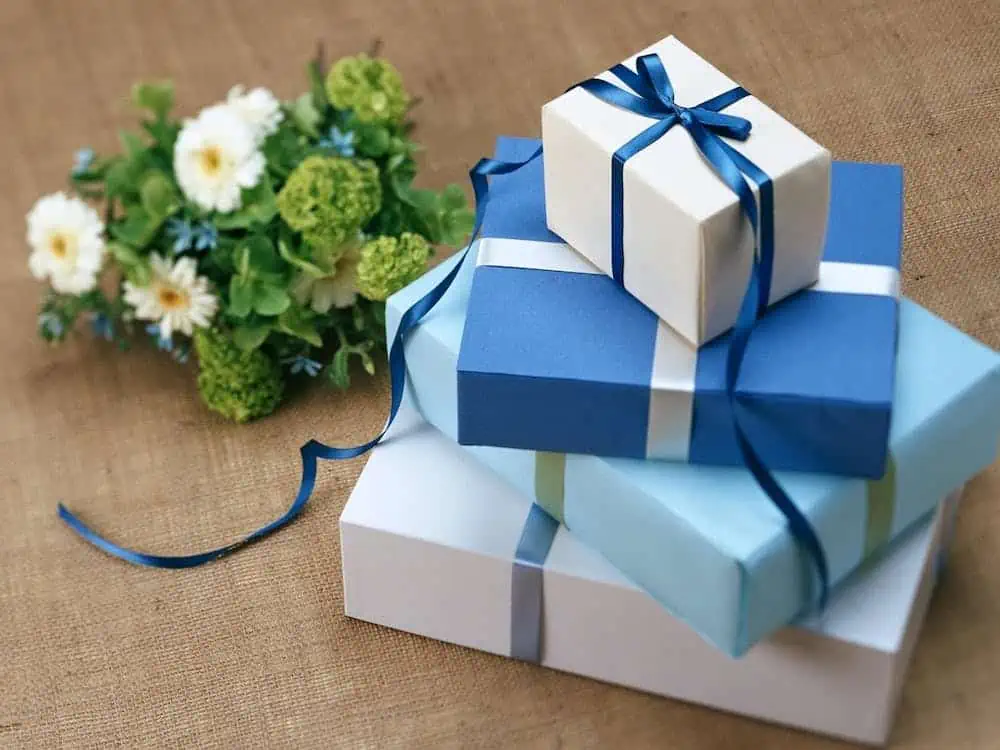 Stepping into your forever bond with not just rings but an array of carefully selected gifts is a tradition that adds a pinch of excitement to wedding planning. However, managing a wedding registry might seem like a maze if not navigated wisely. So, whether you're the couple-to-be or a guest, let's unlock the finesse of wedding gift-giving and receiving essentials.
Get ready to dive into our handy guide filled with essential wedding registry tips, unraveling all the do's and don'ts for couples and guests alike. Say goodbye to any awkwardness or confusion, and say hello to mastering this matrimonial tradition like a pro! Step in and let's demystify this journey together.
Essential Registry Considerations for Couples
When it comes to creating your wedding registry, there are a few essential considerations that couples should keep in mind. These considerations will help ensure that your registry is practical, well-balanced, and meets both of your needs as you embark on your journey together.
First and foremost, it's important to think about the future when selecting items for your registry. As you start this new chapter of your life, consider the items that will help you grow as a couple. Think beyond just your immediate needs and envision what you may need in the years to come. Maybe it's upgrading your kitchen appliances or investing in high-quality bedding. By incorporating long-term thinking into your registry, you'll be setting yourself up for success and minimizing the chances of having to replace items later on.
Another crucial consideration is creating a registry that caters to varying budgets. Your wedding guests come from different financial backgrounds, and it's important to provide them with options that fit within their means. While it can be tempting to focus on high-ticket items, remember to include moderately priced products as well. It's also beneficial to have a wide variety of price tiers, so guests can choose something they feel comfortable purchasing. Additionally, consider adding lower-priced products that can be compiled into sets by your friends or loved ones. Everyone can then participate in their own unique way.
In addition to thinking about the future and catering to various budgets, couples should also consider experience-based registries. Instead of only adding physical goods, explore the possibility of including experiences that will create lasting memories for both of you. Websites like Honeyfund offer experience-based registries where guests can contribute towards specific activities or even the honeymoon itself. Whether it's a cooking class, a scuba diving excursion, or a weekend getaway, these experiences can add an extra layer of joy and adventure to your married life together.
Lastly, always avoid registering for personal items like designer shoes or beauty products. Your wedding registry is an opportunity to build a home together and welcome the next chapter of your life. Focus on practical and useful items that will truly enhance your life as a couple. While personal indulgences are certainly tempting, it's best to save those for separate shopping trips.
Creating a Balanced Budget
When it comes to planning your wedding registry, having a balanced budget is crucial. It ensures that you don't overspend on certain items while neglecting others, and it helps you make thoughtful choices that align with your financial situation.
One key aspect of creating a balanced budget is considering your overall needs as a couple. Take stock of what you already have in terms of household items and assess what needs to be replaced or upgraded. For example, if you've been living together for a while and already have basic kitchenware, consider adding higher-quality cookware or specialty appliances that you've been eyeing. By focusing on upgrading or replacing essentials, you can strike a balance between practicality and indulgence.
It's also important to set priorities within your budget. Determine which items are must-haves and allocate more funds to them. This might include larger purchases like furniture or appliances that will be used daily. On the other hand, you can designate less money for smaller or novelty items that may not have the same level of importance but still bring joy.
Remember that building a registry takes time, so pace yourself accordingly. Instead of rushing to add everything at once, focus on one specific area at a time. This approach allows you to carefully consider each item and determine its importance and usefulness in your life as a couple. Letting your registry sit for a day or two before editing can also help ensure that you're making informed decisions and not adding unnecessary or unused items.
By creating a balanced budget for your wedding registry, you'll be able to curate a collection of items that truly enrich your married life without breaking the bank. It also allows you to prioritize the things that matter most to both of you.
Selection of Innovative and Traditional Items
Creating a wedding registry offers couples an exciting opportunity to curate a collection of items that will help them build a home together and welcome the next chapter of their lives. When it comes to selecting items for their registry, couples have the freedom to choose from innovative and traditional options that suit their unique tastes and lifestyles.
Traditionally, registry items have been associated with household essentials such as kitchen appliances, dinnerware, bedding, and bathroom accessories. These classic items serve as the foundation for a couple's new life together, providing practicality, functionality, and longevity. Consider opting for high-quality pots and pans that will last for years or luxurious linens that add a touch of elegance to your home. Classic gifts like these can blend seamlessly into any style or décor.
However, in recent years, the concept of wedding registries has evolved to encompass a broader range of possibilities, with innovative and non-traditional items gaining popularity. Couples today have the option to think outside the box and incorporate items that reflect their personalities and interests.
For example, if you are an adventurous couple who loves outdoor activities, consider adding camping gear, hiking equipment, or even a kayak to your registry. If you are passionate about art or photography, consider registering for unique artwork or camera equipment. The key is to choose items that align with your passions and hobbies as a couple.
Think of your wedding registry as an opportunity to create a customized menu at your favorite restaurant; you want it to represent your unique tastes while offering something for everyone.
Another option is to include experiential or subscription-based gifts in your registry. Instead of physical items, you can ask guests to contribute towards memorable experiences like cooking classes, spa treatments, or even honeymoon excursions. Subscription services such as meal kits or wine clubs can also be added to provide ongoing enjoyment long after the wedding day.
Guide to Fulfilling a Wedding Registry for Guests
When attending a wedding, guests often want to find the perfect gift that not only reflects their relationship with the couple but also provides them with something they truly need or desire. The couple has thoughtfully created their registry, and as a guest, it is important to respect their choices while finding an item that fits within their budget and preferences.
To begin, familiarize yourself with the couple's wedding registry by accessing it through the provided information. Take note of the items they have selected and consider the different price tiers available. A well-rounded registry will include various options, ranging from lower-priced items to higher-end products. This offers flexibility for guests with different budgets.
If you are close to the couple and have the means to do so, consider selecting a more meaningful gift. These could be items in which the couple has shown particular interest or sentimental value. Think about their hobbies, passions, or upcoming plans as a married couple.
For instance, if the couple enjoys cooking together, you could consider gifting them a high-quality chef's knife or a gourmet cooking class. If they plan on starting a garden in their new home, you can contribute gardening tools or even plants for their outdoor space.
For those who prefer a more traditional approach and are unsure of what specific item to choose, practical household items are always reliable options. Think along the lines of kitchen gadgets, home décor pieces like frames or vases, or even small appliances that could enhance their daily lives.
Remember that there is no obligation to select an extravagant gift if it doesn't align with your budget. The couple will appreciate any gesture made with thoughtfulness and love.
Lastly, don't hesitate to reach out to the couple or their close family members if you have any questions or concerns about the registry or gift selection process. They will be happy to provide guidance and answer any inquiries.
Picking a Meaningful and Useful Gift
When it comes to picking a gift for a couple's wedding registry, the goal is to choose something that is both meaningful and useful. It's essential to consider the couple's interests, preferences, and lifestyle when selecting a gift that they will truly appreciate.
One approach to finding a meaningful gift is to think about the couple's hobbies or shared experiences. For example, if they love cooking together, you could consider gifting them high-quality cookware or kitchen gadgets that would enhance their culinary adventures. If they enjoy outdoor activities, items like camping gear or hiking equipment could be excellent choices.
Another way to ensure the gift is meaningful is by considering the couple's plans. If they have expressed their desire to start a garden at their new home, you could opt for gardening tools or plants to contribute to their green thumb aspirations. If they have mentioned their interest in traveling or exploring new places, you might consider gift cards for experiences like cooking classes, wine tastings, or even a weekend getaway.
Let's say you know the couple loves baking and often hosts baking parties with friends. A thoughtful and meaningful gift could be a stand mixer in their favorite color or a set of high-quality baking pans. These gifts not only show that you've considered their interests but also provide them with practical tools they can use for years to come.
It's important to strike a balance between something meaningful and useful in everyday life. While sentimental gifts can be cherished forever, practical items are also appreciated as they serve a purpose in the couple's daily routine. Consider items like bedding sets, kitchen appliances, home decor pieces, or even furniture that align with their style and preferences.
Ultimately, the key is to select a gift that reflects your relationship with the couple while considering their needs and desires. Taking into account their interests, plans, and personal tastes will help ensure that your gift is both meaningful and useful.
Sign up for WeddingVibe now!
WeddingVibe is a trusted companion who will help you plan your wedding and make your dreams come true. Our top goal is to make sure your wedding is one you will never forget. By joining the WeddingVibe group, you get access to a world of amazing wedding deals and giveaways that will make planning your wedding more fun.
We have everything you need to plan a celebration of love that is beyond your wildest dreams, from your dream vacation to a wedding in a place you'll never forget. Now is your chance to make memories that will stay with you forever. Join WeddingVibe today, and together we can make your dream wedding a reality that you will always remember.
Free Wedding
Giveaways + Sweepstakes
Enter sweepstakes & giveaways and enter to win a free honeymoon when you join. New winners are announced every week!