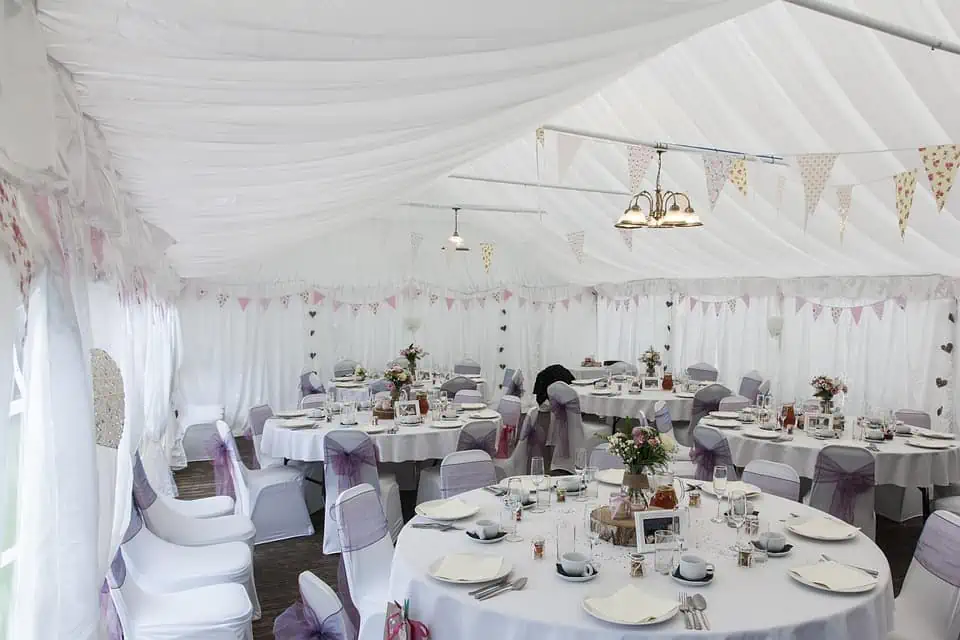 DIY weddings are becoming increasingly popular, and with good reason. They can not only provide a personal touch to your wedding, but they can also help you save money on wedding expenses.
DIYing could mean anything from creating floral centerpieces to designing the decor at the wedding venue yourself.
But there are some things to avoid and others to embrace when it comes to wedding DIY projects.
In this article, we will discuss what you should and should not DIY for your wedding so that you can have the perfect wedding without breaking the bank.
What Can You DIY On Your Wedding Day?
There are various alternatives accessible when determining what to DIY on your wedding day. Some great ideas include the following:
Creating Your Wedding Invitations or Thank-You Cards
Making your stationery is a terrific way to give your guests something special and memorable that will last.
You can easily design stunning invites or thank-you cards that match your style with basic craft store materials such as paper, ink, ribbons, and stamps.
Making Wedding Favors for Your Guest
Favors are an excellent way to express gratitude for your g
uests' attendance at your wedding. You can craft beautiful little gifts that your guests will love with just a few materials like tags, twine, boxes, and fabric.
Picking Your Bridal Party Team
Try to pick close friends who can afford to attend your wedding as bridesmaids, groomsmen, flower girls, and ring bearers. Picking out the perfect bridal party can be a fun experience for everyone involved.
When Should You Hire a Professional?
When it comes to wedding preparation, you may do it all yourself. However, there are certain things that you should leave to a professional wedding planner:
Photography
Capturing the perfect moment on your special day is a challenging feat. A professional photographer will ensure that you have memories to cherish forever. You need a talented photographer for a flower or backyard wedding to capture gorgeous photographs you can look back on.
Catering
You want to ensure quality when it comes to feeding your guests. An experienced caterer can create delicious dishes that everyone will enjoy. Plus, they can provide tables, chairs, and other equipment for your wedding party.
Your Wedding Dress
Investing in a good wedding dress is important regardless of your wedding budget. You want to look stunning and feel confident on your special day. A professional bridal shop can help you find the perfect dress, from classic designs to modern trends.
The Flowers
Fresh flowers and their arrangements can add a touch of sophistication and elegance to any event. Hiring a professional florist guarantees your flowers look beautiful and last throughout the celebration. A skilled florist can craft a unique bridal bouquet design with seasonal blooms or recreate an heirloom favorite with realistic-looking faux flowers.
Your Wedding Cake
While it may be tempting to make your own wedding cake, you should give it some serious thought beforehand. Cakes that look flawless and taste even better are baked, decorated, and transported by experienced bakers.
Decorations
The décor of your wedding should be unique and represent your personality. DIY wedding decorations can be fun to make and save money, but if you're feeling overwhelmed or short on time. Hiring a professional lets you be more creative with your design.
From yardsticks and string lights to mason jars and table runners, a professional decorator can turn the wedding reception into a magical place you and your guests will never forget.
Join WeddingVibe for Exclusive Ideas and Giveaways To Help You Plan Your Honeymoon
Planning a wedding can be as overwhelming as it is exciting. There is so much to consider between looking for the perfect dress and organizing the seating arrangements at the venue.
If the hassle of planning your big day is stressing you out, you may want to check WeddingVibe.
We have a list of wedding suppliers who can provide invaluable assistance throughout the whole planning process, from the perfect venue to your honeymoon.
We can ensure your wedding day is stress-free and everything runs smoothly without worrying about any last-minute surprises.
So don't wait; chat with our honeymoon planner and let us help make your honeymoon a reality.
Free Wedding
Giveaways + Sweepstakes
Enter sweepstakes & giveaways and enter to win a free honeymoon when you join. New winners are announced every week!