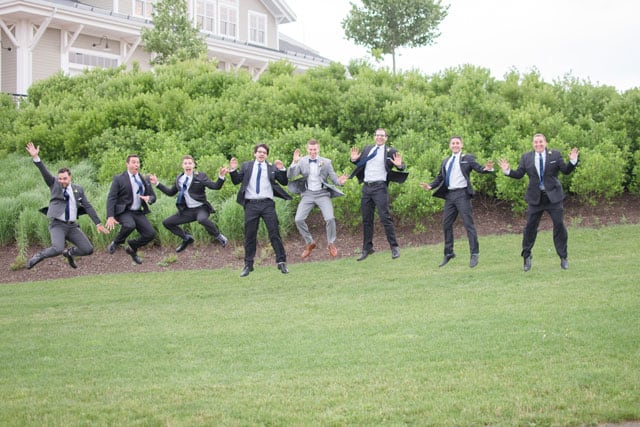 Unexpected Ways To Save  Hundreds On Your Wedding
When it comes to planning your wedding day, the costs can add up quickly.  The larger expenses such as the venue, photographer, and entertainment are actually the easiest to budget for because the vendors offer packages that either do or don't jive with what you're looking to spend.  It's the little extras that really add up and can easily add hundreds to even thousands of dollars to your budget.  But after going through the wedding planning process myself, I came up with a few creative ways to save.
Dual-Purpose Your Décor Flowers
Wedding flowers can be really expensive depending on the quantity and style you're looking for.  The good thing is, there are lots of ways to cut back on these costs.  Firstly, shop around and do your homework.  Quotes can vary by thousands of dollars for the same product so look for lower price point vendors that have stellar reviews and beautiful photos of their work.  Once you know who you want to work with, get creative with how you use your arrangements.  Often times the ceremony and reception are in different locations, but both require flowers.  This means you're paying a good deal of money for ceremony flowers which people will only see for 30-60 minutes, and then you have to leave them behind for the rest of the day!  But it doesn't have to be that way.  If you work with your florist, you can coordinate the re-purposing of some ceremony or bridal party flowers for your reception.  For my wedding, I had large white lanterns with flowers pouring out of them on either side of the arch at our ceremony.  During our cocktail hour, she moved them over to our reception hall and they were used on the gift table, and one of the welcome tables. This saved us hundreds of dollars by not having to purchase 2 more arrangements for those places.  (We also bought the lanterns ourselves which saved even more money and meant we could bring them home as a keepsake!).  Your guests will never notice they're the same ones AND it gives even more time for your photographer to capture a shot of these arrangements for your wedding photo book.
Be thoughtful about tips!
It's fairly expected that you tip your wedding vendors after the event has ended, including everyone from the wait staff at your venue to the entertainment.  What you might not expect, is that the costs can really add up if you're not diligent about tracking them.  Here's 2 things I learned at my wedding about saving on tips.
Lesson 1) Don't Double Tip
If a tip was factored into your contract, you should adjust the tip you give them at the end of the event accordingly. Our entertainment company built a hefty tip into their contract and they were not willing to adjust it during our negotiations.  When it came to the end of our reception, we gave our DJ a generous personal tip because he was honestly incredible, however it was certainly a little less than it would have been if he hadn't gotten a cut already as part of their contract.  Had we not known this, we very easily could have doubled what we gave him without even knowing!
Lesson 2) Watch out for too many tipping cooks in the kitchen!
At our wedding, we had one waiter named Elvin who was truly amazing throughout the entire day.  Every time I lost a drink during a photo, or we were getting a little too warm from dancing, Elvin was right there with a fresh drink or a water and a "can I help you with anything?".  He was so good that my Dad, the best man, and a few other members of the bridal party all gave him individual tips not knowing the others were doing the same thing! Some gave him $20, some $100, and by the end of the reception, Elvin was making bank!  Of course, we were none the wiser until the next day when we were all sitting around reminiscing, talking about how wonderful the service was and little by little, it became clear that Elvin made a small fortune for his good service.  And while we certainly want to show our appreciation for good service, you can definitely do it more thoughtfully to stay on budget.  Make sure you communicate amongst your friends/bridal party and certain people are responsible for tipping the vendors.
Keep your ceremony/reception décor in good condition for resale!
Nowadays, there are a million ways to sell goods and services. Craigslist, Facebook tag sale groups, consignment, Letgo…the list goes on and on.  And if you've been on any of these sites lately, you'll notice the wedding inventory is growing substantially.  It's obvious why.  The little extras of a wedding truly add up but the beauty of it is that most are purchased to only be used for one day and there are millions of other couples out there who may be looking for that same item!  By keeping your wedding décor and "extras" in pristine condition, you can likely sell most, if not all of it, through a consigning site/app and make back some of what you spent.  I got married this past August and I have already sold $75 worth of reception décor, such as a "Love Sign", his/her nautical themed beer kuzzi's, etc.  No matter what theme or style your reception was, there's an extremely good chance there's someone out there who thinks it would be the perfect addition to their wedding inventory and would love to get it from you for less than market value.  And that means more money in your pocket!
Honeymoon Savings
As someone who loves to travel, I feel like the honeymoon is almost as important as the wedding itself.  Well, maybe not as significant, but it's definitely worth some effort! Your honeymoon is not only your first chance to travel together as husband and wife, but it's also an opportunity to relax and enjoy each other's company after the hectic months (or even years) of wedding planning are behind you.  It can seem like the honeymoon might be the last thing you want to think about, but you're really doing yourself a disservice if you don't strategically plan this piece of the puzzle out to take advantage of booking availability and savings! Here's a few ways you can save:
      

Promotions

: At this point, pretty much everyone knows that bundling your flight and hotel can save you hundreds of dollars.  It's also become fairly common to hear that you can get the best rates if you book your trip on a Tuesday and roughly 6 weeks before your travel dates.  I've found this logic to be somewhat true, but there are additional ways to save with more consistency.  From time to time, resorts will offer promotions such as "book 4 nights and get the 5

th

free" or "every third day free if you stay for 6 or more days".  Experiment with different sites and adjusted travel dates to take advantage of the promotional offer that really translates to bigger savings.  You might save more by flying back on a Monday than a Sunday, and the resort might cost less if you book 6 days instead of 5.  For our honeymoon, we got every third day free at the hotel, so we went for 13 days instead of 10 because the last 3 were free and we saved on flights by doing 13 days instead of 12.

       

Packages

: When shopping around for your hotel/resort, look for locations that offer honeymoon packages where you can get free spa treatments, all-inclusive meal packages, a romantic dinner by the beach, or other promos available to newlyweds. Also, think about what kind of an experience you want to have. Do you want to go exploring and visit as many restaurants and sites as you can?  If so, don't spend money on an all-inclusive resort because chances are, you won't eat or drink enough at their hotel to justify the cost. On the flip side, if you want every luxury available to you at the hotel without having to go anywhere, look for all-inclusive resorts that have a variety of well-reviewed restaurants on-site, and perhaps resorts that offer free water-sports, etc.  You may spend a little more on the overall resort package for all-inclusive, but you'll save on meals and excursions this way.

       

Points

– Lastly, take advantage of travel points. Many credit cards offer travel points or flyer miles that can be cashed in for your honeymoon.  Expedia and TripAdvisor also allow you to accumulate points through booked trips, reviews, and other site activity which can be put towards your vacation.  If you have points in multiple platforms, run the numbers to see which method will save you the most on the trip overall.  If you don't have a credit card that earns you travel points or airline miles, there's still ways to save!  Talk to your banking institutions before you travel and find out if they offer any deals that eliminate international ATM charges or travel fees.  Most of the banks want the opportunity to talk to you about what they have available and many will be happy to inform you on any ways you can save.
Whether you take all of these tips into consideration or none of them fit your situation, the best advice I can give you to save on your wedding is to check your budget at every stage of the planning process.  As you progress along, add the little things up and continue to factor in future costs leading up to, and even after your wedding day passes.  You'll save hundreds just be keeping an eye on it and the tricks above just might help you save even more! Happy planning!*
Photo by:
J.Marie Photography
Source of Article:
Kathryn Paquette, the Glastonbury Boathouse
Free Wedding
Giveaways + Sweepstakes
Enter sweepstakes & giveaways and enter to win a free honeymoon when you join. New winners are announced every week!