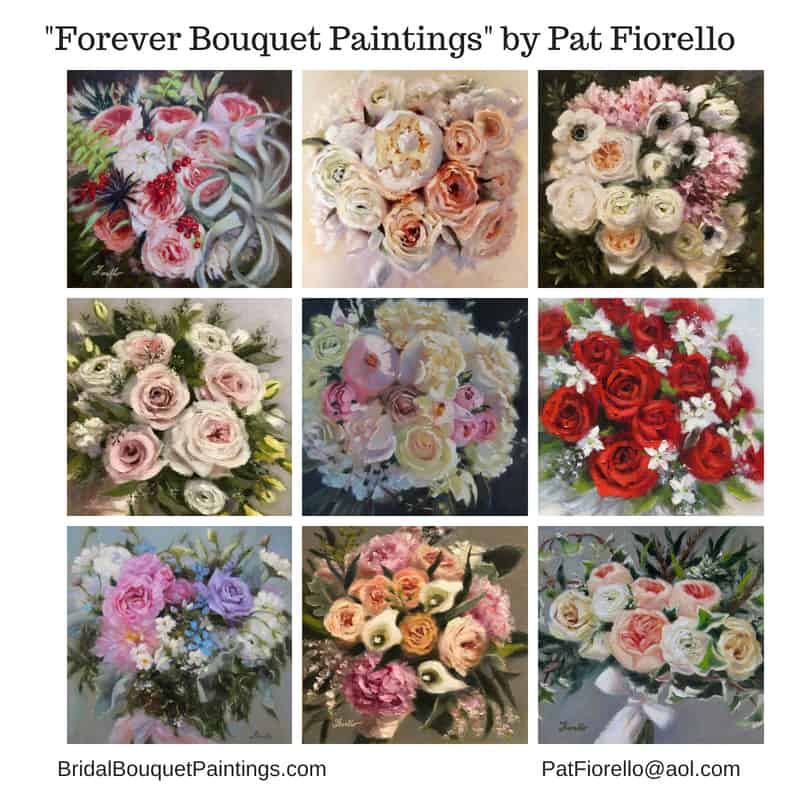 Your wedding day will undoubtedly be one of the most special days of your life. The day you celebrate your love, take your vows in front of the family and friends who are most important to you and start a new life chapter with your husband.  You have invested so much time, energy and planning into making the day a special expression of who you and your husband-to-be are. It's a magical day with memories you will want to hold on to forever.
After your wedding, things may feel a bit anti-climactic. Day- to day life demands and routines set in. And life may feel, well, ordinary.
But what if each day you could be reconnected with the love, joy and beauty that was present on your wedding day. What if those wedding memories were lifting you up each and every day?
I can help you do that with a  "Forever Bouquet Painting". My name is Pat Fiorello and I'm a professional fine artist who specializes in painting bridal bouquets. These bouquet paintings can be displayed in your home as a daily reminder bringing you back the excitement of your wedding day. There are other ways to preserve a bouquet, but nothing evokes emotion like the color, brushstrokes and passion of an original painting.
It's easy. Here's how it works:
After the wedding, send me some photos of your bouquet. I do not need the original flowers so no need to keep or ship the actual bouquet to me.
I will work with the photos and recommend a design which best features the beauty of your bouquet.
Upon your approval and deposit, I will create an oil painting inspired by your bouquet. I use only high quality, archival materials, so that your painting will last a lifetime.
You'll have a chance to review the painting in progress before I complete it.
Once completed, I will add a protective coat of varnish and ship the painting to you to enjoy in your home forever.
Often these bouquet paintings are given as a gift from the parents, grandparents, or husband as a unique and meaningful gift of love. I have gift certificates available to make it easy. So, if this is something, you'd love to have, you can drop your loved one a hint to contact me.
To see more beautiful bouquet paintings, visit bridalbouquetpaintings.com
I'd be honored to create a work of art that can be a treasured wedding keepsake for you.
Please contact me  to learn more or get started.
Free Wedding
Giveaways + Sweepstakes
Enter sweepstakes & giveaways and enter to win a free honeymoon when you join. New winners are announced every week!