The engagement ring is one of the most important purchases you will ever make in your life. Whether you're choosing the ideal ring for someone else or for yourself, there's a lot of choices to make and it can be hard to know where to begin. What stone should you have, and in what cut? What metal should the band be? Do you want something modern or traditional? If you're looking for ideas for your perfect ring, then look no further.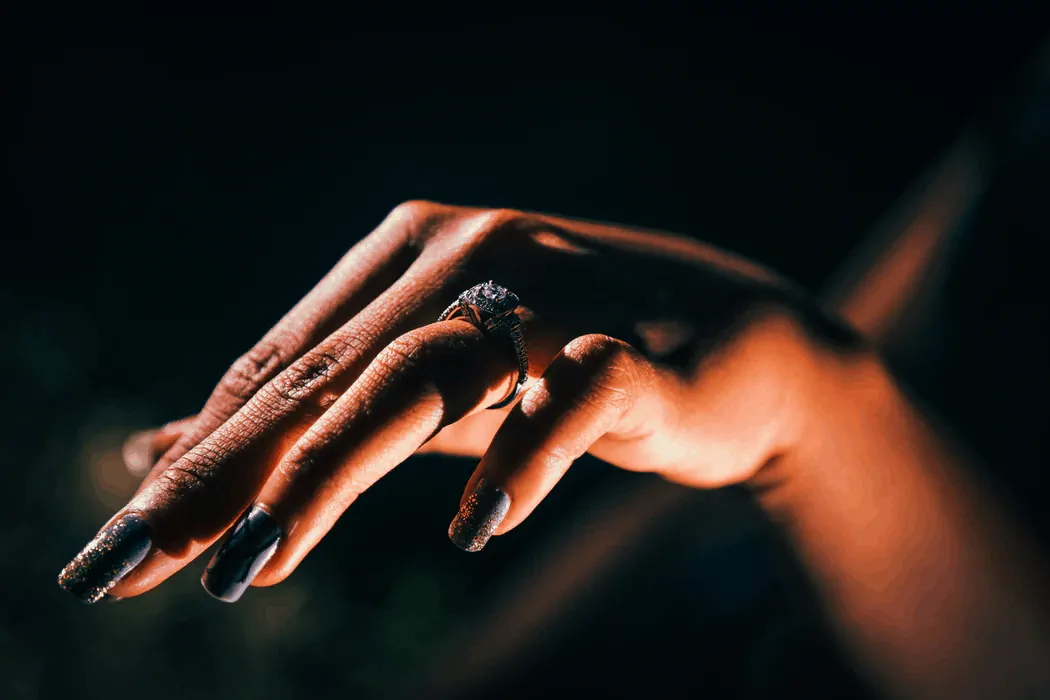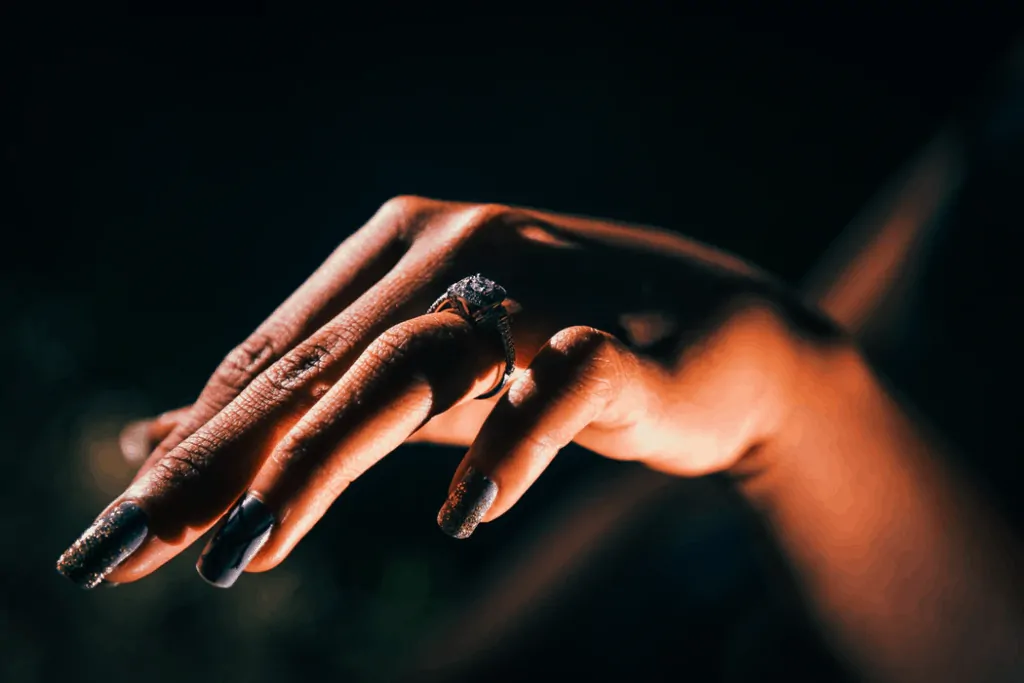 Image – free for commercial use

Choose a halo diamond engagement ring. A halo ring has a ring of diamonds on the band to really show off the main stone add some major sparkle. If you love sparkle and diamonds and are looking for something with some wow factor, then this style could be perfect for you.
Choose a colored stone. Sapphires are becoming very popular for engagement rings, as they bring some color without sacrificing too much strength. Diamonds are used in engagement rings as they are so hard-wearing, but other stones can be strong enough to be worn every day too and have the bonus of more options for color. A colored stone is a great way to show some personality with an eye-catching ring that isn't too out there.
Opt for a funky band. You don't need to have a classic plain band. Instead, pick one with stones set into it, or one in an interesting shape. V shapes and wave patterns work well in engagement rings. Buy a stacked set so you know your wedding ring will fit well against the more unusually shaped engagement band.
Spend some time looking at stone cuts. Most of us don't think much about the shape of the stones in our jewelry, but shape actually makes a massive difference. The shape of the stone can make a ring feel modern, vintage, cool, or classic. It can also change the appearance of the ring, as the shape changes how the stone will reflect light. Spend some time looking at different shapes so you can make an informed choice.
Have the ring engraved. You can have something engraved inside the ring to personalize it in a way that is private to you and your spouse. You could engrave your initials, your wedding date or the date of when you met. Having this little detail makes the ring even more special and romantic.
Buy a vintage ring. If you like vintage style, buying a vintage engagement can be a no-brainer. You can get something that looks gorgeous alongside your vintage wardrobe, showcases your style, and has some history behind it. It can be nice to think that someone else wore your ring throughout their marriage before you wore it for yours. Vintage rings can also be a little cheaper if you're on a budget.
Use a family ring. If you like vintage style, you don't have to buy a vintage ring. Is there a beautiful engagement ring in her family or yours that could be passed on? A family ring that belonged to a grandmother or another relative can be incredibly special to give to someone you love. You can pass on a family heirloom and make generations of love that went before you part of your love story too.
Take inspiration from your other tastes. Many people choose an engagement ring based on the style of jewelry that they already wear. This makes sense, but you can also take inspiration from other things you love. If you love modern art, or Victorian era fashion, or brutalist architecture, this is all information that you can use to inspire the style of your ring, to end up with something deeply personal to you, but a little different from the rest of your jewelry.
Mix stone types and colors. If you want a ring with multiple stones, you don't have to choose stones that are all the same. A mix of stone types and stone colors can look very striking and is a great way to create a ring that looks gorgeous and eye-catching. The main stone in one style looks great when accompanied by smaller stones in a different color. You could choose a classic diamond for the main stone, then line it with striking black diamonds or colored gemstones for something personal and beautiful.
Choose rose gold. Yellow gold and white gold have been popular for a long time, but alternative metals are becoming more popular. More engagement rings are being made in rose gold now, as this pretty metal is getting more popular. The warm shade of the metal can be very flattering against the skin and offers a piece of jewelry that is feminine and classy.
Go hype-girly. If your style is very feminine and you love all things cute, why not show this off with your engagement ring? An engagement ring with shapes like hearts, flowers, or butterflies can still be grown-up and elegant, while still looking very cute. A shaped ring like this is very personal to your style too and is sure to be something you will love for years to come.
Go big. Do you like to make a statement? Then pick the biggest stone you can find. A large stone, whether a diamond or an alternative stone is always eye-catching and means people can't fail to notice the rock on your finger. A big stone is not for the shy and retiring, but can look very beautiful.
Go small. If your style is more understated, don't feel bad if you think a large stone is going to be too much for you. Bigger is not always better when it comes to engagemet rings, despite what some people think. In fact, a smaller stone on a slim band looks very elegant and will look gorgeous on someone with a more chic, minimalist style. A baguette-cut diamond is especially nice when small on a very thin band for a ring that is classic, timeless and sophisticated.
Try negative space. If you like the look of a larger engagement ring, but don't want a large stone, try a ring that makes use of negative space in the design. An oval of small stones with an open space between gives you a large ring without one big stone. This can look very modern, depending on the small stones that you choose and can also be cheaper than buying a huge rock.
Buy a stacked set. After all that time choosing an engagement ring, you then have the challenge of buying a wedding ring that looks good with it. Some couples also choose to add an eternity ring later on too (traditionally, eternity rings are bought after the first year of marriage or on the birth of the couple's first child). These three rings need to work well together, which can be tricky to do. One way to make sure the styles look perfect together is to buy your engagement, wedding, and eternity rings as a set, and save the wedding and eternity rings until you need them. Many jewelers create sets of rings designed to stack together so you can be sure they will all fit together and complement each other beautifully.
Don't buy a ring at all. Who says you have to have an engagement ring at all? If you don't wear rings, choose another piece of jewelry that you actually will wear and will enjoy wearing. Choose an engagement bracelet or necklace. Buy an engagement ring, but wear it as a pendant on a necklace instead of on your finger. This can be great for those who work with their hands or in industries like construction or engineering and would spend more time having to take an engagement ring off and putting it somewhere safe in order to work than they would actually being able to wear it. A ring as a pendant can be moved back onto the finger in the more traditional position after work.
Choosing an engagement ring means making a lot of choices. The best way to choose the perfect engagement ring is to spend plenty of time doing research. Whether you shop alone or take your future spouse with you, some time on jewelry websites and in the jewelry store is time well spent. Look at different cuts and styles, try on different rings, and ask jewelers for their advice and suggestions so you walk away with a ring that suits your style, personality, and lifestyle. It's important to choose a ring that you not only love now but will continue to love for years to come, so you can keep wearing this special piece of jewelry for the rest of your marriage. Whether you choose a classic diamond in a princess cut on a white gold band or pick an edgy colored sapphire on a wave-shaped band, your engagement ring doesn't have to please anyone but you, so choose whatever you love best and enjoy wearing it for many years of marriage to come.

Free Wedding
Giveaways + Sweepstakes
Enter sweepstakes & giveaways and enter to win a free honeymoon when you join. New winners are announced every week!