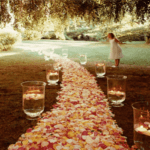 Getting married is one of the most important decisions of your life – and, of course, one of the biggest life events that's happened to you until now. So, you need to make it perfect! Thinking about décor is the first thing that should come into your mind – how will your wedding look like and where will it be held? If you are one of the people who enjoy nature, hiking, and open setting, I'd say one of the best choices to go with is holding an outdoor event. Here, you can easily combine creativity with innovation, making your wedding an unforgettable event for your friends and the entire family. 
We had many wedding ideas that I was planning on sharing with you today; however, I decided to cut them down to five beautiful, outstanding options. Check them out and let us know what you think!
Go vintage and romantic
Since this is your big day, you must make sure that you feel comfortable with whichever theme that you are choosing. For delicate, romantic themes, choose soft lighting (yes, even outside!), delicate florals, pale colors such as pastels, calligraphy, and walls decorated with flowers. You could use an old, vintage bus to bring guests to the wedding. Have an old truck in the backyard with a nice quote – here, people can take pictures with it, and feel like they are living back in the 70s. If your wedding is romantic-vintage, your cake should fit in – choose pink tones and a soft nude palette for it.
Cool extra cheap wedding ideas: you could have an old piano in the backyard, giving people the opportunity to play if they're up to it. You could also have the menu written on an old mirror, to keep it vintage and a bit spooky!
Be modern
If you're going for a modern wedding, make sure you do not make it too dramatic – I know you might now be asking, what does dramatic even mean?, so here is your answer: a dramatic can only be created indoors, so after all, you're safe.
First question: will you go with the beach or a gorgeous tent? If you'll go with the beach, you'll have a low-key wedding, lots of greenery, and slow music playing in the background. If you choose the tent, you will need some crazy florals and/or greenery, and you have the option to choose between a big band playing classical music or a guitar (most people will go with the last one). 
Cool extra idea: have a wedding guest book where participants can sign their names and leave you a memory!
Tip: Planning a wedding should be an opportunity to forget about a stressful deadline and other shenanigans and just enjoy your day. If that's close to impossible because of your due date assignments, don't let them ruin your day; Edubirdie write essays for money, so pick a service that you trust and delegate that work.
Keep it casual
If you're going with casual, your best bet is choosing a garden party type of wedding theme. This is usually for more intimate ceremonies, where you don't feel the need to have too many guests. This is also perfect if you're one of those people who prefer a laidback backyard wedding on a summer morning or a spring afternoon. Make sure you ask your participants to dress up similarly, as casual weddings look best when guests match their clothes closely. 
Cool extra small weddings ideas: you could have small tents spread between the tables where people can relax and drink some wine and talk!
Be traditional
If you're going with a formal option, consider a black-tie event! For grandiose themes, you will want to include table settings and a full sit-down dinner, just like back in the old days. You should also consider posh seating, flower arrangements (even on top of your cake), and a head table. If you're going traditional, there are certain rules and formalities you will need to follow, so make sure you got that figured out before starting to plan it out.
Cool idea wedding ceremony ideas: have exquisite chandeliers hanging to the ceiling!
Did anyone say eco-friendly?
This is an especially awesome idea for environmentalists, activists, and supporters of the eco-friendly movement or just nature! Your wedding can be completely biodegradable-orientated and chill! You could use plants instead of flowers for your decors, and print invitations on recycled paper. The outdoor setting is perfect for this type of wedding, since you won't need to spend any energy on it (that, if you start early in the morning!). 
Cool extra idea: have cute beeswax or plant-based wax candles on the table to keep it intriguing and romantic.
Conclusion
Your wedding day is an important day, so make sure you choose your themes and ideas according to your taste. In the end, your guests are there for you, so you should be the first person to enjoy the arrangements, décor, and the main theme choice. Stay cool but stay true to yourself and design your outdoor weddings as pleased. Have a happy wedding, my friend!
<bio>
Emma Rundle is a wedding planner and remote worker. Her freelance background helped her travel the world and explore new cultures. She now combines the knowledge acquired with the wedding planning ceremonials. Emma is excited about any opportunity coming her way, helping students overcome any obstacles. 
Free Wedding
Giveaways + Sweepstakes
Enter sweepstakes & giveaways and enter to win a free honeymoon when you join. New winners are announced every week!