5 Tasty Edible Favors Your Wedding Guests Will Love
Your wedding favors are a subtle, but important, part of your wedding.
The wedding favor is something that your guests take with them; a tangible reminder of the night they had with you.
It's a token of your appreciation; a figurative pat on the back or hug, that says "thank you for coming, it means a lot to us".
But a wedding favor is like any other gift giving situation; people are hard to buy for.
With so many people, there are so many different tastes.  Not everyone will appreciate the mix tape you made of a string quartet playing your wedding song, over and over and over.
But who doesn't love tasty treats? Especially when they are done in a personalized and clever manner?
If you are thinking to yourself, "is food the only thing this guy thinks about?"  The answer is no….okay, maybe….(see previous reference to Dad Bod)…fine, yes! I love tasty treats…and your guests will too, especially when they see how cute they are:
Monogram Oreo Cookie Pop Favors: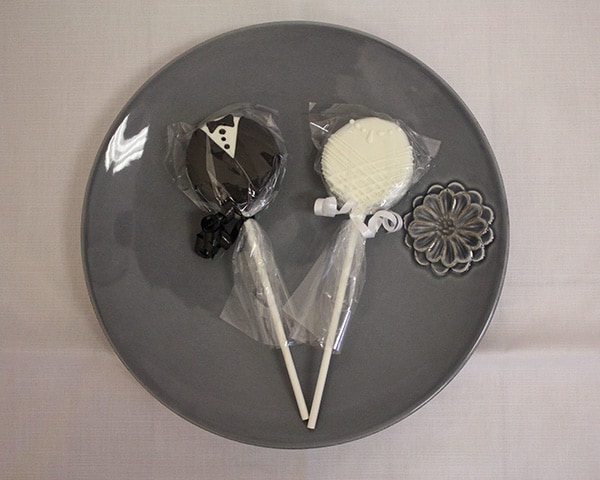 How do you make an Oreo cook more delicious?  Put it on a stick, cover it in chocolate, and monogram it with your initials, that's how!
Personalized Clover Honey Favor: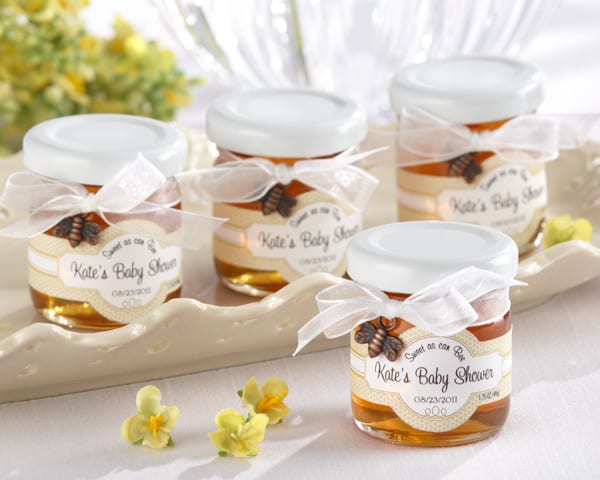 What type of bee can't make up it's mind?
A maybe (get it?)
But there is nothing to bee indecisive about with this gift.
Greek yogurt, toast, peanut butter, granola, tea, your finger…..all things you can put honey on.
Seriously, who doesn't like honey?  It will make your guests soooo hapbee.
And with these super cute personalized jars, there is no way to hive your love for each other.  (Can you beelieve all of these puns?)
Pepper your guests with love by giving them a gift that will keep things spicy for months to come.
If your beautiful vows don't bring them to tears, this personalized hot sauce will!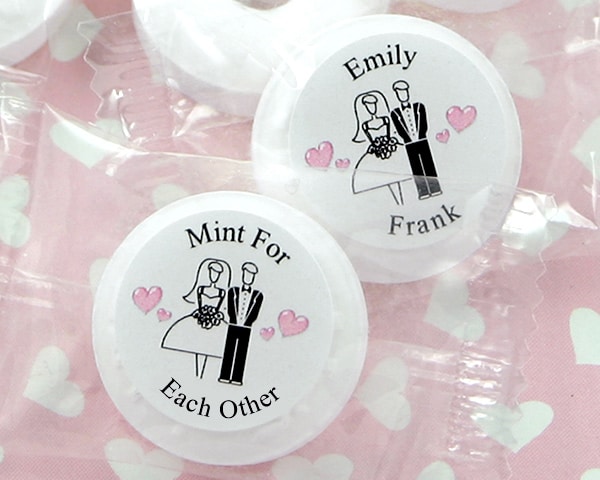 You know from the momint you saw him, that it was mint to be….
These personalized mint Lifesavers are a refreshingly new idea for wedding favors.
They are super cute, and it never hurts to offer some subtle encouragemint to the close-talkers of the family….
Personalized Gourmet Chocolate Dipped Pretzel: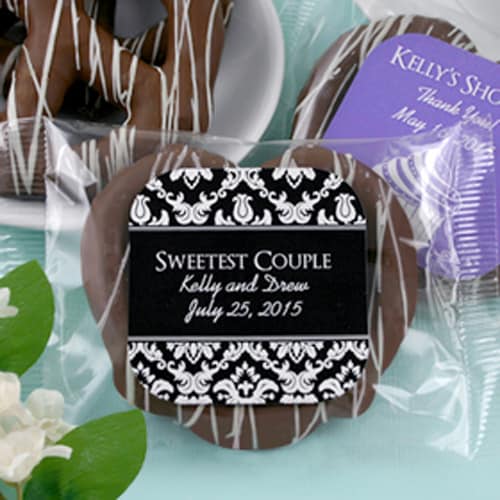 What better way to celebrate tying the knot than with a pretzel?  And you can put your own twist on it with a variety of different designs and colors.
For even more tasty edible wedding favor options, CLICK HERE.
Free Wedding
Giveaways + Sweepstakes
Enter sweepstakes & giveaways and enter to win a free honeymoon when you join. New winners are announced every week!