Let's talk dirty…..and how to clean it up…..
Anyone can have a wedding.  But to make it the most memorable and most fun, the devil is in the details.
Small, inexpensive details can be the difference between a good wedding, and a great wedding.
Not all weddings are the same, but there are things all weddings need.  For instance; the napkin.
It sounds inconsequential, but every wedding needs them.
Of course the most obvious is that your guests will wipe their hands on them.
But, think of all the other places napkins will pop up in need? Finger foods will be served with them.  Drinks need to get set on them, (spilled drinks need to get sopped up by them).
Bridesmaids may need to write phone numbers on them.
Uncle Ralph will use them to blow his nose (and then tell anyone who will listen about his Rhinitis and his inflamed nasal passages…..Oi)
And you may, or may not, need to wipe smashed cake off your face with them. (Depending on how that conversation goes before cutting the cake).
So why not make them a fun, memorable part of the experience?  They don't have to be sterile and generic.  They can be a memorable detail that adds to the overall experience of your wedding.
But where do you find fun, customizable napkins?
No clue, you're on your own, let me know what you find out…..
Just kidding!!! The point of this blog is to help you find the coolest stuff, AND make it totally easy to get.
You can find all of the coolest napkins (and other wedding accessories and essentials) by clicking here:
It's soooo easy and fun to do.  You can pick from tons of different categories; modern, vintage, classic, rustic, outdoor, etc.
And then customize them by choosing your own colors, patterns, font, etc.
You can even create napkins with fun facts/trivia questions about you on them?  How cool is that?!? (and it will keep the "work friends" at the back table busy while they are waiting to be called to dinner)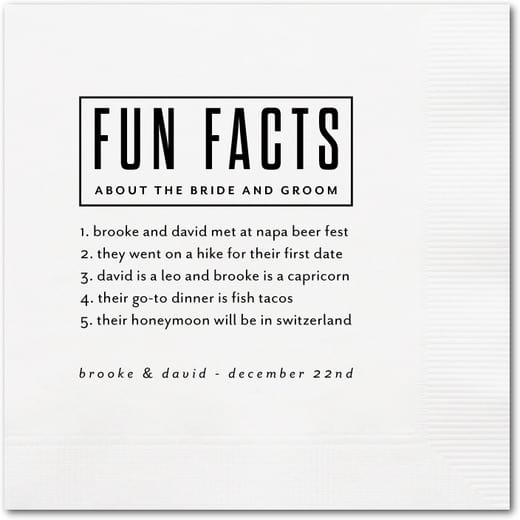 How cool is it to see and feel a napkin that you designed with your name on it?
Part of my inspiration for this post is personal.
My parents still have a stack of napkins from their wedding in 1971.  And we use them!  At every family gathering, my mom pulls out her wedding napkins and we use them.  It spawns a lot of jokes about her frugalness (and potential to be a hoarder…. just kidding mom!)  But it's also nostalgic and romantic and super cute.
For the wedding essentials your guests will feel and touch, why not make it something with your own personal touch?
Click here to see all of the wonderful personalized wedding essentials: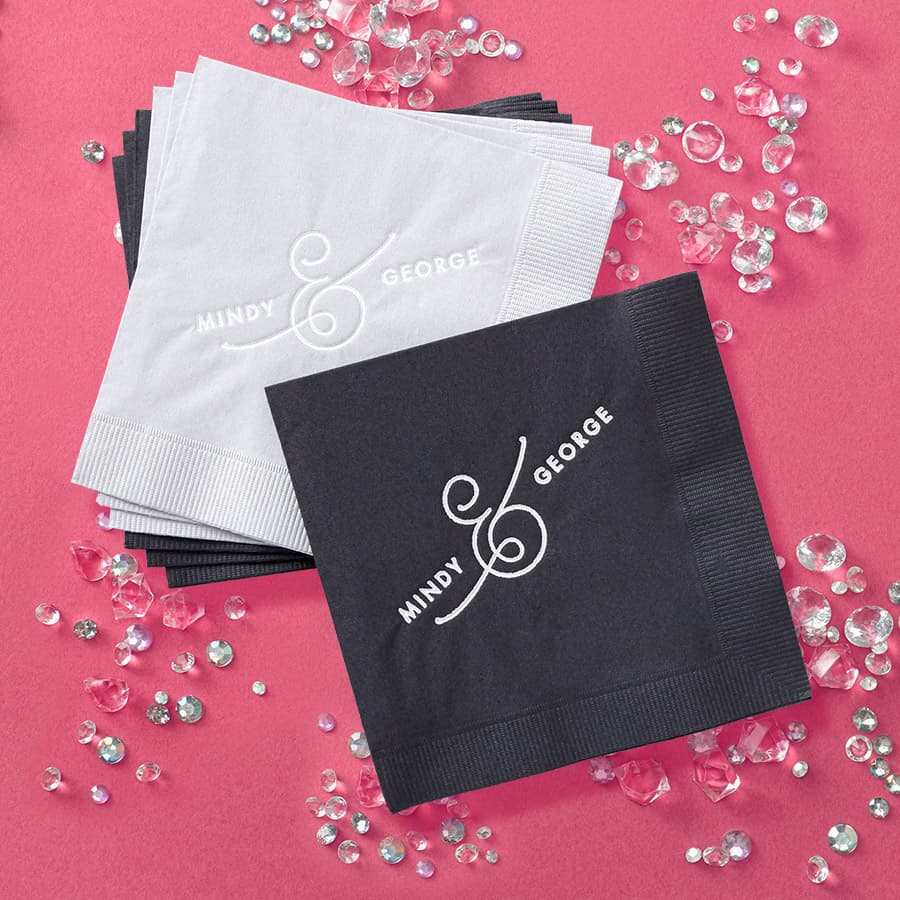 Free Wedding
Giveaways + Sweepstakes
Enter sweepstakes & giveaways and enter to win a free honeymoon when you join. New winners are announced every week!