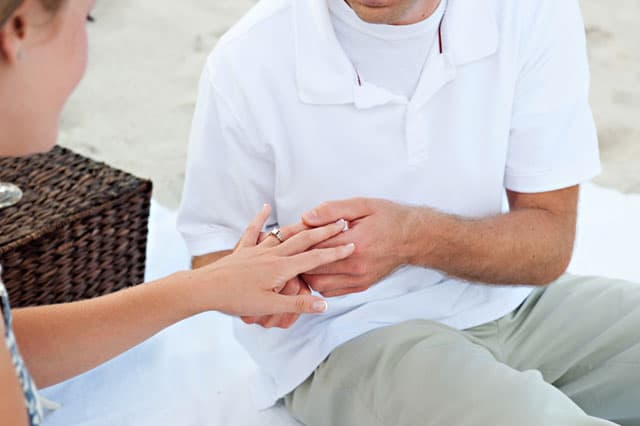 Congratulations on your engagement! The very word *engaged* implies that you're involved in a flurry of to-dos while wading through a sea of bridal magazines trying to figure out the difference between Venetian and Chantilly lace and calling your florist to discuss a shade of peach. There is good news! Planning your wedding is NOT impossible. Over 2 million couples in the US do it every year so you can too! Start with this list of 5 things to give you a strong running start to your wedding planning.
First: Decide on your overall budget. I know it's the "B" word, but budget doesn't mean cheap or limiting. I hear brides say, "I'm planning a wedding on a budget," and they say it as if they're embarrassed or with the attitude of defeat because they feel they will be limited to something cheap. If you come to me and say you are on a budget, I say, "Good for you!" "Budget Bride" means you know what you can spend, you're smart, you're savvy, you think outside the box, you're responsible…it does not say you're cheap. Determining a budget actually gives you freedom because it gives you a guide as you plan. Without a budget it leaves you either "lost" or spinning out of control. And knowing what you CAN buy will save you the pain of falling in love with something you can't afford. There are great sites online where you can put in your wedding budget and it will break down the amount that you should spend on each category.
Second: Secure your ceremony site if it will be different from your reception location. The ceremony is the most important part of the day. Where will you exchange vows and make this union official? Book it! Who will marry the two of you? Get that person on the books, too!
Third: Secure your reception venue. If you have a place that you absolutely love and it's very popular, book it as soon as possible. Sometimes, you may have to set your wedding date around the availability of your venue.
Fourth: Bring on the wedding planner! Now is the time to bring on a consultant while you are in the beginning stages of your planning. Don't wait until the last minute or you may not find anyone available to help you organize and sort through all your details. Bring your wedding planner to the table early on so he/she can capture your vision from the beginning and watch it grow with you!
Fifth: Secure your photographer! Remember when booking photographers, multiple people can be inquiring about the same day. Once you find the one you like, be sure to line them up with a contract as soon as possible.
Now…get busy!!
Article Submitted By:
Darlene Taylor
TaylorMade Weddings
Photo Submitted by:
Emindee Images
Free Wedding
Giveaways + Sweepstakes
Enter sweepstakes & giveaways and enter to win a free honeymoon when you join. New winners are announced every week!