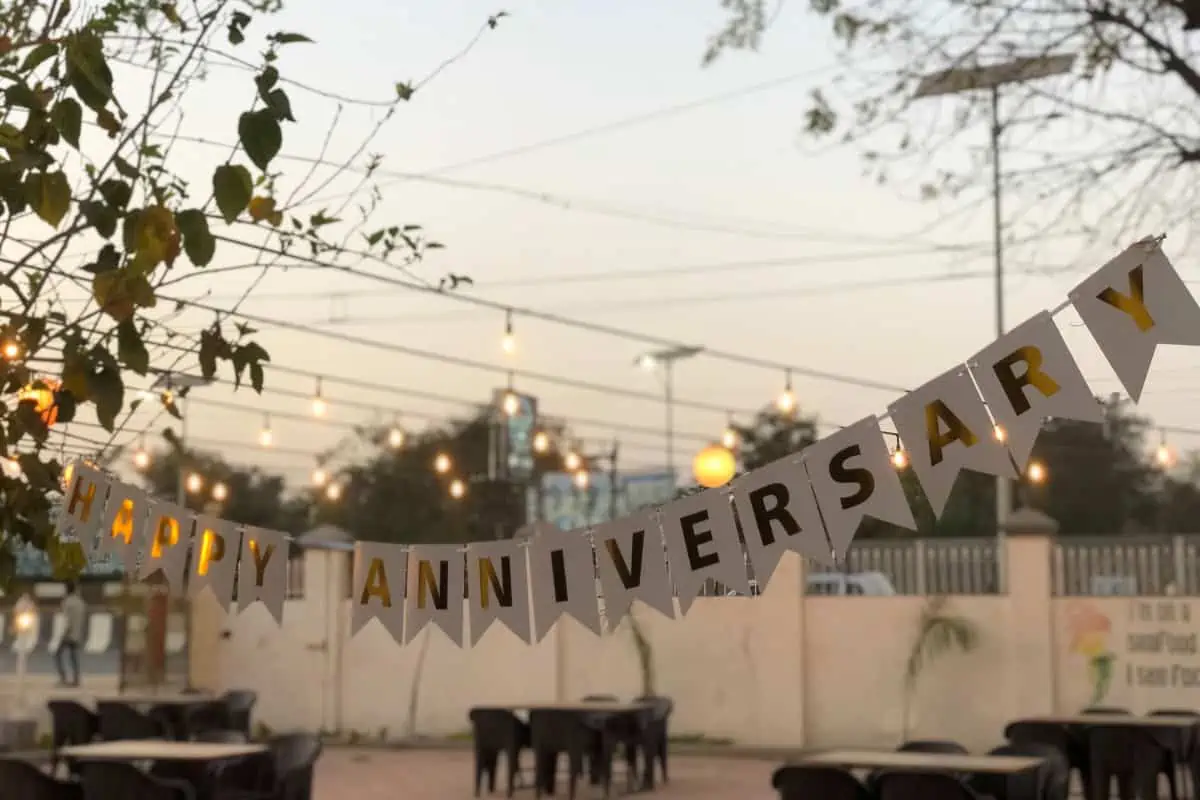 Anniversary is a special day for married couples when they reminisce about all the beautiful memories they've created together and feel thankful for yet another year they could spend with each other, for better or worse. Though each anniversary is meaningful, something is incredibly romantic about your first one as it's a significant milestone in your marriage story.
As your first anniversary approaches, it's time to start planning the most beautiful celebration and choose a present. Unfortunately, the latter often proves problematic as you cannot come up with an idea for a luxurious gift that your wife so deserves.
Need some help? Below you'll find several ideas – ranging from classics like a designer bag, luxurious perfume, or weekend in the spa together to tickets to her favorite band or trip abroad. With those, you'll be able to sweep your wife off your feet, so make sure to check out our ideas below.
Designer Handbag
A handbag by designer brands is perhaps the universal anniversary gift, but it will definitely be a hit. For most people, a handbag is just a piece where you store all the necessities when you go out, but it's a crucial element that makes an outfit look whole. While you might be searching through the best AliExpress deals looking for various fashion accessories, you should consider opting for a designer bag instead.
The best ones from designer brands can even cost thousands of dollars. So, if there's one thing every girl might want for her first anniversary, it's a designer handbag. For some, it means a classic Louis Vuitton bag or the original Chanel model. And if you want to spoil her more than she expected, you can buy her a designer's vintage model at an auction or via a charity auction website.
Perfume
The sense of smell is one of the strongest human senses that can even trigger a memory, so the right aroma can make us feel good and confident. Why not buy your bride a luxurious perfume, so she feels fantastic every time she wears it? She can use it every day or save it for special occasions – either way, she'll appreciate the thoughtfulness of your gift.
The perfect perfume for your wife will depend on her personal preference, so it's better to ask her about it. Some women prefer strong and heavy scents, whereas some are into light and fresh aromas. Invest in an expensive perfume by Dior or Chanel, but don't forget to check out niche fragrances from BYREDO, Diptyque, and brands alike as well.
Trip Abroad
Is your wife fond of traveling? If yes, a trip abroad is the perfect anniversary gift for her. If there are any places on her traveling bucket list, you should definitely choose one of them. Or maybe you've created some beautiful memories in a foreign country, and you'd like to revisit the place to reminiscence? The most important thing is that you can spend time together and experience something exciting and new.
If you're looking for an affordable trip, try destinations like Thailand, Argentina, or Croatia, where you can have plenty of fun on a budget. Even if you cannot afford an expensive trip, you can always look for affordable Airbnb apartments, hotels, and inexpensive flights so you won't have to spend a fortune on your journey.
Weekend in the Spa
Are you not sure what you should give your wife for the first anniversary? Then you can't go wrong with a weekend at the spa. Whether your wife is working from nine to five, or she's running the household, she deserves some time of pure luxury. She'll be able to relax and unwind while taking care of her health and appearance. She can have various treatments at a spa facility like massage therapy or pedicure, which are the best ways to unwind and relieve stress.
Depending on what treatments she likes and what spa has the best reputation in your area, you can buy a voucher for a couple's massage, a facial treatment, a pedicure with a splash of champagne, or a relaxing weekend at the hotel spa. A full-fledged spa package might seem expensive, but it is also the best way to show her that she deserves the best treatment.
Tickets to Her Favorite Band
If your wife is a big fan of music and always hums her favorite songs when at home, tickets to a concert are a perfect anniversary gift for her. It's a thoughtful present as it shows that you care about her interests and passions, and want to take her to places she loves. Tickets to the concert are usually sold out very soon, so make sure to buy them as soon as possible.
And if your wife isn't really into music but is more into sports, then maybe tickets to the football or basketball match would be a good idea?
Watches
If you're looking for a unique anniversary gift for your wife, you can't go wrong with a designer watch. It's a luxurious present that shows you care about her style and want her to look beautiful and elegant. You can choose from a wide range of models, sizes, and prices.
If your wife is into classic designer watches, you can get her one by Cartier or Daniel Wellington. But if she prefers modern watches, we recommend investing in a smartwatch like Apple Watch or Samsung Galaxy Watch that will suit both formal and casual outfits.
If you do not know much about watches, it's better to ask for help at the store where you want to buy one. The seller should be able to assist you with choosing a good watch that suits your budget. Don't forget to read reviews on the model you like before buying it to ensure it's worth the money.
In Conclusion
Anniversary is an exceptional day for a married couple, and as the first anniversary approaches, you should start looking for the best way to celebrate it. Don't forget that the most important thing is to spend time together and create new memories.
However, it can be challenging to come up with a gift that she will appreciate and treasure. If you want to give her something special but don't know what to choose, consider one of our ideas above.
If you have a limited budget, you can choose the least expensive gift on our list – tickets to the concert or sports event. But if you want to get her something really romantic and luxurious, then shop for a designer handbag, perfume, or spend a weekend in the spa with her. Have fun!
Free Wedding
Giveaways + Sweepstakes
Enter sweepstakes & giveaways and enter to win a free honeymoon when you join. New winners are announced every week!