Planning a wedding takes a careful amount of patience and research. You want the best caterers at the best prices and quality food that everyone will enjoy.
However, when it comes to the reception, there are 6 must-have essentials for a successful gathering.
Follow this checklist to make sure you're all set for the big day.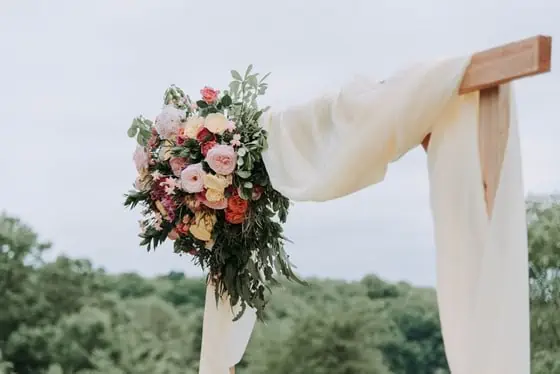 1. Wedding Tent
A wedding is all about the bride-to-be, and just about anything involved in their big day will bend over backwards to make it a smooth process. Of course, the weather on your wedding day is one of the few things that cannot be controlled.
That doesn't mean you're completely at the mercy of any passing rainstorm or gusts of wind. As the day approaches, keep an eye out for wedding tents for sale. Even without any extreme weather, a tent provides great shade and will set the mood for any reception.
2. Table Arrangements
By the time the ceremony has concluded and you and your guests are ready to eat, it's next to impossible to establish order amongst a crowd of your hungry friends and relatives. A solid seating plan with easy to identify place cards is an essential organizational tool.
When guests find their table and seats, they'll certainly appreciate a personalized name card for them. Each table can get fun party favors as well, such as disposable cameras or sparklers and streamers.
3. Photographer
Everyone with a smartphone might consider themselves a photographer nowadays, and a camera roll full of quickly snapped pictures is great for nostalgia, but a professional photographer is an important investment to get right on your big day.
Wedding photography involves more than pointing and shooting. A seasoned professional will bring lighting equipment to make your group photos memorable.
4. Delicious and Accommodating Menu
One of the highlights of any great reception is a satisfying meal. There's certainly pressure to keep the menu simple so as not to stress your budget, while also keeping in mind your guests' dietary restrictions.
It's most likely that your guests will not be mostly vegan or vegetarian. Having these options is essential, but you can compromise by ensuring a proportional amount of plant-based meals will be prepared.
5. Live Band vs. DJ and Karaoke
What's a wedding without a party afterward? The dance floor will be the most popular spot of the reception, followed closely by the dessert table. If you know your crowd well enough, you can find the best music set up.
A live band will give you the fun of a live concert and if you send them a list in advance, you can guarantee all of your favorite songs will be played. Do you know your bridesmaids have karaoke favorites? A live DJ can provide you with an easily customizable playlist and a karaoke set up for the time of the night when everyone is ready to sing the hits!
6. Stylish, Simple Decor
The decor you choose for your special day is one of the first things your guests will notice, setting the vibe for the rest of the occasion. This doesn't mean going overboard on elaborate setups, one of the most common regrets of newlyweds.
Instead of choosing an elaborate theme like travel, use a simple but effective color scheme like spring colors or base it on your spouse's favorite color.
Plan Smarter Not Harder
It may seem like every detail needs to be accounted for on your wedding day, but it's important not to lose sight of what makes this occasion so special. Don't waste your time stressing over minor details, instead focus on the essentials.
From keeping your guests comfortable to establishing a stylish aesthetic, follow our 6 tips to make your wedding planning smooth, so you can enjoy your big day!
Free Wedding
Giveaways + Sweepstakes
Enter sweepstakes & giveaways and enter to win a free honeymoon when you join. New winners are announced every week!