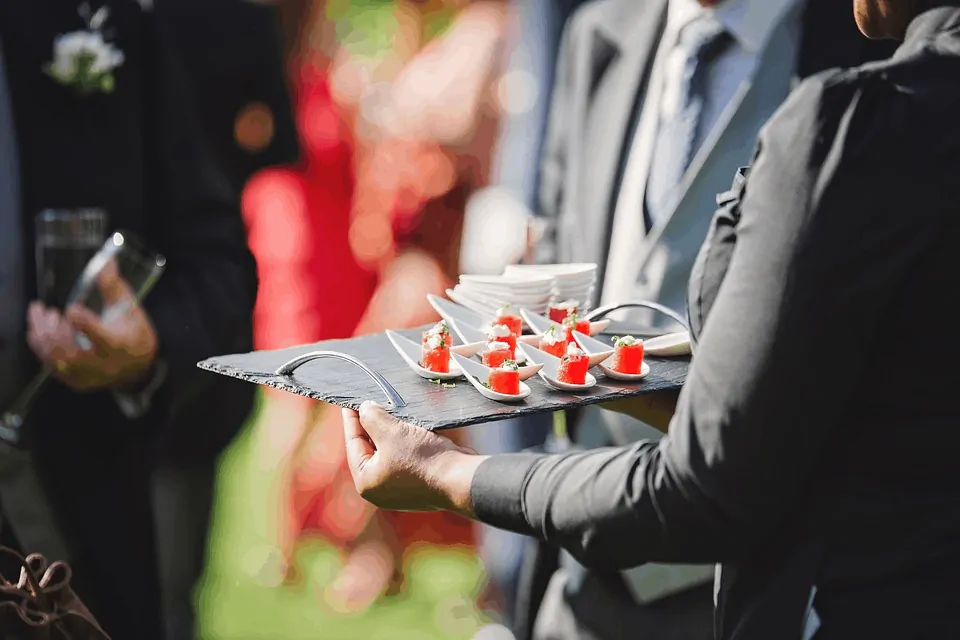 When people remember the best weddings they've been to, the things they recall most fondly are generally the ceremony, the company, the drinking, and the dancing. Aside from the cake, the food is rarely a standout factor, even though it is one of the most important parts of the whole event. It fuels your guests and keeps them energized throughout the long day, and provides an opportunity for your friends and family to sit down together, catch up with old friends and make new ones.
Planning a wedding meal can be daunting. You have to cater to various dietary requirements, and you don't want anyone to go hungry. You want the meal to be delicious and impressive, while at the same time keeping costs to a minimum, so you don't break your budget.
If you are planning your wedding dinner, here are a few tips to get you started.
Create a budget
A wedding is a costly affair, and there are so many different costs involved with catering alone. The food you serve and the number of guests will have a big impact, so make sure you are clear on how much you can spend and don't stretch your budget too far. By bringing your budget to your chosen caterer, they will be able to create a menu that fits your financial situation.
Pick a style
Does your wedding have a particular theme or style? If you want to go more modern and informal, consider hiring a street food van and letting guests grab their own meal. Or forego a dinner altogether and provide a buffet of appetizers to keep guests dancing throughout the evening. Alternatively, if you prefer a more traditional setting, you may want a formal three-course meal to be the focus of the night, featuring classic dishes such as this Italian wedding soup recipe.
Go seasonal
The best chefs plan their menus based on whatever is freshest in the current season. Opting for seasonal produce is a great way to ensure fresh and delicious food, and it is more cost-effective, as the ingredients will be readily available locally.
Think about your guests
Depending on how many guests you have at your wedding, you may have a wealth of different dietary requirements to cater for. Vegetarians, vegans, halal, gluten-free, you name it. You don't want to risk upsetting anyone or letting guests go hungry, so ask your guests about their needs and make sure there is an option for everyone.
Don't let anyone go hungry
After a long evening of dancing and drinking, guests are inevitably going to get peckish again. Providing a midnight snack or a regular supply of finger food throughout the evening will keep guests from going home until the bar closes. Don't forget the suppliers, caterers, and entertainment either. They are working long hours to keep you and your guests happy, so it is generous to include their meals in your wedding budget.
Don't take risks
You want your wedding dinner to be memorable, but not for the wrong reasons. Avoid foods that are risky and could send guests home with a bad case of food poisoning. Anything involving raw meat, unpasteurized dairy, or exotic animal products should be avoided if your guests aren't used to them.
Free Wedding
Giveaways + Sweepstakes
Enter sweepstakes & giveaways and enter to win a free honeymoon when you join. New winners are announced every week!