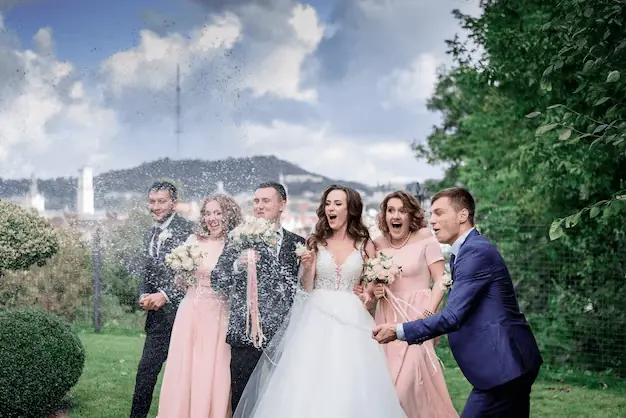 Your wedding day is one of the most important moments in your life, filled with memories that you'll cherish forever. It's a day that's packed with excitement, joy, and love, but it's also one that will pass by in the blink of an eye. That's why it's so important to find unique ways to preserve these precious moments so that you can relive them for years to come.
Here, we'll explore seven creative and meaningful ways to keep your wedding memories alive, from traditional photo albums to modern digital keepsakes. So, whether you're a sentimental soul or a tech-savvy trendsetter, we've got you covered with ideas that will help you preserve your wedding day in a way that feels personal, special, and true to you.
1] Hire a great photographer
The importance of hiring a great photographer for your wedding cannot be overstated. A skilled photographer will capture all the important moments of your special day, from the loving glances between you and your partner to the tears of joy shed by your family and friends. They will also capture the intricate details that you may have missed in the excitement of the moment, such as the intricacies of your wedding dress or the beauty of your wedding venue.
Moreover, a great photographer will know how to work with lighting and angles to create breathtaking shots that will transport you back to the moment every time you look at them. Whether it's the traditional shots like the first dance or cutting the cake, or capturing candid moments like the laughter shared between friends, a great photographer will ensure that every moment of your wedding day is immortalized in a timeless and beautiful way.
2] Have your wedding vows framed
Your wedding vows are a beautiful and personal expression of your love for your partner. One unique way to preserve this memory is by having your vows framed. You can choose a design that matches your wedding decor or something simpler and more classic. Displaying your vows in your home will serve as a reminder of the love and commitment you made on your special day.
3] Make a video wedding guestbook
A traditional wedding guest book is a great way to remember all of the people who celebrated your special day with you. However, a video guest book takes things to the next level. Set up a camera and a backdrop at your reception, and have your guests record a message for you. You'll be able to hear their good wishes and advice, and you can watch the video whenever you want to relive those memories.
4] Create a wedding website
Creating a wedding website is a great way to keep all of your important wedding information in one place. You can include details of your venue, registry, and accommodations for out-of-town guests. You can also post photos from your engagement shoot and keep guests up-to-date on any changes or updates. After the wedding, you can keep the website up as a digital memory book for your special day.
5] Create a highlight reel
A wedding highlight reel is a condensed version of your wedding video that captures all of the best moments from your day. You can use it to relive your special day in just a few minutes, and it's also great for sharing with friends and family who couldn't attend the wedding. You can work with your videographer to create a custom highlight reel that showcases your personality and love story.
6] Create a wedding memory quilt
A wedding memory quilt is a unique and personal way to preserve your wedding memories. Collect fabric from your wedding dress, tuxedo, or other meaningful fabrics from your wedding day, and have them sewn together into a quilt. You can display the quilt in your home or use it as a cozy reminder of your special day.
7] Commission an artist
If you're looking for a one-of-a-kind way to preserve your wedding memories, consider commissioning an artist to create a custom piece of art. You can have them paint a portrait of you and your partner, or create a collage of your wedding photos. This piece of art will serve as a beautiful reminder of your love and your special day.
In the end, your wedding day is a special moment in your life that you will want to cherish and remember forever. The memories you create on that day will be some of the most beautiful and meaningful moments that you will ever experience.
By choosing one or more of the unique ways to preserve your wedding memories that we have suggested above, you can ensure that those precious moments will be kept alive for years to come.
Whether it's through beautiful photographs, guestbooks or a personal quilt, there is no shortage of ways to immortalize your wedding day memories. So, take the time to consider what will work best for you and your partner, and create a beautiful and lasting reminder of the best day of your life!
Free Wedding
Giveaways + Sweepstakes
Enter sweepstakes & giveaways and enter to win a free honeymoon when you join. New winners are announced every week!