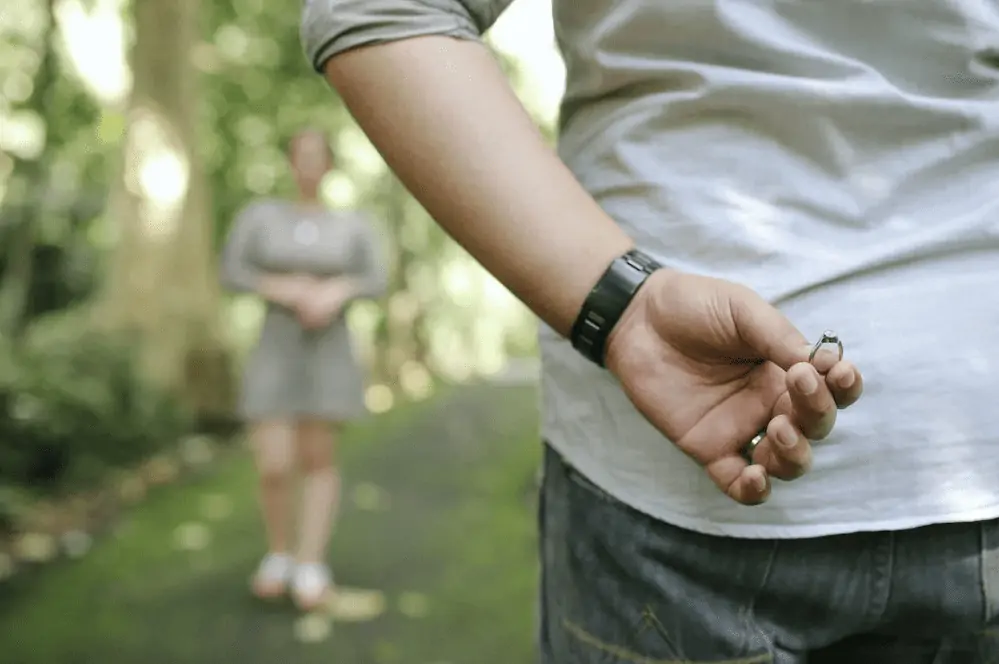 The most romantic ways to propose will need you to be thoughtful, creative, and willing to go to great lengths to get a "yes" from your significant other. If you can take her to a place she has ever expressed interest in visiting or a place that she has a significant emotional connection to, you will be on the right track. This will show her that you care about her, listen to her, and are willing to make her happy.
However, as you go all out, remember that being yourself is a very crucial thing to keep in mind. Your partner should accept who you are since you intend to ask them to live with you for the rest of your life. Remember to be sweet as you ask her out, and then pop the question when the mood is just right as you reveal the beautiful engagement ring you have bought.
If you need some ideas on where to go or how to handle that beautiful and memorable moment, here are some creative marriage proposal ideas:
Scavenger Hunt
You can turn your proposal into a treasure hunt by placing clues in different places for your special someone to find. You can do it in your backyard or the neighborhood. It depends on how big you want the treasure hunt to be. You can take her back to restaurants or areas you have spent time together, and possibly end up where you went on your first date, where she will find you on one knee.
Make sure you give your partners relevant clues and ask a friend or one of your family members to guide them.
A walk down your memory lane
You can prepare a collection of beautiful memories of both of you and put them in a box. If you execute this perfectly, it can be one of the most outstanding wedding proposal ideas out there. Put a note behind each photo to let your partner get lost in nostalgia before they get to the question.
You can also make arrangements to have your favorite songs play in the background. This will set the right mood as they go down memory lane and as you prepare to pop the question.
Up In the Air
An up-in-the-air proposal is one of the many romantic proposal ideas that can work well for long-distance couples who live apart from each other. You can plan the proposal and pop the question when your special someone lands on the plane. You can pick her up in a limo just to make the day even more special.
You can also plan the occasion up in the air when traveling together. Let the flight attendant know, and they can help you plan an entertaining proposal for you, your partner, and all the other passengers.
Invite the Whole Family for Dinner at Your Home
If you often invite your family for meals and everyone shows up, such a meeting can be the ultimate time to propose. You might need to tell all the other family members of your proposal intentions so at least one of them can have a camera ready.
Planning marriage proposals at a family gathering is the best way to make your respective families feel included. If you are not one to be extravagant, you can simply make it as simple as standing up and making a toast.
Destination Proposal Idea
Destination proposals end up being memorable occasions following creative proposal ideas. You can plan for it when you go on a holiday trip with your partner, and depending on the destination, it can even turn into a beach proposal. It is not a must for you to take a trip far away; a weekend gateway to a neighboring city can be a perfect proposal idea.
You can pop the question during dinner, after a romantic activity, or during your flight as you come back. Working with the hotel staff to plan a hotel room proposal is another great way to make the experience even more memorable.
Set up a Traditional Afternoon Tea
Afternoon tea has accompaniments like sandwiches, cakes, and scones. If she loves the idea, you can use this date to make an amazing proposal. You can ask a friend or even a professional to turn your simple proposal idea into the most romantic proposal ever.
If you are good in the kitchen, making afternoon tea yourself will surely earn you some points. Otherwise, you can still order from your favorite bakery and make sure to get a bottle of chilled champagne for toasting.
You Can Throw a Surprise Party
Inviting her and all the people she loves to a party can be one of the best proposal ideas. This can work well on a special date, such as your anniversary or her birthday. Although, if you want it to be a major surprise, you can choose a random day on the calendar.
Get help from friends to make the party exciting and to plan the events leading up to the proposal. Make sure to plan the proposal as the highlight of the event, because you want her to feel special.
Invite Her for a Photoshoot
Everyone appreciates a good photoshoot, and going for one on the day you propose is a great idea. At some point during the photo shoot, plan with the photographer to set up a beautiful backdrop of flowers and fairy lights, and have the words "Will you marry me?" appear in the background.
The best thing about this idea is that the photographers will capture every moment of the proposal and eternalize your special day on film.
Are You Looking for More Romantic Ways to Propose?
At WeddingVibe, we will give you ideas about all the events leading up to and including your wedding. And the best thing is that we will be there with you through it all. We will also guide you and remove the headache of making honeymoon arrangements, including travel plans.
For more information on our services and how to win some free wedding giveaways and sweepstakes, visit our website today!
Free Wedding
Giveaways + Sweepstakes
Enter sweepstakes & giveaways and enter to win a free honeymoon when you join. New winners are announced every week!