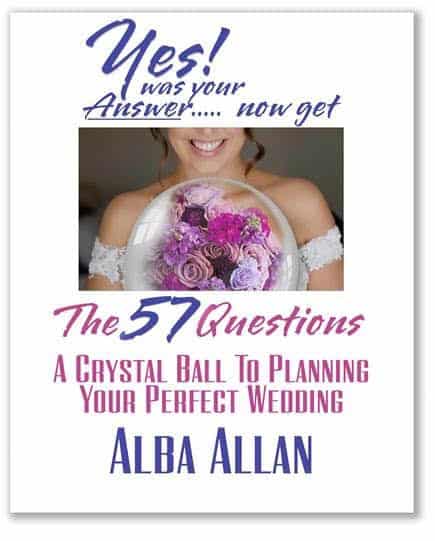 Hi! My name is Alba Allan and my heart was set on writing this book that will truly help anyone understand what it takes to avoid the problems that can happen in planning a wedding at a cost less than your favorite latte.
You'll see that this book is like a crystal ball, giving you're the inside guidance needed to plan a carefree wedding and avoid the many problems and miscommunications hidden in the planning details.
Whether you're using a wedding planner or not, I have unlocked the answers you need to achieve the extraordinary, stress free wedding you've always hoped to realize.
See the 5 STAR reviews for yourself, and read what people are saying.
Essentially you will get the answers you need by having prepared questions which will result in a predictable outcome you expect.
"The 57 Questions" you use and ask, will ward off any bombshell problems and assumptions throughout the entire planning process.
Check out my book on Amazon, I know you'll be thanking me later.
Free Wedding
Giveaways + Sweepstakes
Enter sweepstakes & giveaways and enter to win a free honeymoon when you join. New winners are announced every week!