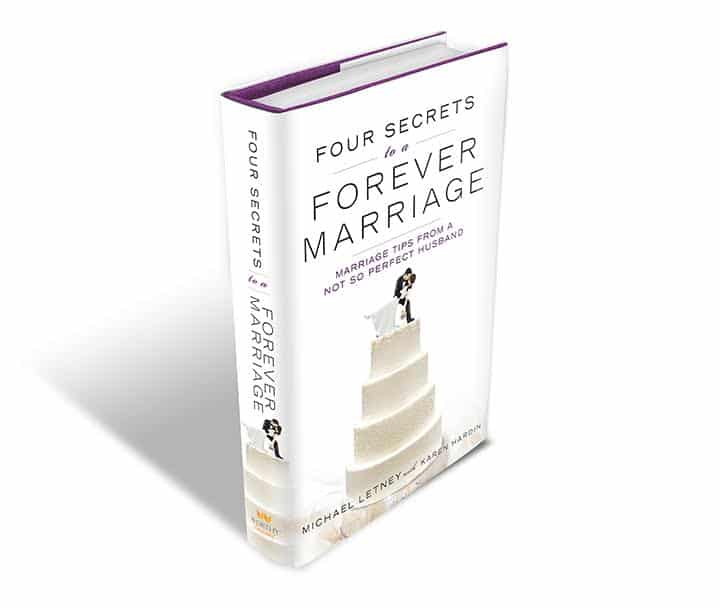 By Michael Letney with Karen Hardin
Trust. It is one of the four essential components necessary in any relationship, but especially in marriage. It's easy to take it for granted until one day you discover, you have hurt the one you love as a look of mistrust radiates from their eyes.
How is trust broken? Most people immediately think of infidelity. Definitely a trust breaker. But it can also be something simple, intangible and unintentional and yet the wound to the relationship is still severe. I learned that personally the hard way.
A self-proclaimed workaholic, I rarely took time off. But with the approach of Christmas, my shop, Letney Jewelers, had closed on Christmas Eve. It would reopen in a few hours to a wave of after Christmas bargain hunters. Prior to the holidays I had received numerous calls from some of my top clients heading out of town who had asked to put their most valuable jewelry in my safe while they were gone. Before closing time on Christmas Eve, I had received and locked away more than a quarter of a million dollars of jewelry for clients. I also had at least that much of the store inventory in the safes.
As the day dawned, I dressed quickly, grabbed some coffee, and kissed my wife, Barbie before heading to the store to open. Business of late had been great. The last few years had been a time of rebuilding after a devastating bankruptcy. Slowly we were repaying the creditors that remained from that dismal time. It felt good to finally be climbing out of the hole of indebtedness. As I pulled into the parking lot of the small retail complex, I had no idea my world was about to change drastically.
The keys jingled as I searched my ring for the correct key. As I turned the latch and pushed open the front door, I was greeted by silence. My heart quickened. The customary beep from the security alarm to prompt me to disengage it was missing. Instead silence filled the darkness of the entry way as I went to unlock and open the second set of doors leading into our showroom. The room told the story. Debris littered the floor. Ring boxes were thrown on the ground, shattered glass and broken cabinet material was strewn across the carpet. Uncertain whether the robbers were still inside, I backed out of the store and immediately called the police. As I waited my mind raced through a million scenarios. I wondered what awaited me inside. Even in the cold winter air, sweat trickled down my face and back as I waited and wondered.
Fortunately that morning, an officer who was also a friend, was on duty. He heard the call for my store from the dispatcher and immediately raced over. As I waited in the car my mind went to the two safes tucked away in a back room. The store was built to protect the two assets which were located far from prying eyes or easy access.
The TRTLX6 -60 were known as the luxury line of safes recognized for their safety and the impenetrability. The safes weighed approximately 6000 pounds each and were the size of a refrigerator.  They were considered almost impenetrable, much like the Titanic was considered unsinkable…
The officer finished checking the store and motioned that it was clear. Walking in, I picked my way through the broken glass and rubble in the showroom as I made my way to the safes. Afterwards, I would analyze the obvious damage and amount of stolen inventory from the cases. But a quick glance of the showroom let me know the robbers had done a pretty thorough job.
I continued to work my way through the clutter, my mind already at work mentally calculating the job before me. I would have to find a repairman to drill through the safes and retrieve my inventory and my customer's jewels. I was certain the safes would have been tampered with, but was still confident of the safety of their contents. That is until I turned the corner into the back room. Stunned, I stood staring into the empty room. The safes hadn't been broken into, they were gone.
GONE. I shook my head in disbelief.
Even as my mind grappled with the information bombarding me, I heard God speak those same words to my heart, "Trust Me, I am with you. This is not about you, it is where I am taking you. This is about your kids and your kids' kids' generation. I need you to trust me."
Trust. It was something I discovered was missing in my heart, my actions and in my marriage six years before when we had hit bankruptcy in my business. Since then Barbie and I had been working to rebuild our marriage as I worked to rebuild trust. It was an ongoing journey that would teach me about four essential components: transparency, truth, trust and unity that had at one time been conspicuously absent in my life and marriage. My marriage could have crumbled, and it would have been completely my fault. We had worked so hard together and now suddenly, it felt as if it had all been for nothing as my feet were knocked out from under me once again…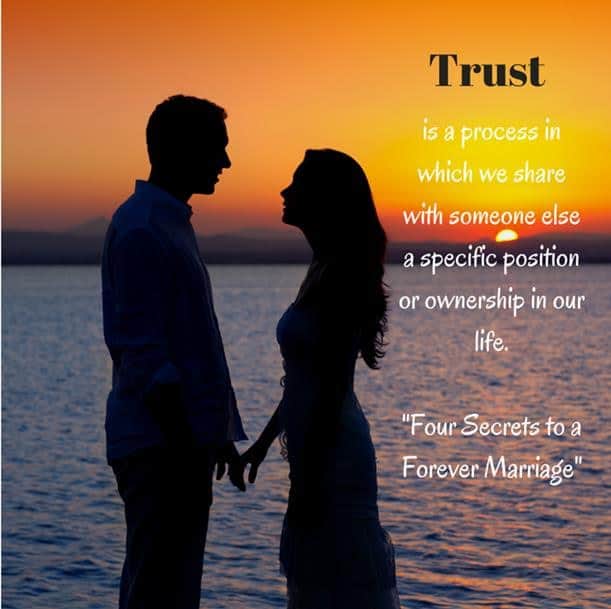 ###
You've just read an excerpt from the #1 bestseller "Four Secrets to a Forever Marriage: Marriage Tips from a Not-So-Perfect Husband," which shares the four essential ingredients necessary for any relationship. The book is available at www.michaelletney.com, Amazon and Barnes and Noble.com and bookstores everywhere.
ABOUT THE AUTHORS:  As the founder and creator of The Unity Cross, Michael Letney has influenced thousands of weddings through the wedding rings he has created and now with the bestselling Unity Cross and Unity Heart which are being used in ceremony's across the nation. For additional information go to: www.unitycross.com or www.michaelletney.com
Karen Hardin is a literary agent and published author. Her work has appeared in "USA Today,"  "World Net Daily," "Outlook Magazine," "Charisma,""CBN.com", etc. For additional information go to: www.prioritypr.org
Free Wedding
Giveaways + Sweepstakes
Enter sweepstakes & giveaways and enter to win a free honeymoon when you join. New winners are announced every week!