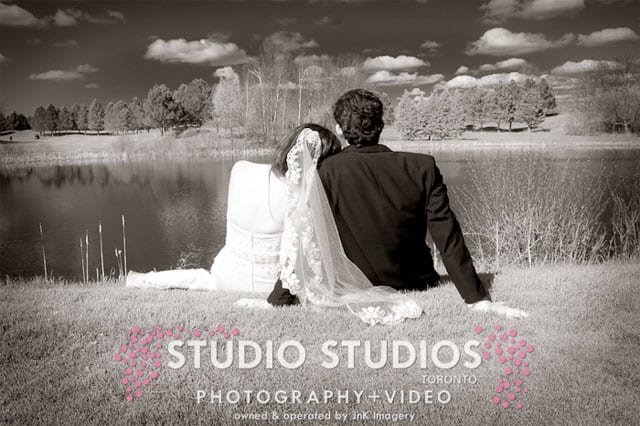 Every couple wants to have a smooth, enjoyable wedding day but how do you keep the stress and bride/groomzilla away the day of the wedding.
Start by meeting with your vendors before the wedding day to discuss when they will be arriving/delivering/setting up, if there are any conflicts try and resolve them before the wedding day. The last thing you want is the florist to be putting flowers on the altar in the middle of your vows! Also if you are doing any of your own touches (guest favours, programs, etc…) make sure they are done 3 full days before the wedding, this will allow you to relax and enjoy all the festivities and pampering leading up to the big day.
I meet with all my clients about a month before the wedding day to talk about the flow of their wedding day. This lets me find out the specifics of the day and I can also let them know what is realistic based on their timeline and what is not. I also recommend making sure you leave some buffer room in the timing, for example; I always suggest that we have 2 hours for our portrait session and we budget that in the timeline but I can say I've never had a full 2 hours yet! The next step is to get you family and bridal party on board. Now you may not be able to sway everybody to your vision and schedule but you have to try. If there is still that person who is going to be unbending you'll either have to leave them out or find out where you can work around them. Again talk to your vendors they may have some suggestions you haven't thought of.
The biggest challenge for most brides is to be on time, although it is true that things won't start without you, you run the risk of having to give up some of what you had planned throughout the day, whether it's time to take photographs at a specific place, not making it to the cocktail hour, etc…. The bride controls the timing of the day. Some tips; hair and make-up should be done by the time the photographer arrives, the bridesmaids should be dressed or finishing up and Mom & Dad should be ready as well. Ask any wedding photographer and they'll tell you 9 times out of 10 they'll be waiting for either the bride to get her hair and make-up done, a member of the bridal party or family member to be ready to take some pictures before the ceremony. After the ceremony unless you have planned time to say hello to your guests it is usually best to get to your limo as soon as possible to maximize your time with your photographer. Also make sure that family, friends and the bridal party are all aware of where they are going and maybe even equipped with maps, especially if you are taking separate cars.
When you get to the reception your DJ should already have an itinerary for the night but what happens when you have those guests that arrive late? Most couples will postpone their grand entrance up to half an hour for those guests that arrive late, more than that and you risk your planned events for the evening to not happen.
Now it's true that the best laid plans can go awry but if you prepare well before the wedding day you increase your odds of your wedding day being the relaxing, enjoyable experience you wanted it to be for both yourselves and your guests.
Article Submitted By:
Studio Studios Toronto
Free Wedding
Giveaways + Sweepstakes
Enter sweepstakes & giveaways and enter to win a free honeymoon when you join. New winners are announced every week!