More and more couples are realizing just how much of a difference special event lighting can make, all without breaking the bank. The right lighting can completely transform a venue, and add a beautiful glow to photographs and video. The best part? Lighting packages are flexible enough to fit into any budget.
What exactly should you be looking for when it comes to wedding lighting? Below are some of DFX's most popular lighting options.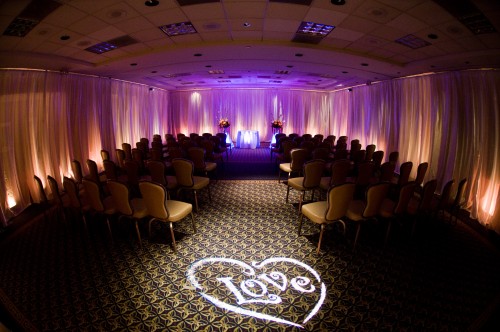 Custom Monogram Gobos: Gobos are a great way to add that personal touch to your wedding. The possibilities are endless: you can create and provide your own design, or work with our rental manager to get the exact design that you want. Display your initials and/or date, match the look to your stationary or overall theme, or add illustrations such as wedding rings, champagne glasses, a wedding cake, or something that has special meaning to you. One of our brides loved dolphins and got married in an aquarium; naturally, her gobo had a dolphin on it!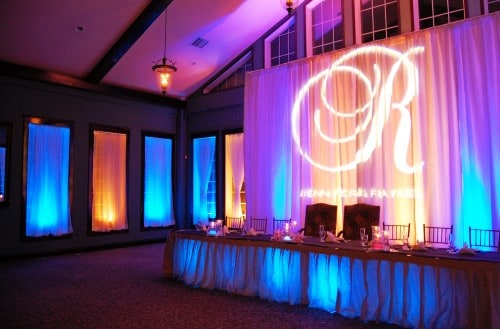 Uplighting and Wireless LEDs: DFX is truly unique in that we provide portable wireless LEDs at affordable prices. These lighting units are compact enough to fit under tables, on windowsills, behind drape, and along the wall. You can get the soft glow you're going for throughout your entire venue, without ugly wires running all over the place. These LEDs run on an RGB (red-green-blue) color scale, which means you can literally pick any color that you'd like. We can even program the LEDs with different colors, in case you want your tables uplit a different color than the drape.
There are other options too: LED strips are long and narrow, and can be programmed to constantly change colors and patterns. Having a beach wedding? Illuminate your walls with a subtle, slow-moving wave effect. We also provide optitripars and other lights, which can be customized with color gels, if you'd like.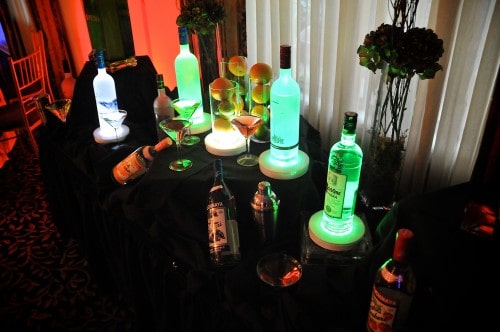 Centerpiece Lights and Pinspotting: It's likely that you put a lot of thought, time and money into your centerpieces. So why allow them to disappear into the shadows when the lights dim and the dancing begins? Keep your centerpieces in sight by lighting them from below. Our round centerpiece lights are small discs, which can either be programmed to remain on one color, or rotate through different colors. They work very well underneath clear vases and similar objects.
Pinspotting is another option to accent your centerpieces. Pinspotting involves shining focused streams of light from above. Other great uses for pinspotting are to highlight your wedding cake, set the head table apart from the rest, bounce light off of chandeliers, put spotlights on a speaker, or light up your dance floor.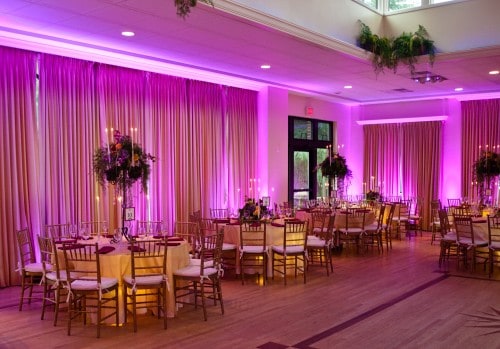 Drape and Truss: It is easy to underestimate the power of drape. We often use drape to cover windows in order to darken a room, gracefully decrease the size of a room, or conceal particular areas that may not fit in with the rest of your space. Drape is best used hand in hand with uplighting to bounce color around the room and set the mood. Why have plain walls when you can be surrounded by a beautiful cascade of light?
Truss is useful for holding lights around a stage or dance floor. Set up discreetly, it can provide the right amount of light without getting in the way of your festivities.
Article Submitted By:
DFX: Sound Vision
Free Wedding
Giveaways + Sweepstakes
Enter sweepstakes & giveaways and enter to win a free honeymoon when you join. New winners are announced every week!