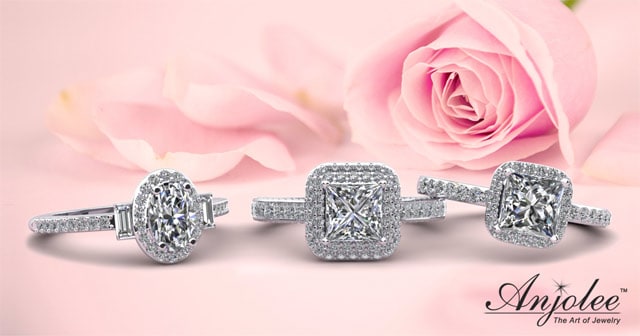 Buying an engagement ring should be a joyous and memorable experience during which you reminisce about your past and plan for your future. The diamond engagement ring that you select needs to be just as beautiful and special as the woman who will be wearing it for the rest of her life. Halo diamond engagement rings are a step up from the traditional solitaire style. These designs always feature a ring of diamonds encircling a larger center diamond; however, each halo style diamond ring has its own unique enhancements.
An ideal example of the hypnotic halo engagement ring style is the eye catching Forever Love Princess Cut Halo Engagement Ring. The dazzling princess cut focal diamond is prong set and fully surrounded by a halo of smaller, equally sparkling round cut diamonds. Even more twinkling diamonds are flawlessly set into the band. Total carat weight options for this glamorous diamond ring design range from a delicate 0.83 carats to an illustrious 2.38 total carats.
Other factors that affect the cost of a custom diamond engagement ring are the qualities of the center diamond and side diamonds and the precious metal setting that you choose. Anjolee ranks the quality of diamonds as Good, Better and Best. Each category has a clarity rating (how many inclusions there are in the diamond and how visible they are) and a color rating (how much color is evident, from near-colorless to colorless).
Bursting with brilliance, the breathtaking Princess Cut Diamond Double Frame Engagement Ring is a striking sample of the halo diamond engagement ring style. Enchanting 14k or 18k white gold and sophisticated platinum settings both create an elegant and shimmering diamond engagement ring. The mesmerizing double diamond halo really stands out when the diamonds are set into a contrasting color like regal 14k or 18k yellow gold or feminine 14k or 18k rose gold. If you want to experiment with different shapes and cuts, the exquisite Luxurious Oval and Baguette Halo Diamond Ring is the genuine halo diamond engagement ring for you.
There are a few additional personalization options to consider when buying a diamond engagement ring. Inside the band of any engagement ring, you can opt to have some words of love inscribed. Engravings are available in regular or script font and include up to 20 characters. To ease any worry of losing the remarkably radiant diamond halo engagement ring, Anjolee also gives the option of adding an exact replica made of sterling silver and cubic zirconia.
Every spectacular diamond engagement ring comes complete with a detailed Anjolee Certificate of Authenticity that lists all of the specific characteristics of your ring, including diamond quality ratings, individual diamond and total carat weights, precious metal type and appraisal value. A third party IGI certification can be added for an additional fee and requires extra time for your ring to be sent to the International Gemological Institute for valuation.
Free Wedding
Giveaways + Sweepstakes
Enter sweepstakes & giveaways and enter to win a free honeymoon when you join. New winners are announced every week!