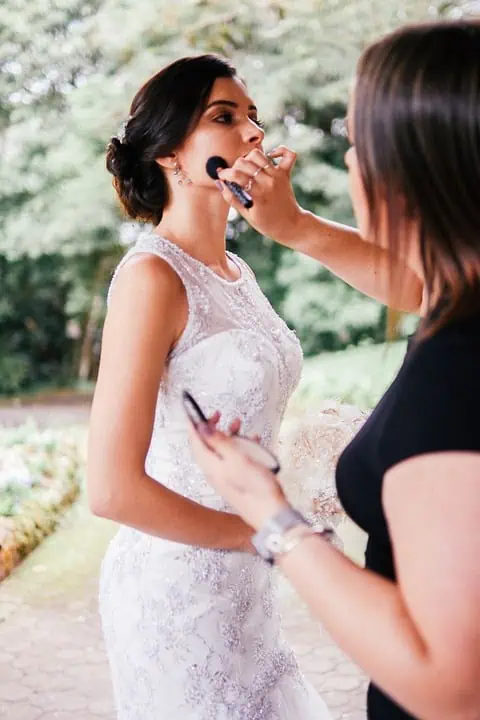 As you prepare for your wedding day, one of the things you need to consider is how you want your makeup to look. Whether you're all about the glitz and glam or you prefer a natural look, you'll want to give your wedding makeup some thought before the big day arrives.
If you don't know where to start when it comes to your wedding day makeup, there's no need to stress! We'll walk you through the do's and don'ts of navigating different wedding makeup options.
Do your research
Researching makeup artists is the perfect place to start. You'll want to find a wedding makeup artist—specifically, someone who knows the ins and outs of how wedding makeup looks, how different makeup looks on camera, and which products will last all day long.
Don't overdo it
The key to nailing the perfect wedding makeup look is finding the right balance. Remember, you want to look like yourself on your wedding day.
If you normally opt for a touch of nude lipstick and a subtle glow, don't go to the opposite extreme and request glam wedding makeup for your special day. There's nothing wrong with simple wedding makeup!
Do choose a makeup style that complements your features
One of the biggest advantages of working with a makeup artist who has experience with wedding makeup is that they know how to highlight your best features to bring out your natural beauty. If you want to accentuate your blue eyes, choosing a nude lip will help bring the focus to the upper half of your face.
If you already have bold brows, let them be! Filling them in could risk a look that's unnatural and distracting.
Do use blush to give your cheeks some color
To reiterate, you don't want a makeup look that washes you out. Even if you ask for natural wedding makeup, a touch of blush will give your look some dimension.
Don't go too crazy with the eyeshadow
The days of heavy eyeshadow are long gone. Aside from a bit of eyeshadow primer, a light application is all you need to make your eyes shine.
Do use foundation and concealer to cover any blemishes or redness
The best wedding makeup can give the appearance that you aren't wearing makeup at all. Foundation and concealer will help make your skin look flawless and camera-ready. These products literally set the foundation for the rest of your makeup, so don't skip this step!
Don't overdo the eyeliner or mascara
We all love the smokey eyes look and it can be a key component to beautiful, romantic wedding makeup, but tread lightly when it comes to eye makeup. This isn't to say you should toss the black eyeliner in the trash, but it may not be the best idea to try a dramatic cat eye for the first time on your big day. When in doubt, remember natural looking eyes are always best.
Do take care of your skin leading up to your wedding day
While makeup artists can work wonders to prep your skin and make it look flawless, they can't undo months or years of skin damage with the flick of a makeup brush. Make sure to stick to a skincare regimen ahead of your big day so you can be ready for your close-up.
Don't forget about your lips
Your lip color can be a fun and exciting way to glam up your wedding makeup. A bold lip can really stun against a white, ivory, or blush dress. Your makeup artist can help you choose a lipstick color that will complement your dress and skin tone.
Do schedule a trial run with your makeup artist
If you take one thing away from this list of do's and don'ts, let it be this. Scheduling a trial run with at least one makeup artist before your wedding day is a must.
First, it allows you the opportunity to test out one or more of the wedding makeup looks you've been dreaming of. Second, you can make sure you're happy with the results and that you trust this makeup artist with the task at hand. If you aren't confident they can reproduce the wedding makeup you're after, don't be afraid to schedule a trial with someone else.
Don't sweat it!
Deciding on your wedding makeup should be a fun and carefree process that doesn't cause you undue stress. Use these tips to get started and, when it comes down to it, go with your gut!
If you aren't vibing with the first makeup artist you try, sit down with another one. If you really want gold eyeshadow and a pink lip, then go for it. The most important thing is that you're happy with the end result.
At WeddingVibe, we have the best wedding ideas and special deals. We take the worry off of wedding preparation, honeymoon arrangements, and other details. Join us today!
Free Wedding
Giveaways + Sweepstakes
Enter sweepstakes & giveaways and enter to win a free honeymoon when you join. New winners are announced every week!