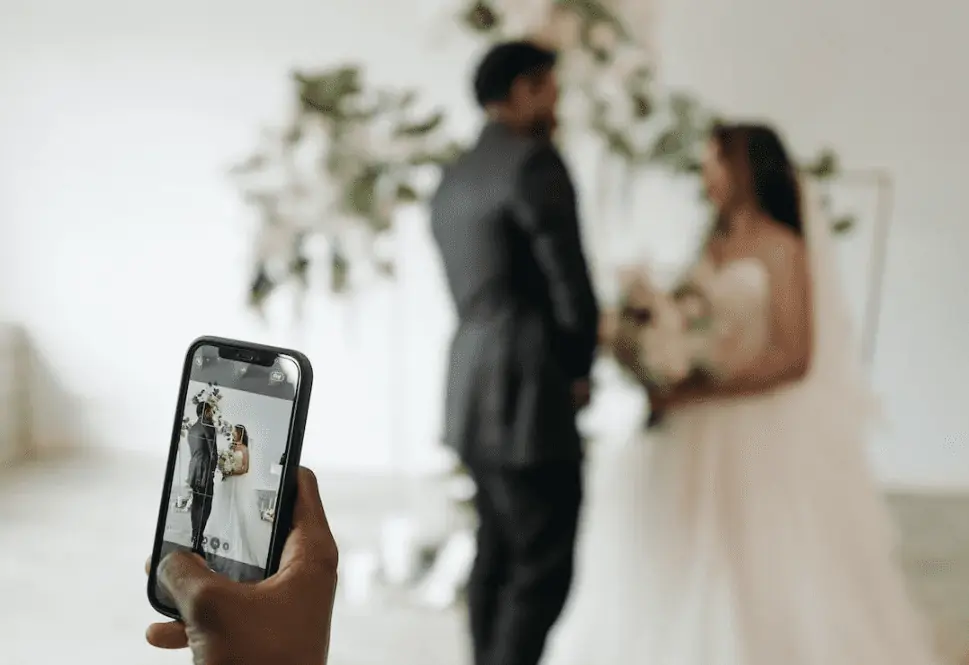 If you're feeling a bit frazzled by all the wedding planning, there's one item on your to-do list that's sure to relieve some stress and bring some fun back into the process: creating a personalized hashtag! Even better, it's the perfect task to sit down and brainstorm with your spouse-to-be.
Order takeout and make a date night out of it, or save it for a long car ride to get the creative juices flowing. No matter how you come up with it, the best wedding hashtags are those that authentically reflect the couple and their love for one another.
If you're not feeling particularly creative, there's no need to worry. Use this as a place to find all the ideas you need for your custom wedding hashtag.
What is a Wedding Hashtag and Why Do You Need One?
If you've attended a wedding in the past decade, there's a good chance you've seen clever wedding hashtags incorporated into the big day. It's not a new concept, but it can help memories from that special day live on forever.
Wedding hashtags continue to be popular because they allow guests to share moments from their wedding day on social media in a way that makes them easy to find later. By giving your wedding guests a catchy wedding hashtag to use when posting photos and videos from your wedding day, you'll get a glimpse at special images you would have likely never seen otherwise.
For example, your cousin might post a picture of her and her siblings excitedly getting ready for the big event or you may see a video someone took of you and your spouse's first dance. Regardless of what they post, you'll have the priceless opportunity to see your wedding from your guests' perspectives.
How Do You Create a Unique Wedding Hashtag?
There's no right or wrong way to create a wedding hashtag that will have your guests posting to social media as fast as their fingers will allow. Just try to have fun and let the creativity flow.
Use Your Wedding Date
If you're looking to create a no-fuss wedding hashtag, then using your wedding date is a great place to start. It could be as simple as "#The[Last name]sSayIDo" or "#FinallyA[Last name]" followed by the day you're tying the knot.
Opt for Alliteration
Use the first letter of your soon-to-be last name and pair it with another word that starts with the same letter. For instance, if the last name starts with P, "#[Last name]PartyofTwo" rolls right off the tongue. If the last name starts with a W, "#[Last name]sWed" is a simple, classic option.
Tap Into Pop Culture
These types of wedding hashtags can be super fun and will encourage guests to use them. Try something like "#KeepingUpWithThe[Last name]s" or "#MyBigFat[Last name]Wedding."
Use a Wedding Hashtag Generator
If you're finding it impossible to come up with the perfect hashtag, don't let it stress you out! Instead, try out a wedding hashtag generator to do all the work for you. Believe it or not, they can come up with some pretty awesome hashtags using just a few details you've provided.
Hire a Professional Hashtag Writer
If you've tried it all and still aren't haven't landed on any wedding hashtag ideas, leave it to the professionals. Yes, pro-wedding hashtag writers are a thing and they're great at what they do. If you can spare the expense to hire a professional writer, they can get to know you and your future spouse to create a memorable hashtag that feels uniquely you.
Best Ways to Use Your Wedding Hashtag
There's no sense in having a wedding hashtag if your guests don't know about it. These are just a few ways you can use your wedding hashtag to make your guest list aware of it!
Share it on your wedding website
Include it on your wedding invitations
Incorporate it into your wedding decor
Make sure your wedding party is using it
Let your vendors know about your custom hashtag as well. It can be easily incorporated into things like photo booths or announced by your band or DJ.
Wedding Hashtag Ideas To Get You Inspired!
#[First name]And[First name]SaidIDo
#CheersToThe[Last name]s
#[First name]And[First name]AlwaysAndForever
#ALoveStory[Wedding date]
#[First name]And[First name]TiedTheKnot
#LoveIsInTheAir[Wedding date]
Don't Sweat It Too Much
Creating wedding hashtags is meant to be a fun and enjoyable experience. Whether it's a bit obvious, insanely witty, or one of the generic ones, just make sure deciding on your wedding hashtag is a positive part of the wedding planning process.
Join the WeddingVibe today for wedding ideas, giveaways, and the chance to win the Sandals Honeymoon.
Free Wedding
Giveaways + Sweepstakes
Enter sweepstakes & giveaways and enter to win a free honeymoon when you join. New winners are announced every week!