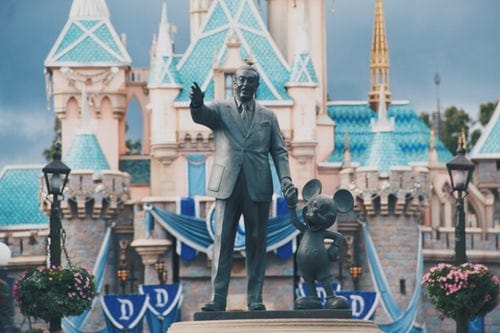 "Laughter is timeless, Imagination has no age & Dreams are forever." ~Walt Disney. Since childhood, we've all imagined our wedding day to be a happily ever after with the one and only prince charming. No matter how old we grow in age, Walt Disney is an inspiration to many, bringing forth the inner child in all of us. Just by saying the word, "Disney", what do you imagine? Hope? Faith? Magic! Disney itself is a representation of the good memories encountered throughout the years. Of the smiles and joys of the good old days and current adventures. With so much happiness and glee, why not incorporate the magic alongside your big day! Sit back and relax, Hakuna Matata, and let your inner Disney shine with these creative ideas.
Seasonal Wedding
Spring, summer, fall and winter: More than likely, there's some sort of Disney character that represents one of these seasons. Some represent one, others many; however, there are many ways to incorporate the Disney spirit! First, set a date with your fiance about when you'll have the wedding. Depending upon when the date is set, research or come up with a list of your favorite disney characters that can be used for that season. For example: My friend Tina got married in December, 2017. Because it was during the winter, she could have used Elsa from "Frozen", Belle from "Beauty and the Beast",  Winter Fairies from "Tinkerbell", Cinderella and the classic Mickey Mouse! Elsa was an obvious chose because of her winter setting. Crystals could be used as decorations for the wedding, and the brides hair and dress can be made similar to Elsa's as well.  The dress could also be made similar to Cinderella's classic, blue ball gown. For brides who want to steer away from tradition, why not let your dress be your something blue!
Know Your Disney? Choose Your Location!
What kind of a princess are you? Are you elegant, mystical, outdoorsy, or an island girl? Choosing your inner disney can be hard, but figuring out what kind of a wedding you want can help with the process. Let's say that I love nature, want an outdoor wedding and I love magic and adventure. 4 words: Faith, trust, and pixie dust! Peter Pan and the fairies can be the perfect setting for my outdoor reception. Imagine this: an outdoor reception with a live band, mason jars filled with fairy lights, wildflowers and acorns, and the bridesmaids wearing fairy styled, colorful dresses. The table cloths have glitter here and there and can easily be represented as fairy dust. Guests can party comfortably barefoot, and there's a roaring fire to set the scene. Doesn't this remind you of Peter Pan and the lost boys celebrating the night away? With dancing fairies and music blaring to songs all through the night?
Whichever season you choose, or location you and your fiance have chosen, let your creativity shine and be bright. Themed wedding nowadays are the new craze, so don't let yourself be set back because it's "not traditional." Like Walt Disney once said, "All our dreams can come true, if we have the courage to pursue them."
Now, Put It In Action!
Once you have your date, location and Disney setting, like Sebastian once said, you've got to set "the mood." During this wedding planning journey, make sure to make memories and put them in your "Adventure Book." Set the mood by giving your guests a taste of whats coming by making your Save The Date invitations match your disney theme. For the wedding itself, be creative and tap into your inner child. Have fun and remember that this is your wedding. Make it a dream come true and a fairytale that will stick within the storybooks.
Thank you for reading & remember to stay in the Wedding Vibe!
Free Wedding
Giveaways + Sweepstakes
Enter sweepstakes & giveaways and enter to win a free honeymoon when you join. New winners are announced every week!