We never get tired of listening to love stories, or eyeballing engagement rings. Diamonds may last forever, but engagement rings haven't always been about glittering hunks of compressed carbon. At the moment, we're loving unique engagement rings made from all different types of gemstones including pearls, rubies and sapphires. Following are some of our very favorite celebrity engagement rings who are all about thinking outside the box.
Emma Stone's Peerless Pearl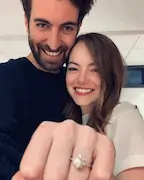 Saturday Night Live writer Dave McCary thrilled his darling Emma Stone with an 8 mm Akoya pearl set in a diamond halo. Her ring also has many hand-applied details such as diamond cutting and milgrain edges. Pearl engagement rings like those from The Pearl Source have been trending strongly in recent years, not only for their beauty, but also their affordability. Stone's delicate ring is delightful, and delightfully affordable at less than $5,000.
Susan Kelechi Watson's Sparkling Sapphire
This Is Us's Susan Kelechi Watson has a pet name for her stunning 3-carat blue sapphire engagement ring accented with diamonds: "Marina," after the location in Marina Del Ray where her fiancé actor Jaime Lincoln Smith proposed.
Angela Lee's Fascinating Floral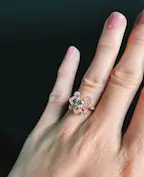 The unique stylized floral design featuring channel set diamonds surrounding a round central stone was just the thing to win MMA star Angela Lee's heart. Inscribed on the inner band is Te amo para sempre, meaning 'I love you forever.' She and fellow fighter Brazilian Bruno Pucci got engaged in Hawaii, then returned to the islands in 2018 for a beachfront wedding.
Katy Perry's Retro Ruby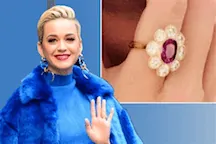 Singer Katy Perry is as modern as they come, but her floral design engagement ring is a classic style dating from the 19th century. Perry's fiancé actor Orlando Bloom went with an oval ruby for a center stone, accented with white diamonds to create a floral halo. The ruby is approximately 2 carats and the surrounding diamonds add another 2.5 carats for a grand total of some 4.5 carats — and a price tag around $5 million. Perry's sparkler is somewhat reminiscent of Kate Middleton's, profiled below. Perry captioned her ring pic 'full bloom.' Well said.
Lindsey Vonn's Envy-Inducing Emerald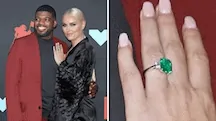 Vonn's hockey pro beau P.K. Subban selected an exquisite emerald for personal reasons: green is her favorite color and emerald is his birthstone. They hadn't even discussed rings when he pulled the trigger, but Vonn was utterly thrilled with the classic cut emerald rather than old-fashion ice.
Kate Middleton's Heavenly Heirloom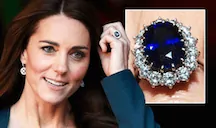 Kate Middleton's blue sapphire engagement ring once belonged to William's mother, Princess Diana, but after she and Charles divorced, she returned it. Following her tragic death, Charles allowed his boys to pick a memento of their mother. Harry actually chose the ring and William selected a Cartier watch, but when William got engaged, they traded keepsakes. Diana set a trend back in the '80s with her unusual ring choice, and the same surge in interest in sapphires happened with Prince William's and Middleton's engagement in 2010. The 12-carat oval sapphire surrounded by 14 solitaire diamonds is valued at $35 million.
J.Lo's Emerald-Cuts Only
J.Lo has been engaged 5 times and married 3. Previous winners include a $100K ring from first husband restauranteur Ojani Noa, another from second husband Cris Judd, and then an 8.5 carat blue diamond from her third, singer Marc Anthony. Her 6-carat pink radiant cut diamond from Ben Affleck sparked a trend in colored diamonds back in 2002, but it didn't result in a marriage. Apparently if you want to win her hand, the rock has to be an emerald cut. Her most recent engagement to pro ball player Alex Rodriguez in 2019 involves a massive 10-15-carat emerald-cut white diamond valued in the $1-5 million range. Here's hoping this one's a keeper.
Images:
https://www.eonline.com/ap/news/1099643/emma-stone-is-engaged-to-dave-mccary
https://pagesix.com/wp-content/uploads/sites/3/2019/02/katy-perry-2.jpg?quality=90&strip=all&w=1200
https://www.tmz.com/2019/08/27/lindsey-vonn-engagement-ring-pk-subban-emerald-mtv-vmas/
https://cdn.images.express.co.uk/img/dynamic/130/590x/Kate-Middleton-engagement-ring-871620.jpg
Free Wedding
Giveaways + Sweepstakes
Enter sweepstakes & giveaways and enter to win a free honeymoon when you join. New winners are announced every week!