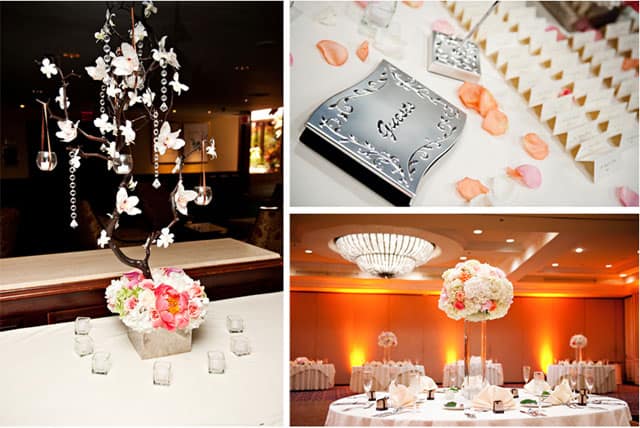 The three best ways to search for wedding reception sites are through local publications, local bridal shows, and wedding websites. You can also ask friends about sites they think will appeal to you.
Once you've identified several appealing sites, learn the details by finding out:
• Is it available on the date you want?
• Is it large enough to accommodate your estimated guest count?
• Will the pricing fit your budget?
Don't waste a trip to see the location if it cannot meet the basic criteria. Once these stipulations are met, if you remain interested in seeing the location, schedule an appointment to view the site. Obtain contact names when setting up your appointments and schedule thirty to forty minutes at each facility you will visit. Then draft a list of questions relative to your reception requirements.
Site selection visits
Bring along your list and a camera or video recorder to document the site. This will come in handy when it comes to decision time, especially if others participating in the decision are unable to accompany you.
An important objective of the appointment is determining what is included in the price quote, e.g., tables and chairs. If a specific amount of time is allotted, are there possible overtime charges? Do they provide catering, require that you use an approved caterer, or can you bring in your own caterer? Moreover, if you want to have the ceremony onsite, verify that is possible and the added costs. Will yours be the only wedding that day or will other events go on simultaneously?
Tour the site to look for adequate guest parking, bride and groom changing areas, restroom facilities and wheelchair accessibility. Inquire during the meeting about liability insurance, music restrictions, access for taking pictures and whether setup and cleanup times are included in the allotted time on the contract.
If you want to consider a Sunday, mid-week or off-season wedding, ask if there are discounts at those times, as well as for prepayment. Be sure to understand when final payments are due, and if there are any hidden or extra charges that are not listed in any of the contracts. Before leaving, request an event packet that will include costs, contracts, rules and regulations.
Finalizing your decision
Review contracts carefully to be sure you understand the language before signing on the dotted line. Most deposits are non-refundable and non-transferable. Should you decide to move your wedding date, facilities generally will not transfer the deposit to that date, so pay close attention to disclaimers, deposit requirements and payment schedules.
It is important to remember that signing a site contract means that you've agreed to all the rules and conditions stipulated by the site. Make sure all specific details for your reception are written into the contracts before you sign. If it isn't specifically addressed in writing, you can't expect it to be covered.
The site staff prepares for numerous weddings and have knowledge of what works well on their site—and most aim to please. During your site evaluations, ask yourself whether the staff seems to enjoy what they do and whether they seem interested in helping you create special memories that will last your lifetime. If not, don't hesitate to move on to another site.
Article Submitted By:
©2011 Robbin Montero
707-579-5886
This article cannot be reprinted without Robbin Montero's expressed written permission.
"Stress Free, Leave the Details to Me" is the tried and true philosophy of Robbin Montero, California Wine Country wedding planning expert and owner of A Dream Wedding. Robbin is the premier wedding planner in the Northern California Wine Country, transforming any vision into the perfectly designed wedding creation. Robbin and her weddings have been featured in The Knot, Brides, LA Times, Grace Ormonde, Elite Magazine, Style Me Pretty, Your Wedding Day and Vine Napa/Sonoma magazines, and ImportantOccasions.com. Travel & Leisure magazine calls Robbin, "The expert wedding planner in the California Wine Country." www.a-dreamwedding.com
Photo Submitted By:
Emindee Images
Free Wedding
Giveaways + Sweepstakes
Enter sweepstakes & giveaways and enter to win a free honeymoon when you join. New winners are announced every week!