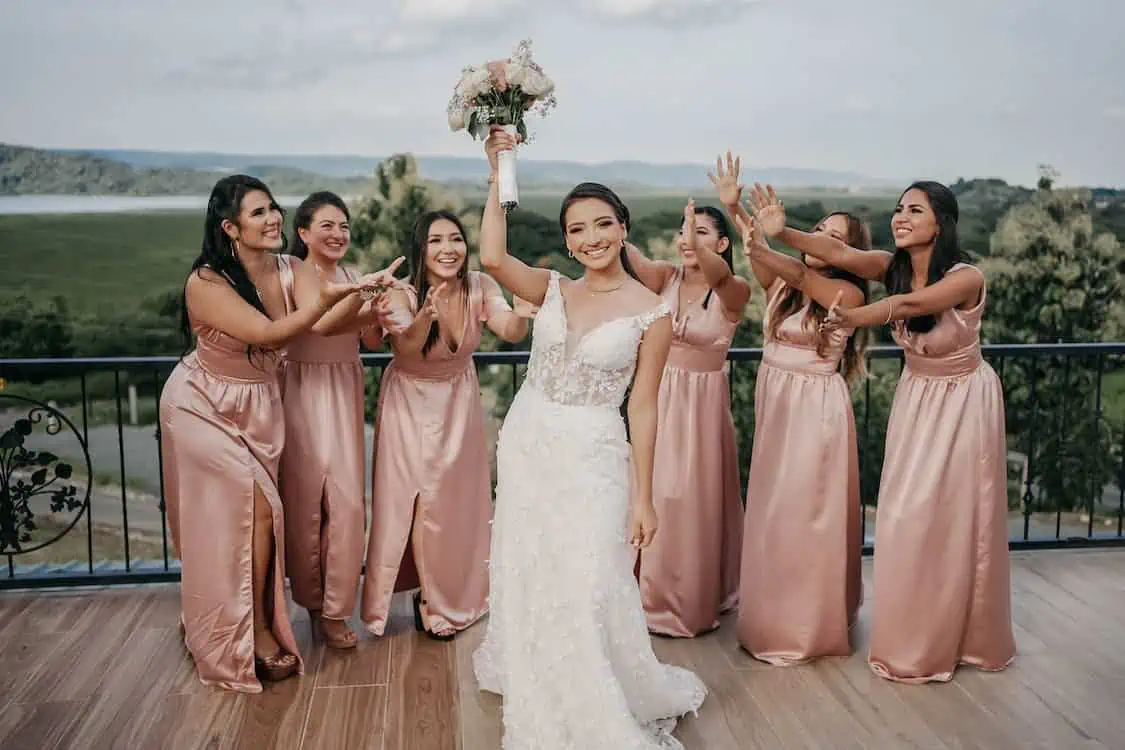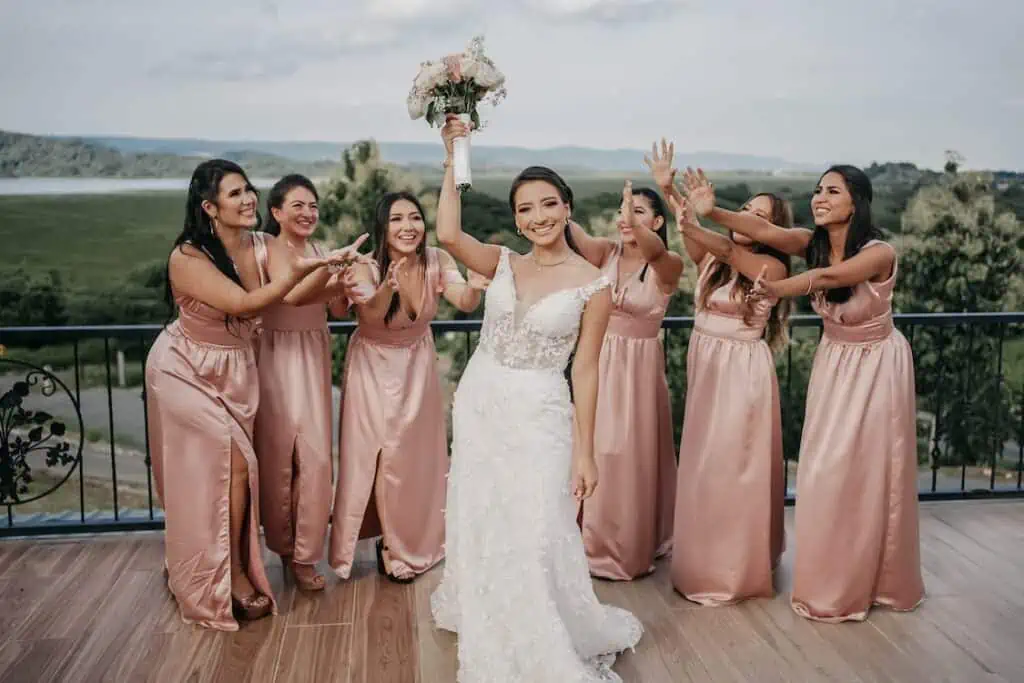 Your future spouse has proposed, and you're engaged. Now let the planning begin! An integral part of wedding planning is choosing your wedding party. Asking them to be by your side on your big day means it's time for another proposal—a bridesmaid proposal.
Bridesmaid proposals can be as simple or as extravagant as you like. Consider these tips and bridesmaid proposal ideas as you prepare to ask your future bridesmaids to be your bridesmaids!
Ask your bridal party in person
One of the best ways to ask your future bridesmaids to be at your wedding party is by asking them in person. It's so rewarding to get their reaction firsthand, and it makes for a memorable bridesmaid proposal.
If you're not sure how to ask in person or you don't want to ruin the surprise, plan a fun activity to get your bridesmaids together. They'll never see it coming!
Invite your closest gal pals out to brunch for a sweet surprise
Coordinate a spa day to rejuvenate after all that wedding planning
Plan a nostalgic sleepover complete with movies and makeovers
Attend a class like paint and sip or a dance class for a fun surprise
Throw a game night where the proposal is incorporated into a game or puzzle
Send a bridesmaid gift box
If you can't ask some or all of your bridesmaids in person, do not worry! There are plenty of unique bridesmaid proposal gifts to help you propose to your bridal crew even if they're across the country or the globe.
A fun bridesmaid proposal idea is to send a bridesmaid proposal gift box full of items that will get the message across loud and clear. Some cute and functional gift ideas include:
Personalized tote bags
Matching robes or outfits
Personalized hangers for bridesmaid dresses
Silk sleep masks
Personalized bracelets or necklaces
A bridesmaid proposal box will not only show the bridal party how much they mean to you but they can also be coordinated to match your wedding theme. Items like tote bags, hair ties, and matching robes can also be fun additions to your bachelorette party, bridal shower, or other wedding festivities. If you want your bridal crew to bring these items to these events, be sure to let them know ahead of time, especially if you're planning a destination wedding!
Make a video
If you can't ask in person, making a video is a great way to deliver a personal message. Whether you record yourself popping the question in a fun way or create a montage of your favorite moments together, asking via video is sure to be a tearjerker. As a bonus, you can post the video on social media after they've said yes to sharing this special moment with loved ones near and far.
Write a letter
If you're better at expressing yourself on paper, writing a letter is a great way to ask someone to be by your side on your wedding day. Not only is a personalized message a meaningful way to tell your future wedding party how much they matter to you, but it also provides them with a lovely keepsake that they will cherish forever.
If big displays of affection aren't your thing, a heartfelt note is the perfect bridesmaid proposal for you. The best part is, you can ask via letter in person or from afar.
Things to keep in mind for a great bridesmaid proposal
Be sure to include a bridesmaid proposal card
Unless you choose to propose to your bride squad with a letter, including bridesmaid proposal cards with a bridesmaid proposal gift is a must-have. After all, they won't know you're proposing if you don't ask! You have the option of writing out a more personalized message or going with something as straightforward as asking someone, "Will you be my bridesmaid?"
Consider doing something special for the maid of honor proposal
There is a reason you chose your maid of honor to not only be by your side on your big day but to take on all the responsibilities that come with that role. Whether you just write them an extra heartfelt message or give them a sentimental gift, show your maid of honor how much they mean to you with something extra special.
Keep your wedding budget in mind
Don't let a cute bridesmaid proposal break the bank. It can be easy to get carried away when you want to go with a creative bridesmaid proposal idea, but just remember that spending too much money on bridesmaid proposal gifts means fewer funds you can allocate to the venue, vendors, and other important elements on your wedding day.
Use these bridesmaid proposal ideas for other wedding titles
If your wedding party spans beyond just bridesmaids, there's no reason you can't use these bridesmaid proposal gift ideas to ask others to be at your wedding party as well. It could be a flower girl, ring bearer, junior bridesmaid, or bridesman.
Give them plenty of notice
Being at a wedding party comes with its requirements. Make sure to ask as early in the wedding planning process as you can to allow them time to take on their responsibilities and even save money to cover the associated costs.
Have fun with it
You know yourself, your best friends, and your family members the best. The most important thing is proposing to your wedding party in the way that is most comfortable for you. If you don't like to bring a lot of attention to yourself, opt for something more low-key. But if you love grand displays of affection, then, by all means, go all out.
The purpose of a bridesmaid proposal is to have fun and share how much you love and appreciate your future bridal party. Don't put too much pressure on yourself. No matter what you choose, you'll be able to propose to your bridesmaids and show how much you care at the same time.
Join the WeddingVibe today for more wedding ideas and a chance to win a free Sandals honeymoon as well as other wedding deals.
Free Wedding
Giveaways + Sweepstakes
Enter sweepstakes & giveaways and enter to win a free honeymoon when you join. New winners are announced every week!