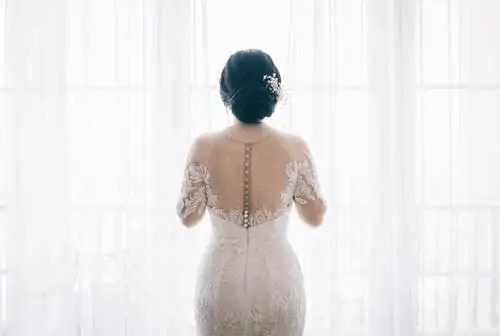 Every bride wishes to look her best on her D-Day. While a wedding dress does wonders to change and enhance a bride's personality, the way she styles her hair is of equal importance. Even though hiring a professional hairdresser is recommended to achieve a perfect hairstyle that matches your dress and makeup, you can consider doing your own hair and save a few bucks.
Take a look at these awesome hairstyle ideas to create a stunning look at your wedding.
Side Swept Curls
If you are running out of time but still want your hair to look fabulous on your wedding day, consider getting side-swept curls.
Tools: A comb, curling iron, and hairspray
Directions:
Comb your hair to detangle and smoothen it. Part it in the middle and divide the entire head into sections.
Once your curling iron is hot, take a strand of hair from the back of your head and curl it around the rod.
Hold it for 10 to 15 seconds and repeat with the other sections until your entire head is covered.
Gently run your fingers through your curls and part your hair sideways. To keep your hairdo in place, attach a few bobby pins on the backside of your hair, and finish with a hairspray.
Add a flower crown to make it more elegant.
This hairdo takes only a few minutes and goes with every wedding dress.
Twisted Updo
If you own a pair of statement earrings that you wish to highlight on your D-Day, a twisted updo will do the work for you.
Tools: A comb, hair tie, bobby pins, hairspray, and a brooch or flowers (optional)
Directions:
Comb your hair to detangle it and curl your hair to achieve loose waves. You can also use a comb to achieve some texture by teasing it. Apply hair spray to keep the style in place.
Part your hair from the middle until the back of your head. Hold both sections and tie it into a knot, just like you tie shoelaces.
Fix three bobby pins on the left section. Hold the right section over the left, twist it, and tie it around the left section.
Secure the ends with bobby pins and add another coat of hair spray. Remove a few strands of hair on the front.
You may need help from a professional hairdresser or an additional helping hand to achieve this look. If possible, add a jeweled brooch or a few flowers over the hair.
Side Braid
A loose braid styled on one side looks elegant and adds a delicate touch to your ensemble. If you are supposed to wear a lace wedding gown, this hairstyle should be your top choice.
Tools: A comb, hair tie, bobby pins, hairspray, and a delicate flower (optional)
Directions:
Comb your hair to detangle it and part it on one side.
For an enhanced look, curl your hair before you start braiding it.
Hold the side-swept hair in a ponytail and divide it into three sections.
Begin braiding by overlapping the three sections over each other until you reach the end. Secure with a hair tie.
Remove a few strands of hair on the front to achieve a messy look. Finish it with hairspray.
Attach a delicate flower over the braid for an enhanced look.
Consider getting hair extensions for a voluminous look. The experienced hairdressers at VeilaHairExtensions.com recommend getting hair extensions for women with short hair. Even though this hairstyle will suit brides with short hair, getting hair extensions will make it easier to hold the look for long.
High Textured Ponytail
Quite often, ponytails are the last option when picking wedding hairstyles. However, if done right, a ponytail can be a show-stealer.
Tools: A comb, hair tie, hair clip, bobby pins, and hairspray
Directions:
Comb your hair to smoothen it out. For better results, curl it to achieve waves.
Gather your hair into a ponytail and flip it over your head. Do not secure it with a hair tie yet; fix it with a clip instead.
Tease your hair using a comb or comb it backward to achieve a voluminous look.
To give your ponytail a lifted look, add bobby pins in the base.
Secure the ponytail with a hair tie and wrap a strand of hair around the knot to hide the tie.
Tease the loose hair with a comb once again and finish with a hairspray.
Pick this hairdo if you are wearing a wedding dress with a low back or cold shoulders. Add flowers over the knot for an added effect.
All the hairstyles mentioned above go with any wedding dress and will enhance your ensemble. Try one of these looks or mix and match several styles at once. Since these hairstyles need just a few tools and only a few minutes to style, you can achieve your desired look in a completely stress-free and inexpensive way.
Free Wedding
Giveaways + Sweepstakes
Enter sweepstakes & giveaways and enter to win a free honeymoon when you join. New winners are announced every week!