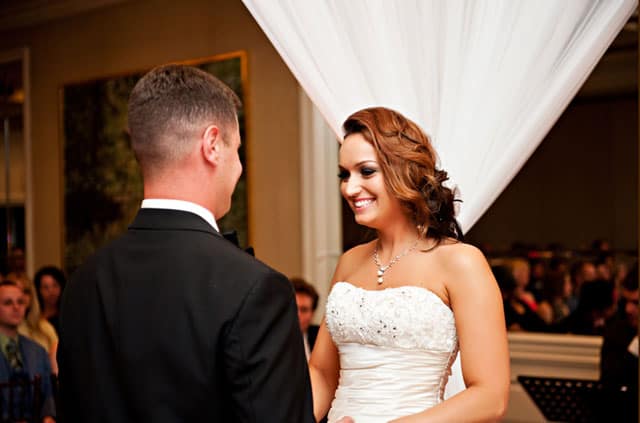 The first question to ask yourself is, "Do we want a religious or secular wedding?"  If you're a person who attends a church or temple you may stop right there and choose the Officiant of your particular denomination and simply have it where the religious service is normally held.
Even if you plan on being married in your normal place of worship I suggest making an appointment and talking to the person who would perform your ceremony, bringing with you a list of any questions you might have.  Do any of these questions apply to you?
If you or your fiancé are divorced, will this denomination allow the marriage?
Can a person who is not of the same religion be in the wedding party, recite a reading, sing or play an instrument?
Can you write your own vows?
Can you review the ceremony prior to the wedding?  Can any part of it be changed, deleted, or enhanced?
If you want to hold the wedding in a park, at a lake, restaurant or some other place would the Officiant travel there or do you have to use the building?
You may be a person who simply doesn't attend a religious service very often if at all.  Or you may be spiritual and not religious, meaning that there are no particular denominations with which you resonate.  In that case you definitely want to have a consultation with a prospective minister or Officiant to see if they will honor your beliefs (or lack thereof).
Consultations are usually free.  If there is a fee it would normally be deducted from the final fee.  Always ask what the fee is because there is no "across the board" set fee and you don't want to be surprised at the last moment.  Find out if a deposit is required to hold the date and time and when the final payment is due.
You may not know exactly how you want the ceremony to be but you DO know what you don't want to be said.  This brings up a very important point.  Do you feel free enough to say what is on your mind when you are speaking with the person who will pronounce you husband and wife?
A consultation is a give and take affair.  You're all getting to know each other a little.  You or your fiancé might even reveal a deep thought that the other one knew nothing about.
How do you feel about prayers being said?  Do you want certain references, i.e. God, Jesus, Holy Spirit, mentioned or not?  You do have a choice in the matter.  In fact, if you feel that you don't have a choice in the matter or feel stifled in any way, thank the Officiant for their time and exit as quickly as possible.
Some questions to ask:
How long is the ceremony?  (You can have it as long or as short as you like.  It's your ceremony.)
Can other ceremonies be included?  (Candle lighting, sand pouring, coin, hand fasting or holding, memorials, parental honoring, etc)
Is there another culture or tradition you desire interwoven into the wedding tapestry?
Is a rehearsal necessary and who should attend?  Fee involved?
Does this particular minister require pre-marital counseling?  Do you agree?
If you would like to review the service, can you?
Can you add or delete sections, words, components or are there no options at all?
Note: if you have no options, leave as quickly as possible.  And if the minister or Officiant has no time to speak with you, keep looking.
Your marriage is a major event in your life.  Your wedding day reflects that and deserves all of the respect, integrity, cooperation, understanding and patience necessary to accomplish and perform your Perfect Ceremony.
Article Submitted By:
Rev. Phran Gacher at www.PerfectCeremonies.com
Photo Submitted By:
Emindee Images
Free Wedding
Giveaways + Sweepstakes
Enter sweepstakes & giveaways and enter to win a free honeymoon when you join. New winners are announced every week!