How to Dress Happy Bridesmaids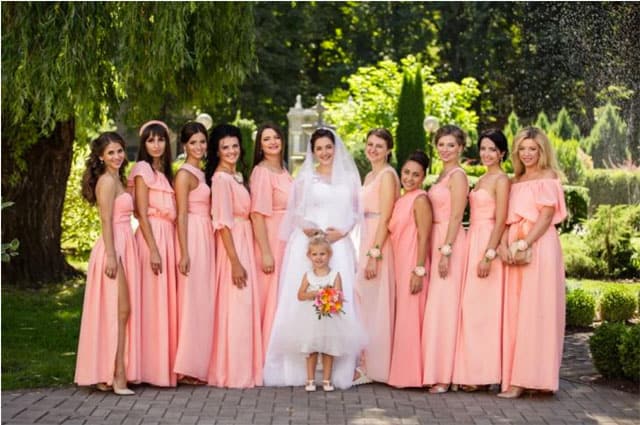 You're getting married and of course you want your best friends to be an important part of the big day. So far so good. But does that have to mean that your girlfriends should shell out a fortune for matching dresses that none of them will never wear again? Not at all!
The kindest thing you can do for your bridesmaids is to keep budget in mind. You might be going over the top for your own dress, but there are tons of great and surprisingly affordable bridesmaid dresses out there.  
The next best thing you can do for your friends is to let them select styles that work with their figures. Unless all of your bridesmaids are top fashion models or members of the Rockettes chorus line, the concept of one-dress-suits-all is a fantasy. Select a single color or a palette of shades, choose a length and perhaps even a fabric, and let your friends find their own dresses within those guidelines. You can maintain veto power, but wearing a dress she's comfortable in is going to make for a happy bridesmaid.
As for the actual shopping, you can make a day of it browsing at a salon or even gather around a laptop — champagne brunch optional — and pick the dresses that way. Buying online gives you a second occasion to get together with your pals when the dresses arrive, and they gather to try them on. Just keep these guidelines in mind…
When Should the Dresses Be Ordered?
If you're ordering from a bridal salon, it can take two or three months to get delivery. Taking alteration time into consideration, you'll want to order bridesmaid dresses at least four, and preferably, six months before the wedding. If you've got the time, though, there's no reason to wait, just so long as you've already ordered your own dress.  
If you're ordering bridesmaid dresses online, you can order fabric swatches first, and then once you place your order you can generally get the dress delivery in as little as a month. But alterations may be necessary even if you've been able to order a custom size, and you still want to allow time to have that done.
Do Bridesmaid Dresses Run True to Size?
Yes, unless you're told otherwise, they should run true to normal size. But if someone is between sizes, or planning to lose weight before the wedding, order the larger size. The best of intentions don't always pan out, and it's always easier to take a dress in rather than let it out at seams that may not be generous.
Will the Bridesmaids Need Special Lingerie?
Good question! Most grownups have gotten over the let-the-bra-straps-hang-out non-fashion fashion even for casual outfits. But it's a grievous faux pas to have anything showing in a bridesmaid dress. Lingerie is underwear and it is called under wear for a reason. Tricky straps, halters, low-cut backs, and other design elements require bras that accommodate them. And unless the dresses are black or another dark color, the bras should be in neutral colors that won't show through. Conversely, black and dark colored dresses call for bras in black or deep hues. Even it you can't tell in normal light, flash photography can sometimes reveal light colors even under dark ones, especially if the fabric is lightweight.

Do all the Bridesmaids' Shoes Have to Match?
For all the reasons that not everyone looks good in the same dress, not everyone is comfortable in the same shoes. There are several ways to get around this and still have the wedding party look cohesive. As the bride, you can set some guidelines like a range of heel height, open or closed toe, and so on.  If the dresses are different hues, each bridesmaid can get shoes dyed to match her dress or all the bridesmaids can wear the same neutral color or metallic. Again, you want happy bridesmaids, and no one can be happy if her feet hurt.
What About Accessories?
Some brides make a gift of necklaces or earrings for the bridal party. If that's not your plan, then you may want to make suggestions as to the jewelry your bridesmaids wear. Anything flashy, dangly, or oversized is going to draw too much attention and look awkward in photographs.
Free Wedding
Giveaways + Sweepstakes
Enter sweepstakes & giveaways and enter to win a free honeymoon when you join. New winners are announced every week!