Whatever musical route you and your partner decide to head down for your wedding reception – be it a DJ, solo musician or wedding band – there are a few transferrable tips you can apply to your evening to ensure maximum entertainment levels. A dream wedding can soon dissolve into a logistical nightmare when you don't have a solid plan in place, so we've put together this handy step-by-step guide to help you schedule certain key moments and coordinate a number of wedding guests, leaving you free on the night to mingle, let your hair down and bask in the glow of your happiness.
Step 1 – Pick Your Venue (based on expected numbers)
It's smart to get a rough idea early on of what scale of shindig you want to throw, as pretty much every other decision you make will be built on this. There's no need to book a huge and costly hotel function room, for example, if you don't want more than 20 people to be there, just as there's little point cutting your expenses by booking a tiny community centre then sending out a hundred invitations.
Once you have an estimate of how many guests will be at your reception, and can envision the kind of space or room in which your event will be taking place, you can make an informed choice when researching wedding entertainment. A solo guitarist would struggle to fill a large or outdoor space as well as a 5- or more piece band, whereas a party band would overpower a smaller room. Get you venue sorted, and your list of entertainment options will shorten considerably.
Step 2 – Choose Your Entertainment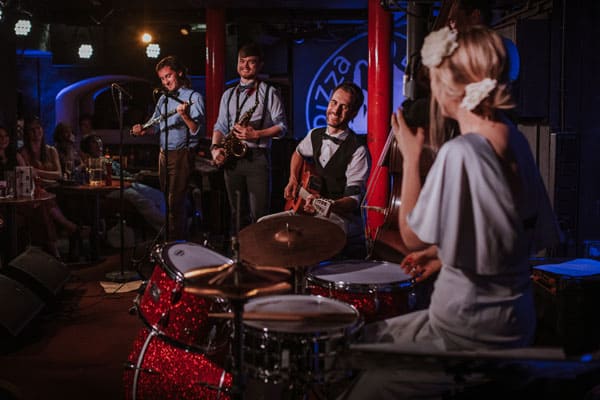 If you've already got a firm concept in mind for your wedding, then you may well be able to skip this step. You can't throw a very convincing 1950s vintage themed wedding without a rock 'n' roll band or some live swing, after all. But don't worry if you haven't chosen a theme – there are pros and cons for all kinds of wedding music. Bear in mind that you'll need to book you wedding music a few months before your big day arrives – this gives you ample opportunity to give them a playlist and a do-not-playlist, and gives them the chance to familiarise themselves with you first dance song and other key moments.
Wedding DJs
Pros – especially in the internet age, can have an almost unlimited repertoire; can lower volume for announcements at the touch of a button; generally less equipment to set up than a band.
Cons – playing pre-recorded music just isn't as special as having it performed live for you; generally less to watch than with a band.
Wedding Bands
Pros – can personalise their set list for you; are an exciting visual spectacle for guests; sound can fill larger rooms.
Cons – style can be limited by their sound and set up; can be more expensive; take longer to set up and pack down.
Solo Wedding Musicians
Pros – very space conservative; can be less expensive; very little set up time.
Cons – again, style can be limited by their sound and set up; can serve as background music, which risks being lost if the crowd is large.
Step 3 – Plan Your Key Reception Moments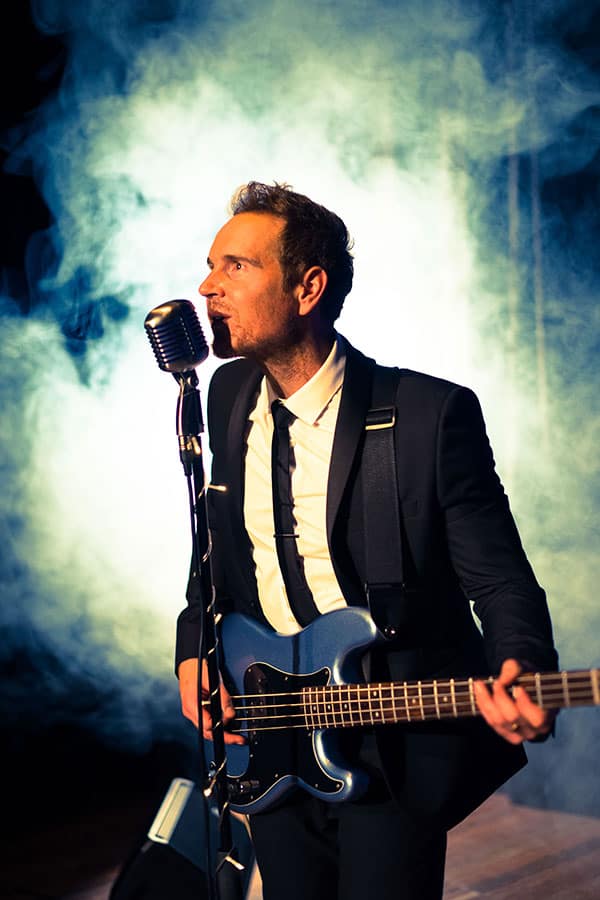 Of course, this is your big day, so you make the rules – but there are a few traditions which most people like to try and fit in, and many of your guests may well be expecting. Here's an example of the order in which things can pan out over the course of an evening:
18:00 – Make a Meal of It. Everyone's appetites should be suitably whetted by now, so cue dinner music! We'd advise against bangers at this point (unless they were on the menu). While it's nice to have dinner and a show, your guests will be primarily focused on what's on their plates, so they'll only need to be serenaded gently until each dish has been cleared. If you've hired a live band, this could be their opportunity to set up their instruments, so you can discuss what to put on a playlist for this portion of the evening.
18:45 – A Toast from the Host with the Most. As dinner comes to an end, it's time for some toasts, hopefully as heartfelt as they are embarrassing. Time for a break in the music, and maybe another one of those announcements!
19:15 – Welcome! This is usually a role for the father of the bride to fulfil, once everyone's sat down. It may be worth again enlisting the help of your DJ or bandleader so everyone knows to hush up and listen.
19:30 – Cocktail O'clock. The first hour of your reception is usually a good opportunity for your guests to have a good look around your venue, have themselves a drink or two, and chat amongst themselves. It's smart to have some music at this point to allow your guests to acclimatise, but avoid dropping your floor-filling anthems for now. If you've hired live musicians, this would be a good time for either a solo acoustic guitarist or pianist; if you've hired a DJ, a light pop playlist will do the trick.
20:00 – Wedding Party Entrance. An announcement is going to need to be made so your guests know when to take their seats, so it's probably worth arranging this with your DJ or bandleader (whoever's behind the mic will have the loudest voice!) You might also like to select some walk in music for you and your partner, and one for the bridal party too.
20:15 – A Piece of Cake. You're going to want plenty of photos of this iconic moment, so make sure it's announced over the PA! You can sweeten the deal by letting your guests know there's a glass of champagne or a nice coffee in it for them.
20:30 – First Dance. It's the big moment for you and your partner! Take to the floor and show them how it's done. Make sure you give your band or DJ the signal so they know what to play and when to start playing it. Sometimes this is followed by the Daddy-Daughter and Mother-Son dances, so be sure to cue these in with your entertainers too.
20:45 – Everybody Dance Now. The floor is now officially open, so conspire with your DJ or band to come up with the perfect party-starting anthem not even the grumpiest uncle could resist, and get the first set of music underway.
21:30 – Buffet Away! If you're planning to offer some evening finger food, everyone's main courses should've settled in their stomachs by now. Declare the buffet open, give everyone about half an hour to refuel, then get them back on the dance floor with another set of bangers.
23:00 – Catch the Bouquet! Another opportunity for your guests to get their cameras out (and maybe even bag themselves a lucky bunch of flowers), you might even want to cue a specific song or some theme music for the bouquet toss. Our suggestion: Flight of the Valkyries. Or the Bumblebee. Or even the Conchords!
23:15 – Change the Record. We're now moving into the part of the evening where DJs come out to play. If you've booked a band, they'll be ready to wind down by now, so it's time to either whack on another playlist, or bring out your actual DJ, so your guests can fit in one more spate of mad dancing.
23:45 – The Final Countdown. Give your guests a little heads up that the party's winding down, and they've got one more chance to throw their shapes on the dance floor. Then, have your band or DJ bid them goodnight, and wrap everything neatly up before the stroke of midnight.
Of course, these are just guidelines – we'd strongly advise you to put your own spin on the proceedings! But if you're stuck for a starting point, we hope this guide can act as a springboard for your own plans. Good luck!
Free Wedding
Giveaways + Sweepstakes
Enter sweepstakes & giveaways and enter to win a free honeymoon when you join. New winners are announced every week!