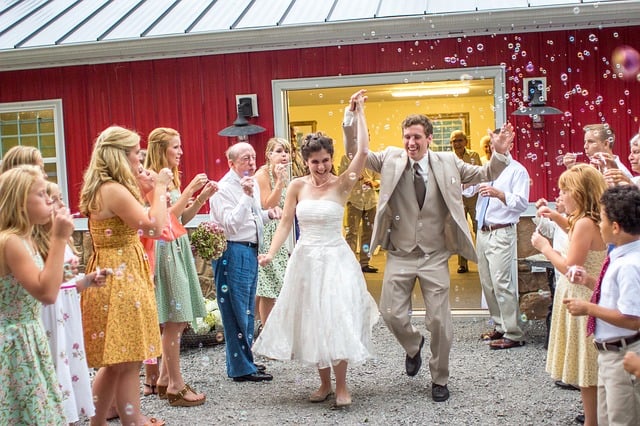 Your wedding day needs to be the most exciting day of your life. From start to finish it needs to be a fantastic celebration of you are your partners love for each other. And what better way to celebrate than to have lots of fun with the people you care most about in the world.

Weddings can often end up being stuffy affairs, with too much worrying about details that are expected from such an event. Sadly, where this happens, there is not enough focus on having fun.

Think about your guests and what they will want from your wedding. They won't enjoy long waits for formality and pomp. Show them that you want to share the day with them, and put on some great activities to involve them in your day.

A Photo Booth

Look into photo booth rental. Getting all of your friends and family to take it in turns and take lots of amazing photos of each other will not only be a lot of fun for them, but it gives you things to look back on for years to come. 

You may not get to spend as much time with some of the guests as you might like. The day will be hectic, and everyone will want to see you both to congratulate you. Having activities like the photo booth on hand will give everyone something else to focus their attention on.

Remember to get lots of cool and exciting props and items for your guests to dress up in. You'll get some great photos that way, and will see a side of some friends and family members that you may not have ever witnessed before.

Why not get in there for a few candid, cheeky photos yourselves? You will want to catch a couple of moments alone at some point in the day.

Hire A Band

Go and see a few bands play, don't just book without knowing what you are getting. Pick a style that you enjoy, but also one that everyone will get on with too. You'll want a band who are not afraid to interact with the audience and get them up dancing. A really good band can create the kind of party atmosphere that a DJ might not be able to. 

Have A Quiz

Why not divide your families and friends up into quiz teams and have a quiz? You can make it fun and exciting, and maybe even have a few questions about how well they know you both. 

A quiz is an excellent way of breaking the ice between a bunch of guests that might never have met each other. You could include prizes, and you should definitely try and get some jokes in there too.

Maybe get the best man, or one of the bridesmaids to be your host for the night!

Whatever you choose to include in your wedding to entertain your guests, remember that the day is yours, and you need to make sure you take the time to both enjoy it together.

Free Wedding
Giveaways + Sweepstakes
Enter sweepstakes & giveaways and enter to win a free honeymoon when you join. New winners are announced every week!