For many couples, a longer engagement gives you the chance to take your time with your planning, as well as save up the money to pay for it all. But when you're ready to spend the rest of your life with someone, sometimes you just don't want to wait!
Is it possible to plan a wedding in a matter of weeks or months? Of course it is. You're going to need to work hard to get everything in place, but if you're willing to make it work, then anything is possible.
Need some help planning a quick wedding? Here are some tips to help you survive.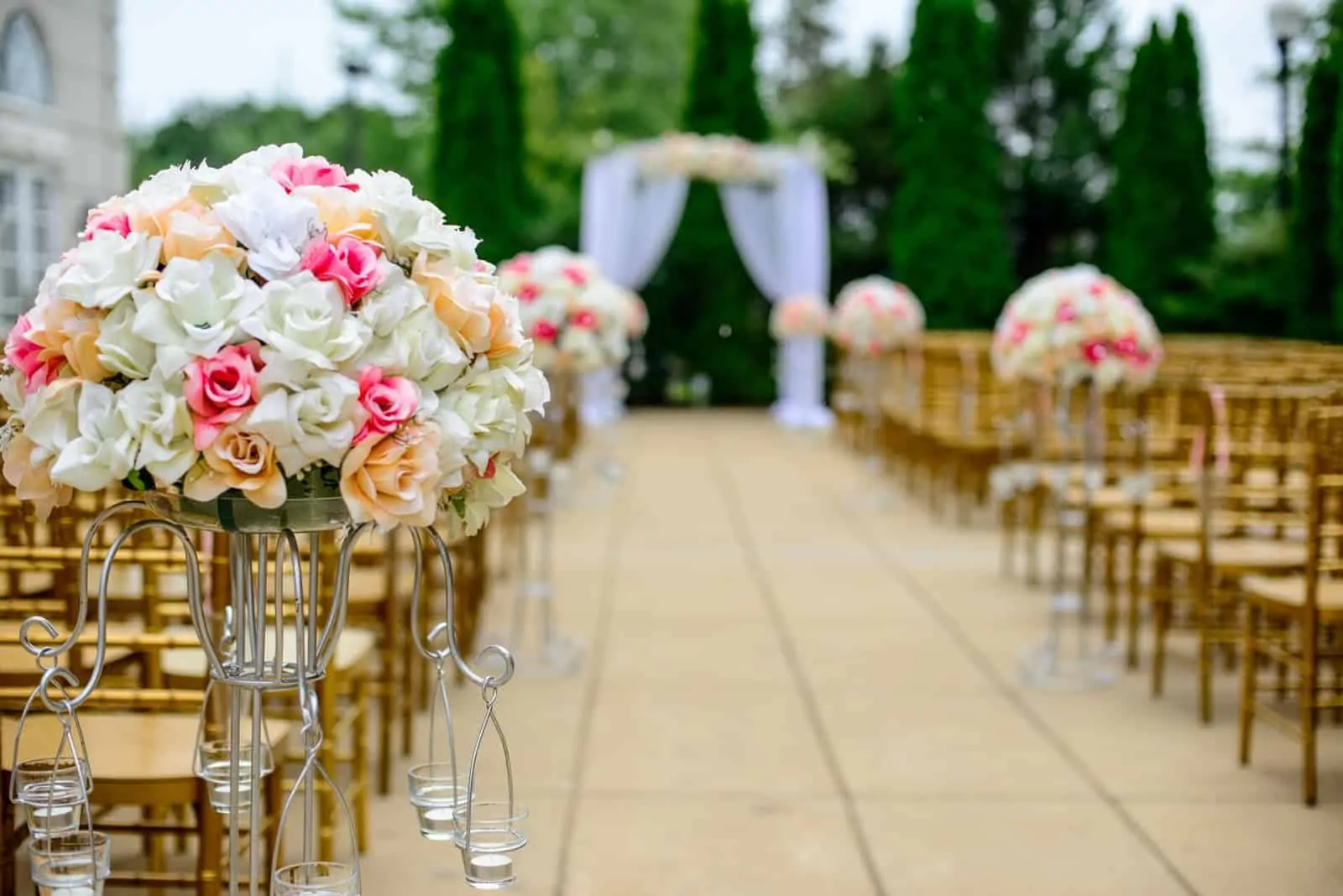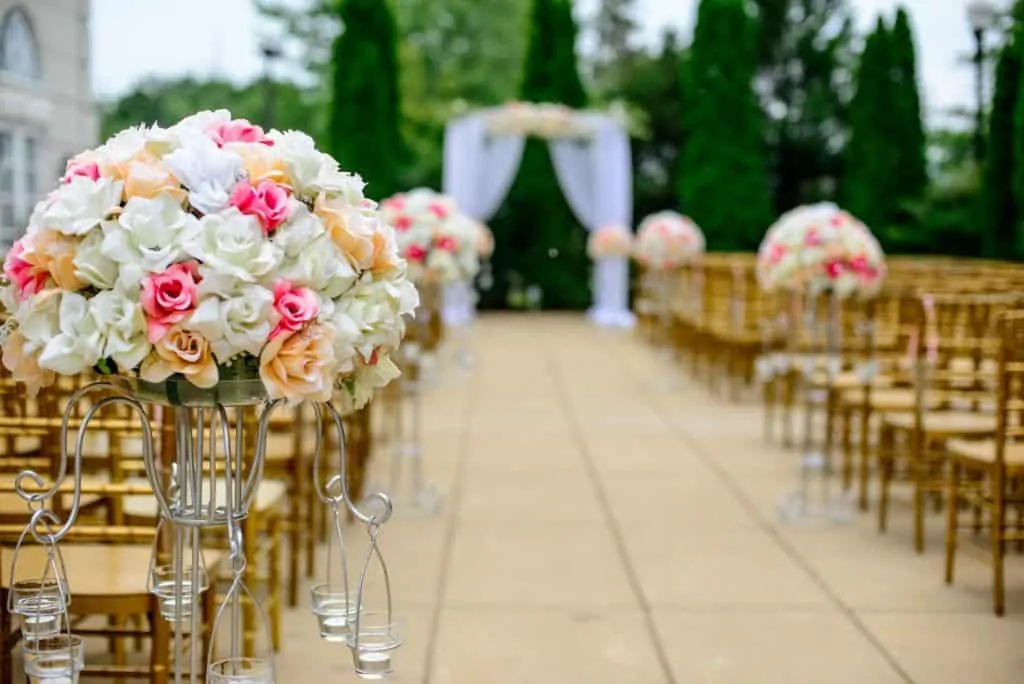 Image Credit: Unsplash under Creative Commons
Pin down a date and venue as soon as you can
Before you can begin to plan your wedding, you need to pin down a date and wedding venue as soon as you can. When timing isn't an issue, the world is your oyster. But as soon as you narrow that timeframe, availability can soon begin to evaporate. But not all hope is lost! Some great tips for finding a last-minute wedding venue include:
Ask local venues for details of any cancellations. Weddings get moved or cancelled for a variety of reasons, and you might just be in luck!
Get married on a day of the week that isn't the typical Saturday wedding. You might have more luck having your wedding on a Friday or a Thursday.
Plan your wedding in your own backyard, or the backyard of a relative. There are some wonderful things you can do with a backyard wedding, allowing you to choose a day that suits you.
Choose a smaller ceremony at your local courthouse and consider hiring a local restaurant as somewhere to have your reception.
Even when looking for a last-minute venue, there are still things you need to consider when choosing a wedding venue to make sure you choose the right location for you.
Send e-invites to save time
Once you've got your date and venue in place, you'll need to work hard to get those invitations out quickly. While you can get pre-designed stationery put together in a hurry, your best bet for a quick wedding is to send an e-invite. An e-invite saves paper and you can get reminders easily. Online RSVPs are becoming more popular and will easily save you time and money, making it easier to move on with the rest of your wedding plans.
Make some quick decisions
There are a lot of decisions to be made for your wedding, but the longer you have to make them, the more likely it is that you'll change your mind. Having less time to plan and make decisions will mean that you need to move fast, so making a few quick decisions could save you time and a lot of stress. Choosing food, music, colors, etc. can all be done in a hurry, allowing you to carry on with the rest of your plans!
Start hunting for dresses
Finding a wedding dress in a short space of time is a difficult, but not impossible task. You could consider buying off-the-rack and saving a lot of money, or you can make inquiries with different dress stores to anticipate timeframes for a custom dress. The sooner you make appointments to try dresses the better, and retailers will give you a better indication of how long it will take for your dress to arrive.
There are even some great places to buy a wedding dress online that can get you your dream dress in a hurry. Find a local seamstress who can fit your dress to you and it will look absolutely beautiful on the day.
Find a great photographer
Finding a photographer in a hurry can be tricky, as a lot of them get booked up a year or two in advance. However, you could try several ideas to help you find a last-minute wedding photographer, including:
Booking a photographer out of season
Finding someone who's new to the business and wants to build up their portfolio
Ask friends and family who might be skilled photographers
Book different photographers for different parts of the day
Approach a photography club or photography students.
While it can be difficult, you're sure to find someone who can squeeze you in and help you capture the most special moments of your big day.
Make bookings for your hairstylist and make-up artist
You'll want to look perfect on your wedding day, so finding the right hairstylist and make-up artist can be a very important decision. Make sure you find someone you trust and with portfolios you like – booking a trial can help you find the right fit. If availability is low and you can't find someone you like, you could always try doing your own make-up? With practice and the right products, you can soon master how to do your own face and create the perfect bridal look. Head down to your favorite beauty brand and ask for a bridal tutorial – they can create a face map that will tell you exactly what you need to apply and where, allowing you to practice as much as you want at home.
Get your entertainment booked
Choosing your wedding entertainment is one of the most fun parts of planning your wedding. Whether you want a live band or a DJ, it's time to start looking up local listings and seeing what's available – you might even find some great acts in your local bars! Check out wedding photo booth rental for a popular and affordable wedding entertainment option that will have great availability. With the wedding entertainment in hand, you can relax knowing your guests will have a great time.
Kit out your bridal party in a hurry
Without much time to plan your wedding, the days of bridesmaids dress and suit shopping are going to need to be limited. You can find beautiful bridesmaids dresses online and in stores which aren't typical 'wedding attire' stores. For guys' suits – rental could be your easiest option at this stage, so take a look at what's available and get your suits sorted! Put the responsibility of fittings on your wedding party to take something off your to-do list and to ensure they get the best fit for them.
Meet with a florist
Wedding flowers are an important part of your day, but their time can be easily booked up in advance. You could slim down your requirements to just the bouquets and buttonholes from a florist, and then have a go at doing the rest of your wedding flowers yourselves. Doing your own wedding flowers will easily save you money, and can help you show off your creative side. Choose flowers that are low maintenance or opt for artificial arrangements to save time and work.
Take time to enjoy a breather
Wedding planning can be stressful, no matter how long you've got to get it done. It's important to take a breather from the planning to focus on something else for a while and enjoy some quality time together. Some good tips for dealing with stress and anxiety about your wedding include being decisive and having contingencies in place. Getting some extra hands on deck to help you with your to-do list will also help to ease the strain and keep your plans on track.
Consider hiring a wedding planner
Hiring a wedding planner can be a simple way of relieving wedding stress and getting everything you need done. As experts in all things weddings, planners will know everything that needs to be done and will have a great knowledge of local suppliers too. A planner can take on as much or as little of your wedding as you want, and while it does come at a price, it can save you a lot of hassle and worry!
Even if you decide to forgo the wedding planner, you can still hire someone to coordinate on the day. They can confirm all of the last-minute arrangements and make sure that everything runs as planned.
Have you thought about eloping?
Eloping can be a great idea for a last-minute wedding. You can head off to somewhere amazing and combine both your wedding ceremony and honeymoon. Many hotels and exotic locations can cater for a last-minute wedding ceremony, helping you have a magical day in an incredible setting. You can always throw a big reception when you come back to celebrate with all of your friends and family.
A lot of hard work goes into planning and wedding, and there are pros and cons to planning a wedding over a short period of time. Whatever you decide to go, make sure you keep checklists to help ensure everything is covered and to help you have the perfect wedding day. Your wedding is one of the most special days of your life, and as long as you and your partner are happy, that's all that really matters when it boils down to it.
Free Wedding
Giveaways + Sweepstakes
Enter sweepstakes & giveaways and enter to win a free honeymoon when you join. New winners are announced every week!