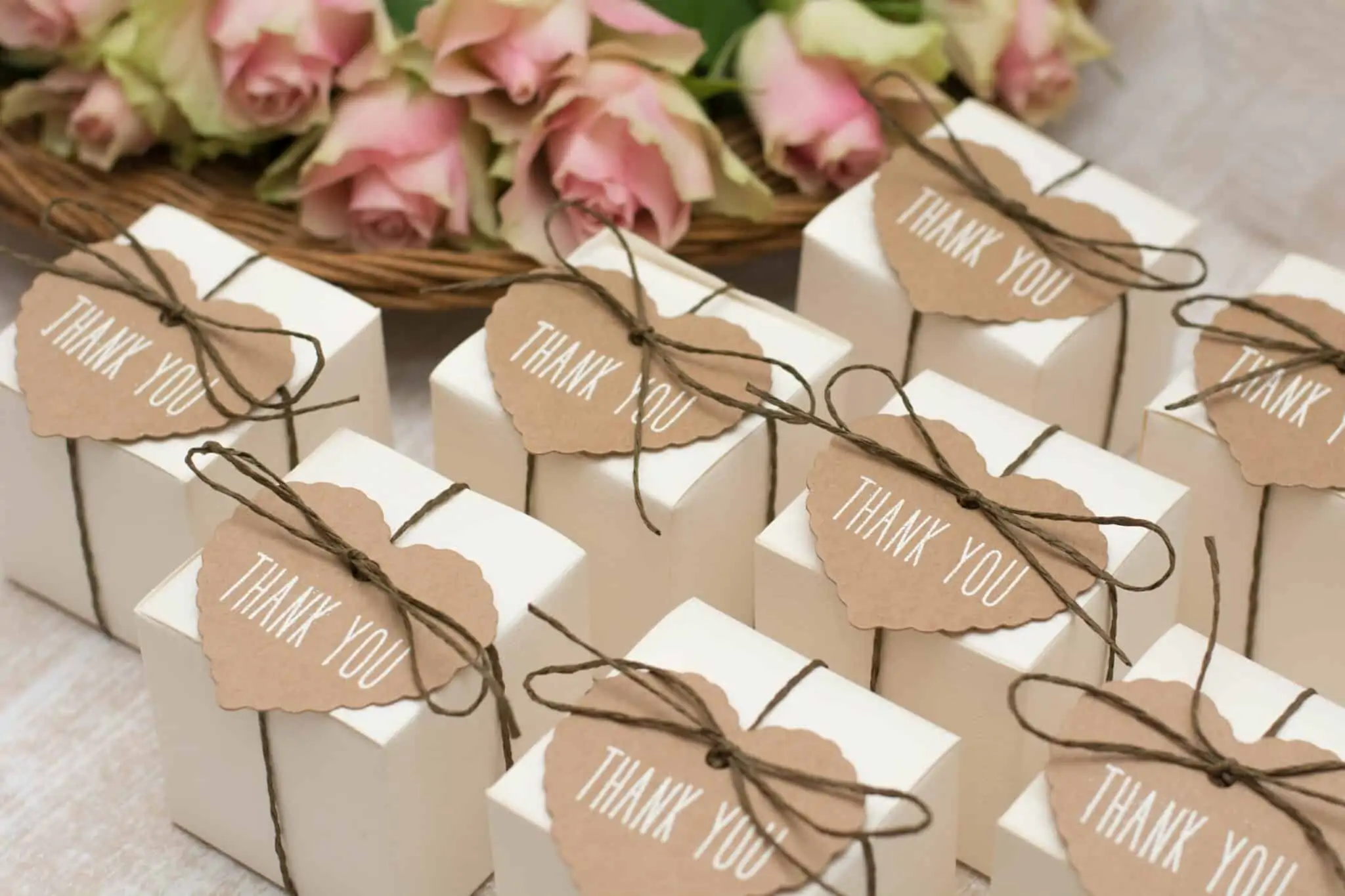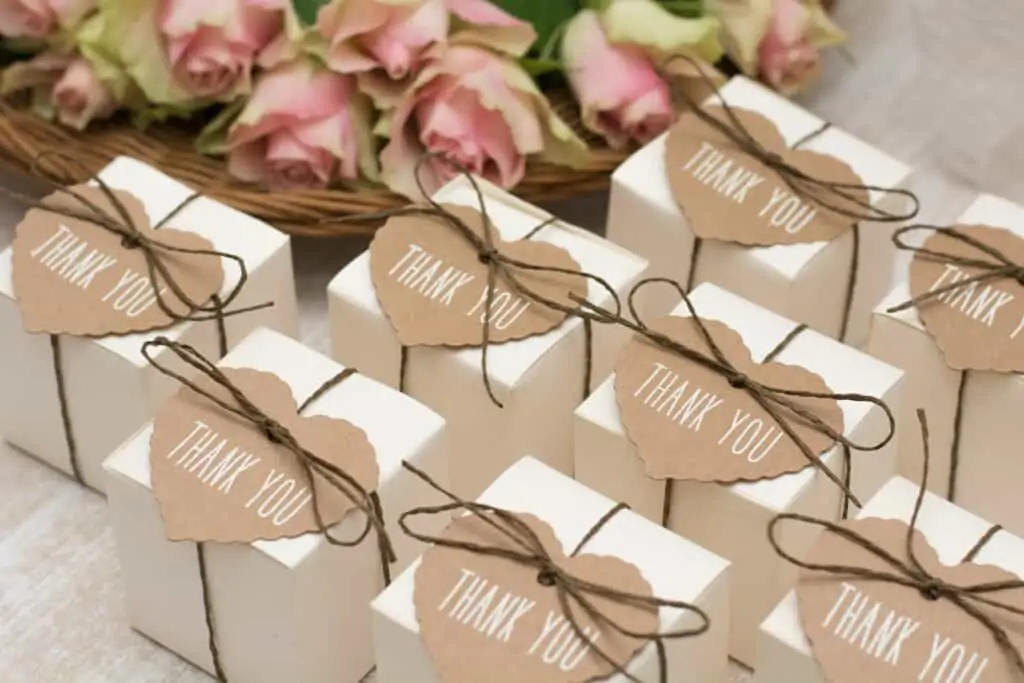 Thanking your guests for making your wedding day extra special by gracing it with their presence is a kind gesture to make. But, this doesn't mean that you should spend way more than what you can afford, in the name of gratitude.
It doesn't make you any less grateful or your wedding any less special if your wedding favors are inexpensive and savvy. When you choose your wedding favors strategically, you're to find options that'll be a delight to your guests.
Gone are the days when wedding favors were only an after-thought, boring, and the like. Nowadays, couples are more intentional with their wedding favors to the point that they make sure to choose designs wisely. More so, wedding favors don't have to cost you an arm and a leg, given that you both may have already spent quite a lot on other facets of your wedding at this point.
What are some out-of-the-box wedding favors you can try out? Here's a list of ideas.
1. Individual Hand Sanitizer Bottles
Customized gifts are all over the place now simply because it's a no-fail to make your guests feel extra special. Everyone loves to receive something with their name on it, so if you can give out customized favors, then shoot for it.
In keeping with today's time, a good choice is to give individual hand sanitizer bottles. You're sure that your wedding favors will turn out as something useful to your guests and not merely one that'll go to waste.
2. Bath Bombs Gift Set
Bath bombs aren't mainstream gifts yet, but it's said to be a sweet and thoughtful one to give. If you can give the gift of relaxation as a souvenir to your big day, why not. With the busy and stressful day-to-day lives that many live today, bath bombs can provide good rejuvenation.
You can make the bath bombs more special by choosing scents or flavors which you know the receiver will love. You can put the names of each guest on the box so you're certain each guest is getting the bath bomb scent they love.
3. Scented Candles
Scented candles are also a no-fail, plus they're also easy on the pocket. Because scent is tied to memory, your guests will remember your wedding every time they light up the candle.
Like the bath bombs, you can make your scented candle wedding favors extra special by opting for the scent which you know each receiver will like.
4. Chocolates
Belgian chocolates, Swiss chocolates, or perhaps you have artisan local chocolate makers where you're from? Chocolates and sweets are a no-fail, and they're guaranteed to be a big hit to your wedding guests, kids and adults alike.
If you can't find chocolates that you love, you can opt for other sweet treats like candies and baked goods instead.
5. Personalized Wine Glasses Or Water Bottles
Another customized wedding favor on this list that's both affordable and useful is a personalized wine glass or water bottle. By gifting a wine glass or a water bottle, you're giving a keepsake that will definitely be appreciated by your guests. Every time they raise a glass for a toast or cheers, your guests will immediately remember your wedding day.
6. Custom Sunglasses
If you're having a beach-themed or other themed wedding backdrops, giving sunglasses to each of your guests doesn't just make for a thoughtful gift to protect your guests from the direct sunlight, but those sunglasses can also double as a wedding favor.
You can make the sunglasses more special again by going the extra mile of personalizing each pair with the guests' names. This is perfect for intimate weddings where you only have a small number of guests to give some thought to.
7. Jars Of Honey
Coffee beans are another common wedding favor that's well-loved by guests. If you don't fancy coffee, you can always think of your tea-loving guests by gifting small jars of honey, with the labels changed to your wedding graphics. If the budget permits for it, you can also take this one step further by including a tea infuser set in your wedding favors gift set.
8. Scented Soaps
Last on this list is artisanal or scented soaps. Just be sure you're getting good-quality ones, so you're not contributing to any potential allergies or skin irritations to your attendees. Sweet-smelling artisan soaps are believed to be always going to be a hit to a majority of people.
Conclusion
From being simple thank you gifts to something to add as a tangible memory of your wedding celebration, wedding favors, albeit small, are almost always a part of weddings. When you decide to give some to your guests, you have to make it count.
Don't just give out wedding favors for the sake of doing so and then later on waste money when they end up unappreciated. The examples above are only a few, but they can definitely kickstart your search for potential wedding favors without breaking the bank. It's for you now to explore your other options that'll suit your tastes and budget.
Free Wedding
Giveaways + Sweepstakes
Enter sweepstakes & giveaways and enter to win a free honeymoon when you join. New winners are announced every week!