Gone are the days that you'll see a simple piece of cloth as wedding ceremony backdrops. Today's modern couples are elevating the wedding experience by flaunting their creativity and personalities throughout ALL of their wedding decors, starting with the ceremony backdrop.
Whether you're saying "I Do" indoors or outdoors, a wedding ceremony backdrop simply elevates the level of whimsy, romance, and love. Here are some of our favorite backdrop ideas for your wedding ceremony.
Tops Things To Consider When Choosing A Backdrop
Before we get to our favorite altar backdrop ideas, we have some tips on how to choose a backdrop that's perfect for your wedding. All wedding ceremony backdrops are not a good fit for all weddings. You must select one that matches your personality and style. Here are some tips for selecting or designing the best altar backdrop for your wedding ceremony.
Your Wedding Theme
The first thing to consider is your wedding theme. Finding a wedding theme for your special day starts with the things that you love. Themes can be anything from fairytale to Disney or Starwars to an elegant traditional affair, winter wedding, rustic, and more.
Sit down with your fiance and talk about what you love and how you want your wedding to "feel." Do you want a rustic, country-inspired shindig where you and your guests can boot-scoot the night away? Or maybe a romantic fairytale event with tons of florals and drapery?
Determining this first will help you lock down the right theme for your wedding. If you need a little inspiration to get you started, check out these incredible wedding theme ideas.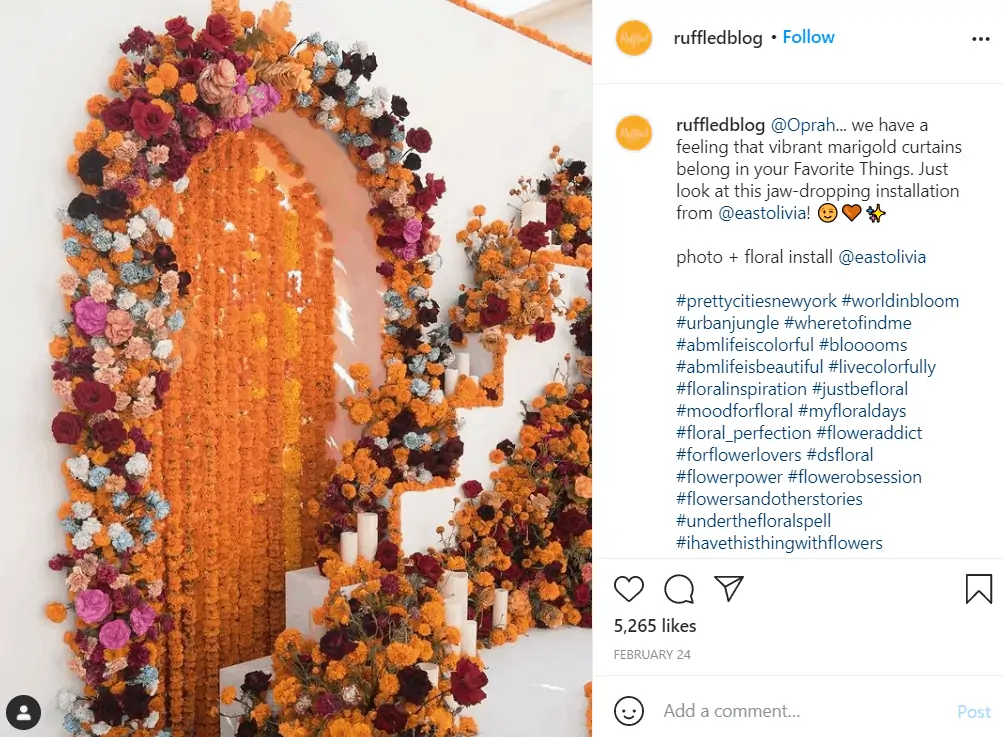 Color Scheme
Next, you'll want to think about your color palette. Wedding themes help tie your entire event together, so keeping your color scheme or palette consistent throughout the event is crucial. Everything from the save-the-dates to the ceremony backdrop and throughout your reception should reflect your color scheme. Doing this makes your wedding aesthetically pleasing and will look incredible in your wedding photos.
Wedding Hashtag
One of the hottest trends in weddings right now is creating a wedding hashtag. Having a wedding hashtag allows you to create an unbelievable online wedding gallery. Not only can you share your official wedding photos, but your wedding guests can also share their photos which will give you a unique perspective of the day. It's like having a social wedding album that's mobile.
We suggest that you create your wedding hashtag at the beginning of your wedding planning so that you can include it in your save-the-dates and invitations etc. Promoting it from the start will make it more successful in sharing your love story from engagement through the wedding day. If you don't have a wedding hashtag yet, today is the day to do it.
Besides including your wedding hashtag in your print materials, it's also an excellent addition to wedding ceremony backdrops. Especially when it's a catchy, witty, or sentimental wedding hashtag, it brings your story to life. Having it front and center in your wedding ceremony backdrop reminds your guests to use it and will be forever cherished in your wedding photos.
Venue
The other thing that you want to consider is your venue. To keep your wedding vibe cohesive, you should think about where you're saying "I Do." Sometimes the natural scenery is enough; in a laid-back setting, you may not want to go to "fancy or glam," and in a luxurious ballroom, you might not want to go casual. You chose the venue because of the vibe and theme, and it's the first part of your wedding decor. Adding a few extra touches like wedding ceremony backdrops, flowers and centerpieces just jazzes your event up a bit to fit your style.
8 Wedding Ceremony Backdrop Ideas
Now let's get to the fun stuff- our favorite wedding ceremony backdrops. We can't wait to hear which one is your favorite! Remember, there are thousands, maybe millions of wedding altar backdrop ideas: these are just a few to get your creative juices flowing.
Rectangle Frame Arbor
There is something romantic about a rectangle frame arbor as the backdrop for you to tie the knot. They can be simple with minimal decor or decorated with flowers and drapery. Depending on your style, this type of wedding backdrop can be the easiest to use. And they always look dreamy.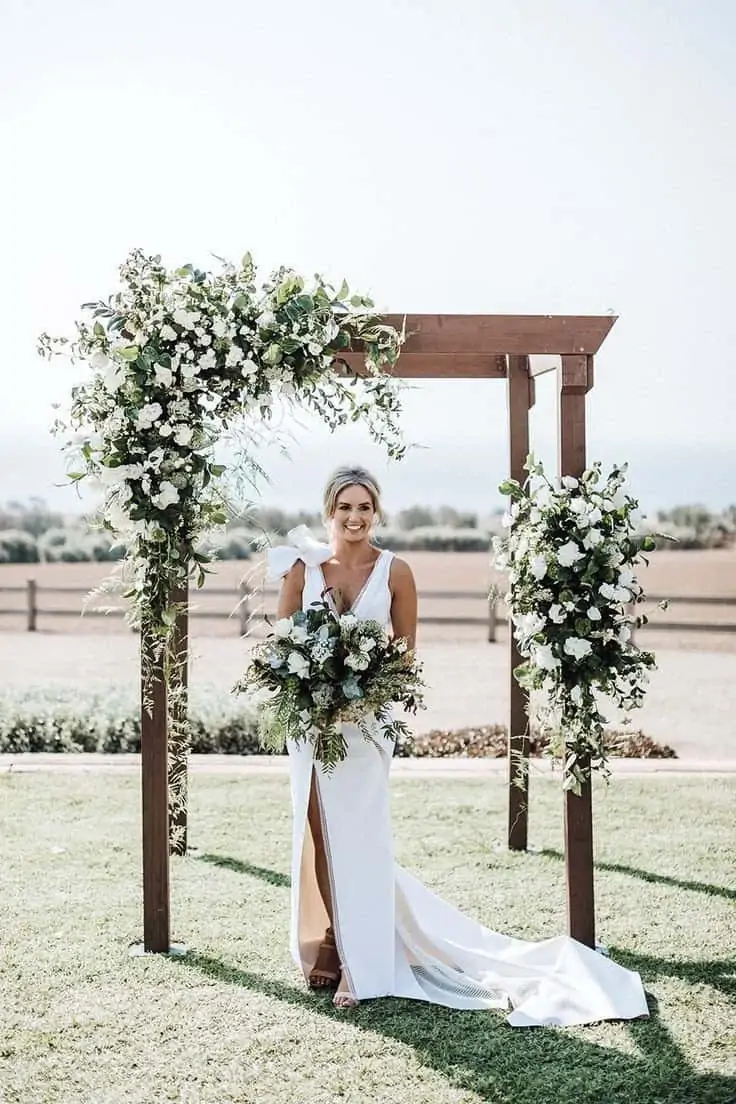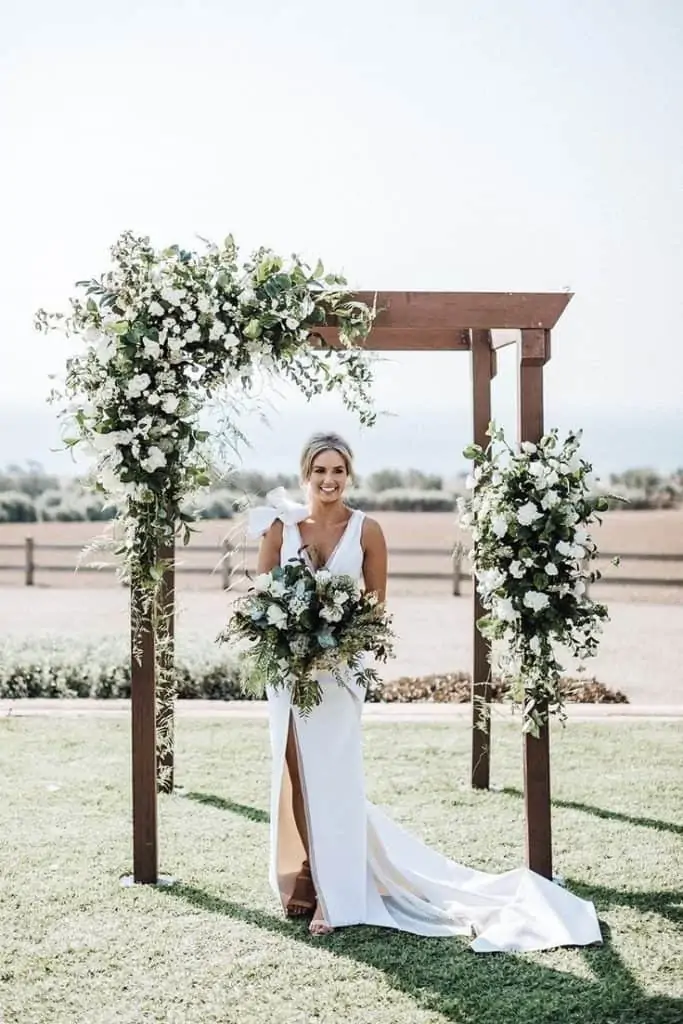 Image Source: Pinterest
The Classic Arch
You can never go wrong with the classic wedding arch for your ceremony backdrop. Like the rectangle frame, these lovely wedding arches can be kept plain or dressed with greenery, flowers, drapery, and more. They're like a blank canvas that can easily transform to fit your wedding theme.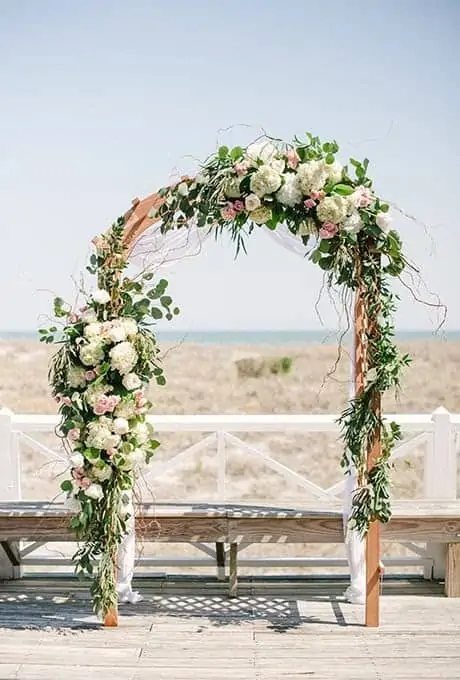 Image Source: Pinterest
Two Pillars
When you've chosen a stunning location or setting for your "I Do's," you don't need much for your wedding ceremony backdrop. Let the scenery be your backdrop, and just add a couple of pillars to frame your vows. Mother Nature did an incredible job providing us with breathtaking views for everyday life, but they are even more impressive on wedding days.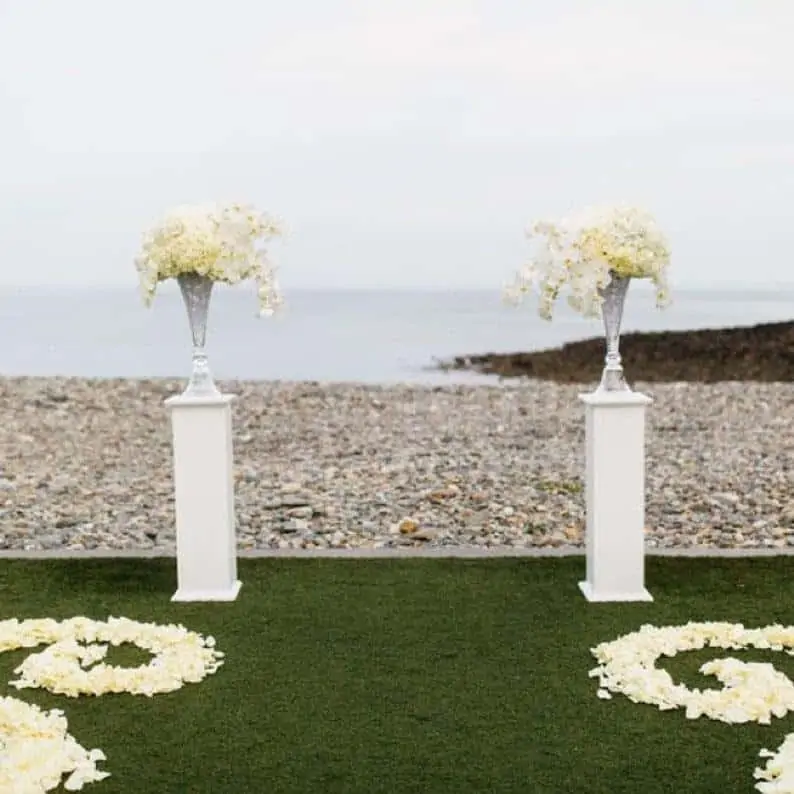 Image Source: Etsy – FortWagler
Wreath Circle
Wreath circles can be made out of metal and decorated in your favorite style. Intertwine eucalyptus leaves, or luscious floral blooms, hang crystals or go big with pampas grass and lavender. No matter your personal style, a wreath circle is a fantastic choice for your wedding ceremony backdrop.
Another great thing about wreath circles is they are mobile. You can repurpose it at your wedding reception as a backdrop to your sweetheart table or even as a photo backdrop. We personally LOVE this one with all the gorgeous blooms.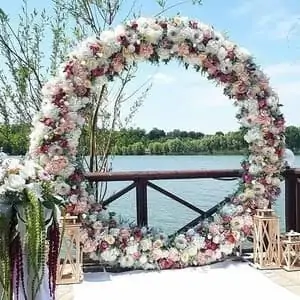 Image Source: Etsy – Wedbizstore
Geometric Shapes
Geometric shapes make incredible wedding backdrops, and they are not just for outdoor wedding ceremonies. Look how romantic this simple stone wall looks with the geometric wedding backdrop, a little drapery, flowers, crystals, and candles. A truly romantic setting to tie the knot.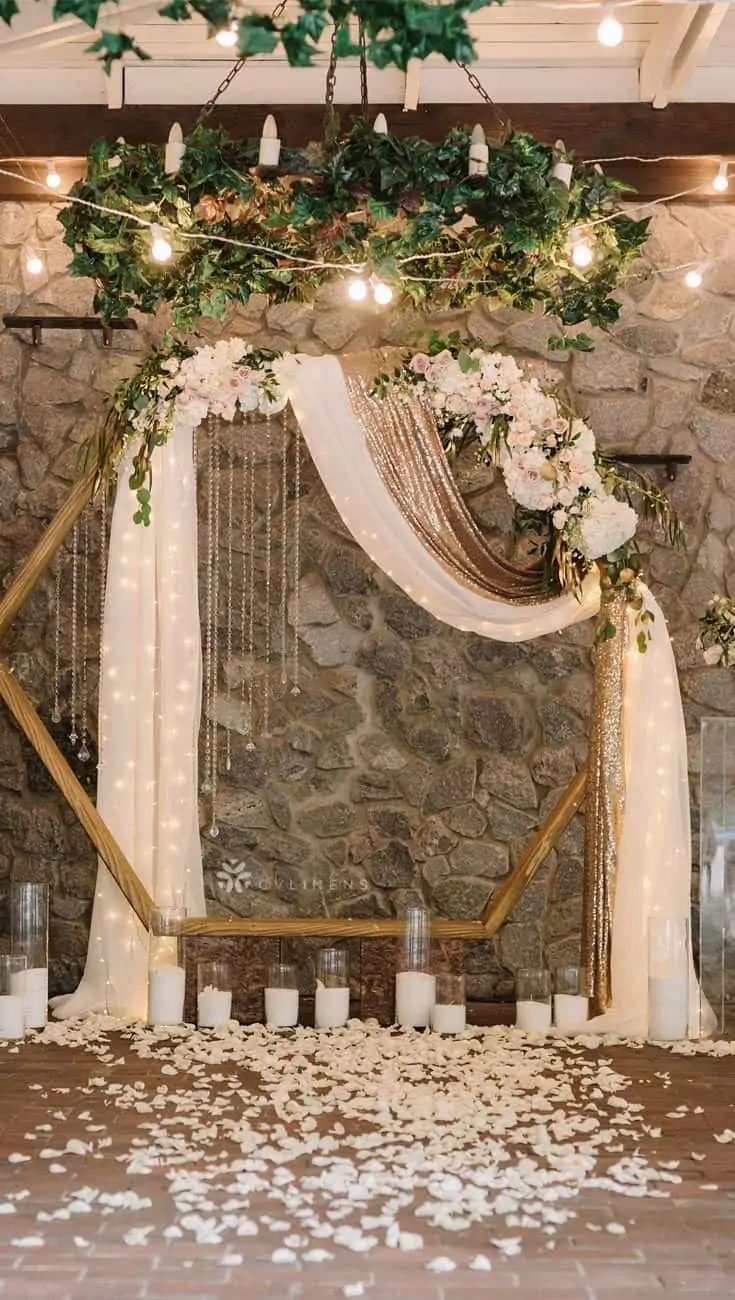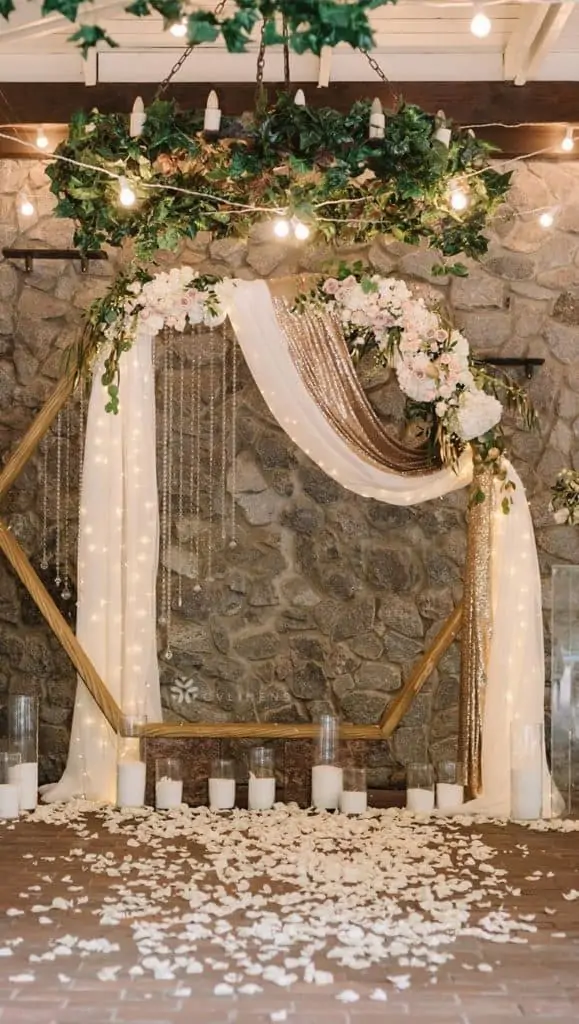 Image Source: Pinterest
Repurposed Doors And Windows
If you're a free-spirited bride planning a rustic wedding and looking for the perfect ceremony backdrop, how about repurposed doors or windows. There are so many unique old and rustic doors that can turn into a beautiful setting for your vows. And if you love to D.I.Y. stuff, you can even create this backdrop by yourself. That'll help your wedding budget. But if you aren't the do-it-yourself type, you can also find backdrops to rent online.
These repurposed windows and doors can be used as the ceremony backdrop or for the entrance to your ceremony location. Either setting is a beautiful way to celebrate your inner free-spirit and rustic style. How about these vintage farmhouse doors? Do you love them as much as we do?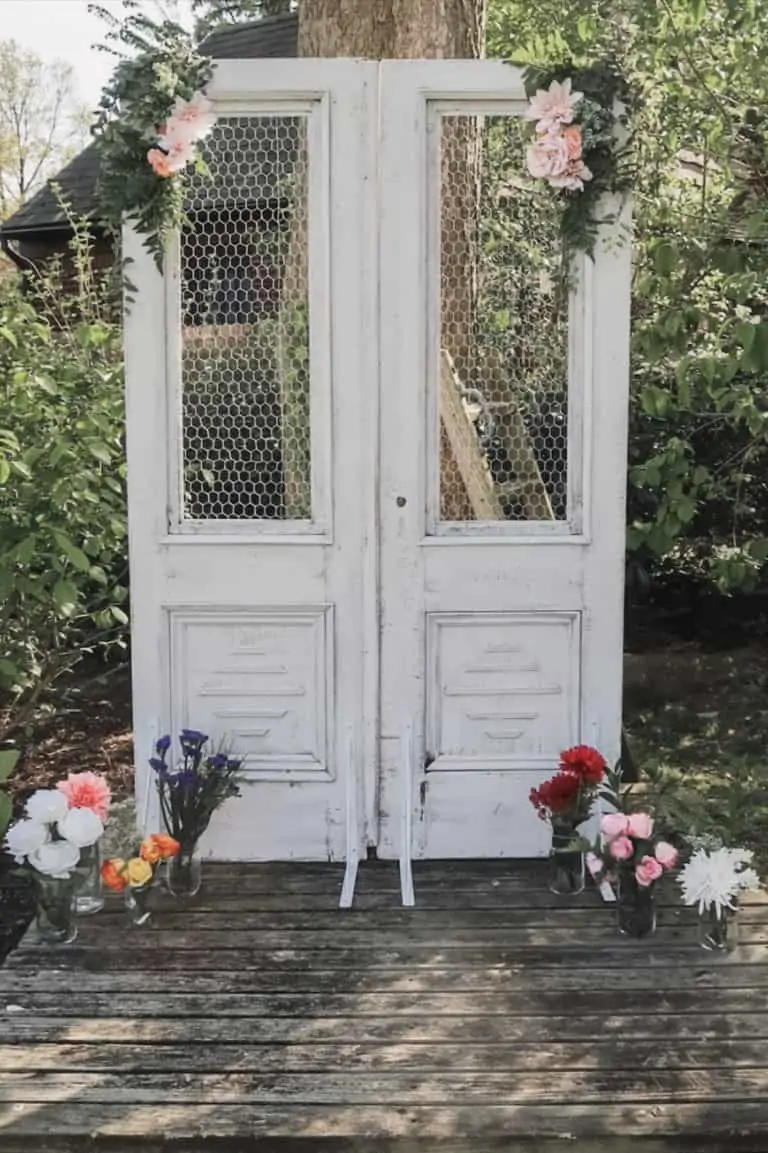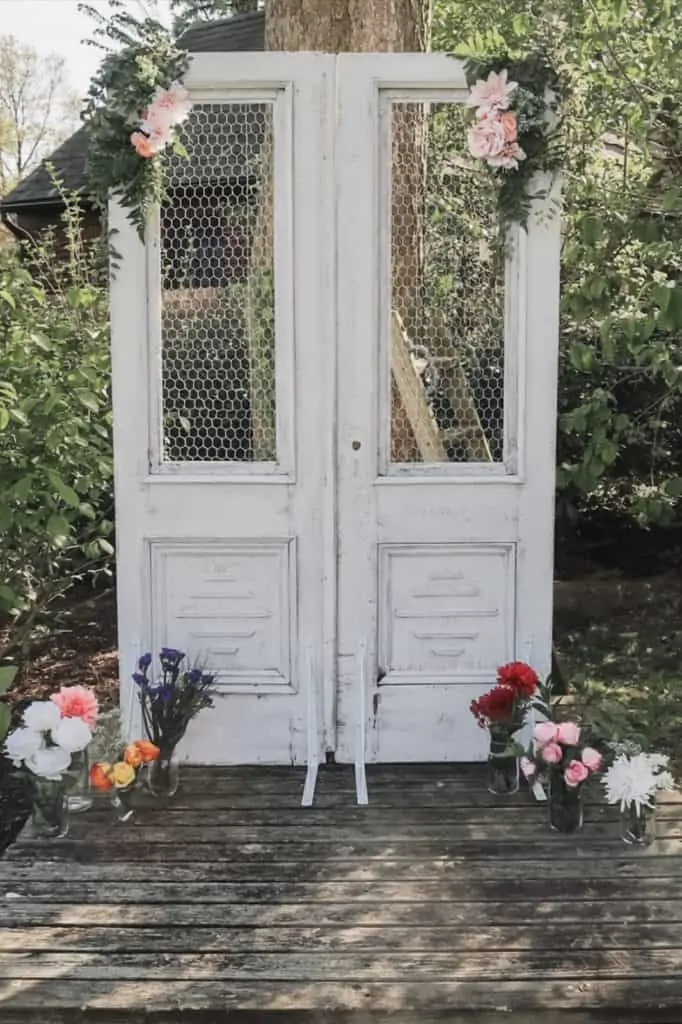 Image Source: Pinterest – Somethingtayloredrentals
Keep It Low
If you aren't a fan of the arches and geometric shapes, we have another fantastic wedding ceremony backdrop idea. When you have the beautiful blues skies and a lush outdoor setting, maybe all you need are a few (or a ton) flowers around your feet. This look works beautifully in both outdoor and indoor ceremony settings. Pops of bold colors create unbelievable wedding photos. Incorporate different textures and colors, and you'll have one wedding ceremony backdrop that can go viral.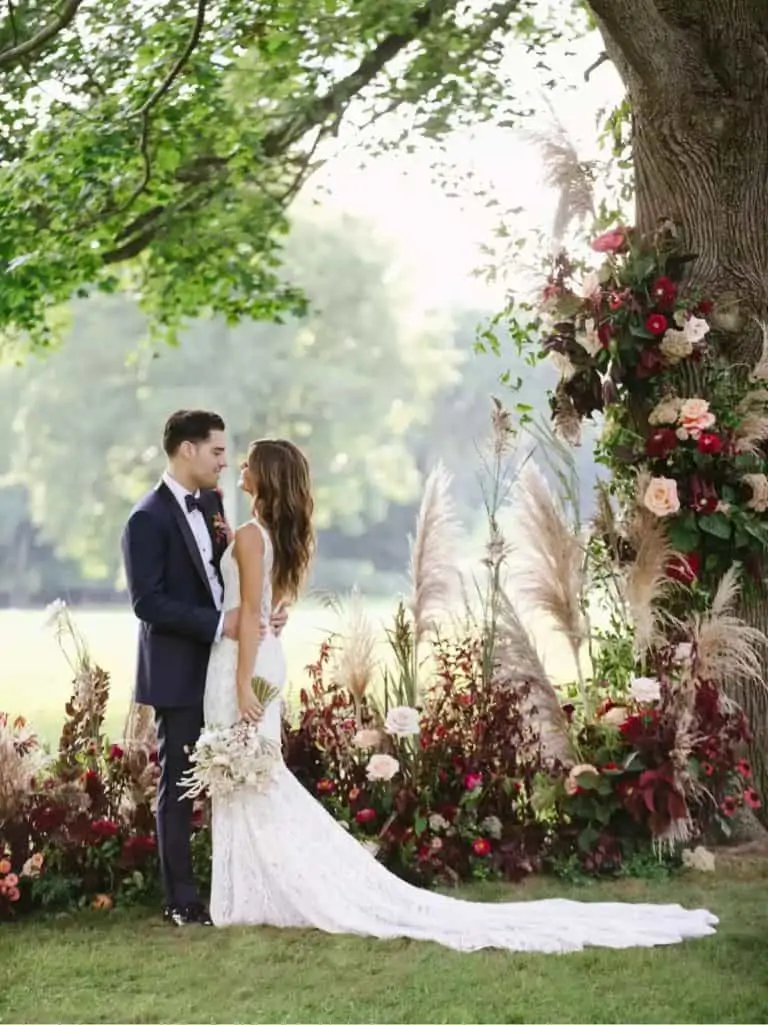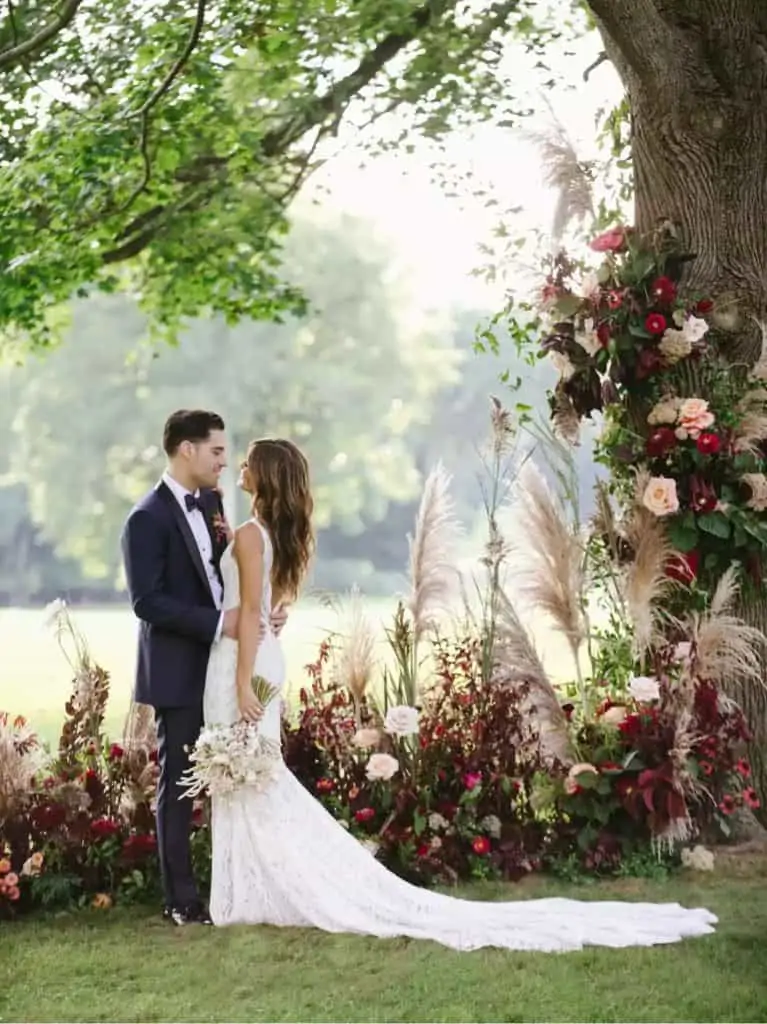 Image Source: PHOTO BY HEATHER WARAKSA OF THE WEDDING ARTIST CO.
Use Your Venues Natural Architecture
Whether you've chosen your wedding venue for the breathtaking views or because you love the architecture and design, you can certainly use your venue's natural aesthetic as your wedding ceremony backdrops. Your wedding venue can have the ultimate setting for you to join together as one, from rustic brick or stone walls to bold and dramatic or even artsy doors.
We love this idea because not only are you using more of your venue space to celebrate and commemorate your love, it's also a totally unique wedding ceremony backdrop idea — one that not many couples will use.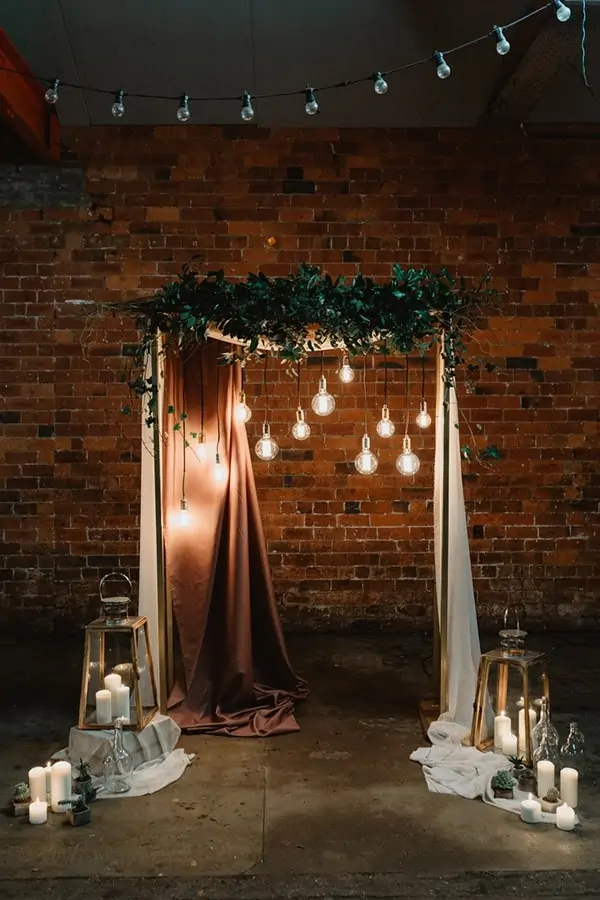 Image Source: Whimsical Wonderland Weddings & Stevie Jay Photography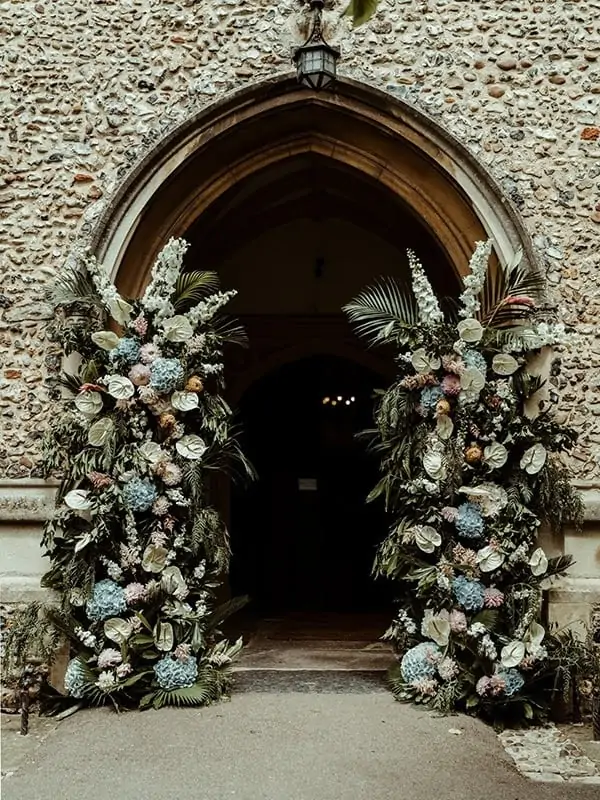 Image Source: Sophie+Hannah & Jess Soper Photography
Wedding Ceremony Backdrops
We know there are thousands, maybe even millions, of wedding ceremony backdrops that you can choose from. And it can be a little overwhelming trying to find the one that's right for you. But, don't worry. Follow your heart and your inner spirit – they will guide you to the right decision.
If you keep in mind the things you love, and your personal style, and of course, how your venue looks and it will all fall into place. And remember, you want to LOVE where you say "I Do," so choose something that matches your spirit.
Free Wedding
Giveaways + Sweepstakes
Enter sweepstakes & giveaways and enter to win a free honeymoon when you join. New winners are announced every week!