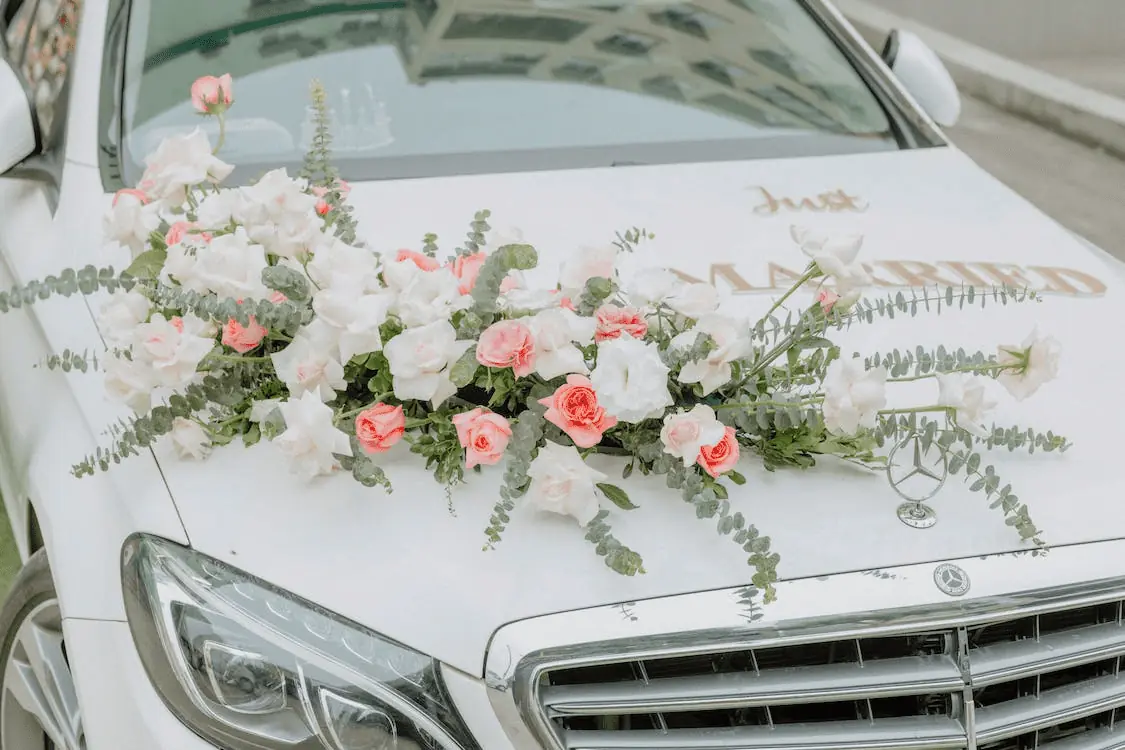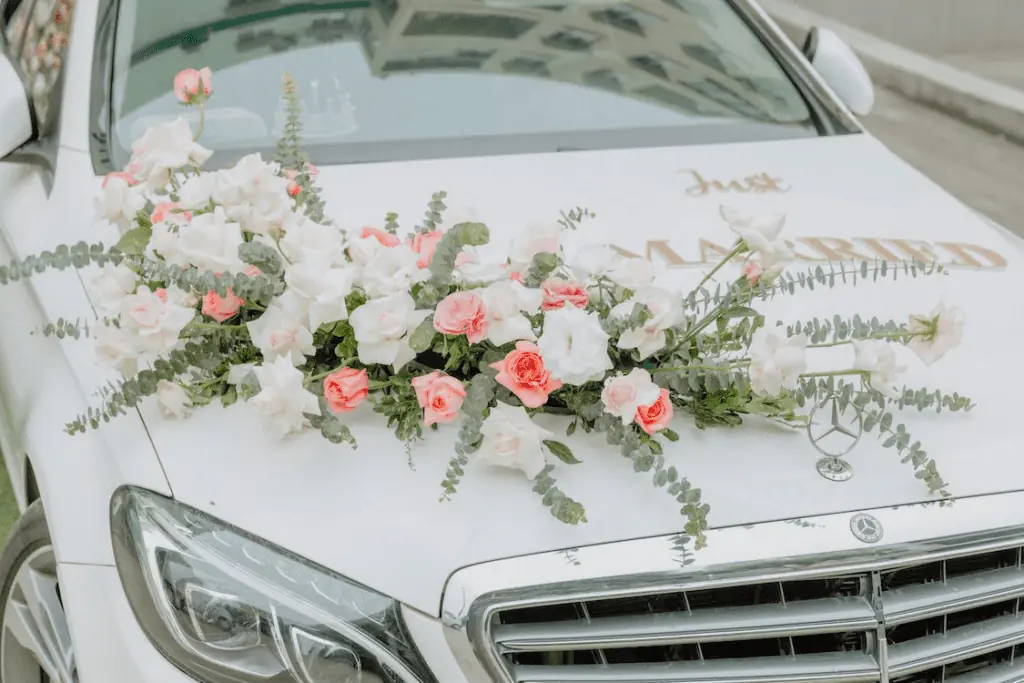 Are you in a rut of mediocrity with your wedding car decorations? Tired of the same old silky white ribbon and gladiola ornamental decorations that everyone else seems to have? It's time to think outside the box—literally—and add a unique touch to your special day that will have your friends and family talking about your wedding car all night long! Let's look at some creative ideas to make the boring old wedding car stand out and ensure you get there in style!
Romantic Theme Car Decorations
When it comes to making your wedding car stand out, decorating it with a romantic theme is a beautiful way to go. Adding subtle decorations such as balloons, heart-shaped designs, and flowers around the exterior can result in a delightfully charming vehicle that will make every head turn. Plus, this type of decorating will help to create an atmosphere full of joy, love, and romance when the bride is on her way to the venue. To enhance this atmosphere, driving music could also be added.

On the other hand, choosing too many or too big decorations for your wedding car could be overwhelming for spectators and make the vehicle look tacky or cheap. The decorations should never distract from the actual event or disrupt other cars on the road, either. Therefore, it's important to choose these kinds of decorations carefully and not overdo them.
Personalizing the Car's Colors and Wheels
Now that you've taken the initiative to give your wedding car a romantic, luxe feel through decorations, consider personalizing the car further by changing its colors and wheels. Changing the color of the car itself and its wheels can be a fun and creative way to make the car stand out on your big day. While making a bold statement and ensuring that your car stands out among all of the others, however, one must be cognizant of maintaining the utmost sophistication for your special day.

Considering which hues to choose can be tricky—think about choosing vibrant colors such as hot pinks and electric blues to ensure that your guests take notice. Or perhaps you prefer more toned-down looks; subtle gold and navy can fit any theme! Wheels might also be a consideration; options range from standard steel wheels to luxury rims in various shapes and sizes. Take the time to reflect on how you would feel about this special occasion.

Whichever route you choose, it's important to keep in mind that almost anything can be dressed up or down, depending on how much effort is put into it. So, whether you opt for simplistic or over-the-top styling, assess what level of style you want while ensuring you remain respectful of potential guests' interests or tastes.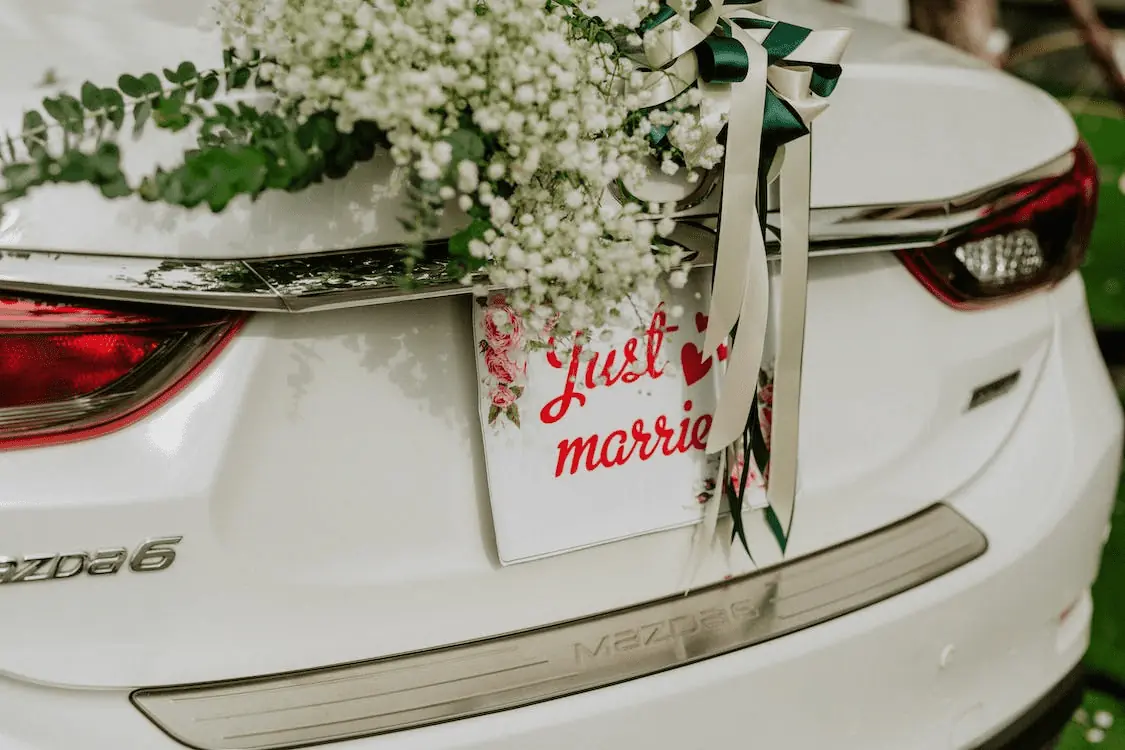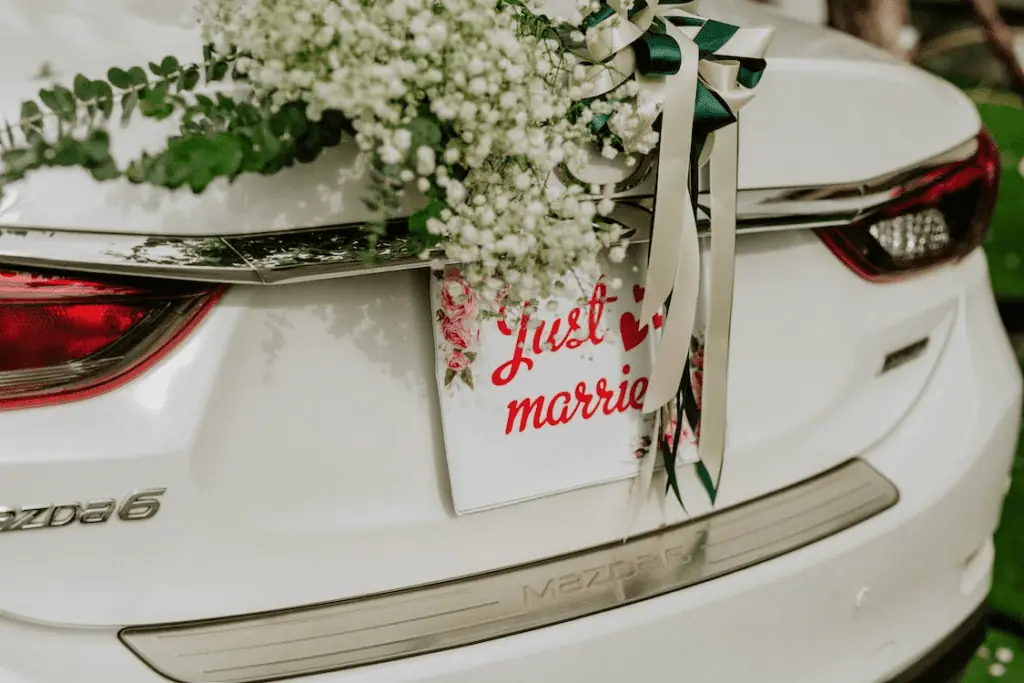 Creating a Unique Message for the Car's Side
Creating a unique message on the car's side is another great way to make your wedding car stand out. For example, you could have the words "Just Married" or "The New Mr. and Mrs. Smith" painted on the sides of the vehicle. This will not only show passersby that you are newlyweds, but it also helps to create an atmosphere of joy and celebration. Alternatively, if the couple has different last names, one possibility is to have both of their last names painted on the side, and underneath them, just write "&" in a larger font.

Alternatively, if going all out with messages isn't for you, then personalized license plates could be a great option for both subtlety and customization. With these plates, you can come up with as many puns as you like that incorporate both your and your partner's initials or something else that reflects your relationship. That said, there are certain regulations regarding licensed plates, so make sure to check those before you buy anything.
Vintage and Development Themed Decorations
One of the most eye-catching ways to make your wedding car stand out is by incorporating vintage and development-themed decorations. A vintage look can create a timeless atmosphere with a dash of history while carrying a development theme that can show that your new marriage is the beginning of something special. Both routes are unique and have their merits, so it's important to consider the overall vibe of your big day before deciding which route to take.

If you opt for the vintage route, consider adorning your car with white or ivory lace ribbons, pastel florals, and/or pearl accents. For example, adding soft pinks or creams to your chosen color scheme could evoke an elegant feel from eras gone by. Also, remember to select paraphernalia that reads "just married," including bubble dispensers that blow sudsy bubbles, cardboard signs or banners that fly "just married," and stamped tins filled with confetti—all in hues of ivory, cream, and blush if possible.

On the other hand, if you want to go with a modern and progressive atmosphere to represent the start of your marriage, choose decorations that showcase forward-thinking elements such as chrome lettering along the exterior or futuristic-styled metallic objects such as antennas or split spirals on the hood and trunk. Banners proclaiming 'the adventure begins' could also give your vehicle a rustic yet modern feel, especially when paired with natural elements like pinecones or trailing tendrils of greenery and ivy.

No matter what style you ultimately go with, choosing appropriate decorations for your wedding car is sure to elevate its appearance and make it truly stand out.
Retro-Inspired Proportions

Making sure your wedding car stands out from the rest can be easily done by choosing a vehicle with retro-inspired proportions. Modern cars are often built to fit the needs of fuel efficiency and practicality, while older models were constructed with more dramatic curves and angles to create an impression of luxury and emphasize the classic aesthetic of vintage vehicles. A great example of this would be the Mercedes-Benz 600 W100 model from 1965, which was carefully crafted for both driver and passengers to have a comfortable yet beautiful ride. The car features a long hood, well-defined fenders, a wide-stance body with curved edges, and aesthetically pleasing tail lights.

While there are both pros and cons to opting for a vintage wedding car, retro proportions are an ideal choice when you're after a timeless look that will never go out of style. Whether you plan on hiring a professional or using an old family heirloom as your ride, adding decor elements that bring out the vehicle's unique charm without overwhelming it is key. This way, you can make sure all eyes will turn to your magnificent set of wheels while retaining its original essence, which adds an exquisite flavor to the overall look.

With such impressive design options available, vintage cars can be an excellent way to create a lasting impression on your wedding day. By choosing a ride with classic proportions, such as the aforementioned Mercedes-Benz model or another one of your preference, such as the Aston Martin DB4 or Jaguar E-type MK4, you'll successfully bring nostalgia into your celebration with grace and sophistication.
Using old-Fashioned Elements to Bring Out Nostalgia
Incorporating old-fashioned elements can also create an undeniably nostalgic mood for you and your spouse. Despite modern technology giving us many more choices, there is something special about using classic elements that we have seen in past generations.

On the one hand, modern technology in wedding cars may provide advantages such as speed and convenience. If time is of the essence to you and your spouse, then it might be worth compromising on aesthetics if need be. But no doubt, using classic elements can bring a unique level of charm to your wedding car like nothing else.

For example, why not consider having a few antique suitcases placed on either side of the trunk rack as part of its decor? Or perhaps linens with lace details that are centuries old could drape over the seats for added texture. From patchwork quilts in muted colors to floral prints from generations ago, these touches will certainly bring out the nostalgic atmosphere for everyone involved in this special day.

It's amazing how such small details come together to create memories that will last a lifetime. And thanks to that, when the time comes for you two lovebirds to get inside the wedding car and start on your new adventure together, doing so in style won't be a problem!
Finding Unique Ideas that Suit The Couple's Love Story
Finding unique ideas that suit your couple's love story can be a difficult task, but ultimately it will be worth it. When coming up with ideas for a wedding car, make sure it speaks to the couple's shared history and journey. A great way to make the car feel even more special is to incorporate an old-fashioned element that brings out nostalgia. This could range from painting the vehicle in a classic color palette, such as white and navy blue, or adding vintage-inspired details, like lace or personal monograms.

However, some may debate this idea, arguing that incorporating too many "old-fashioned" elements could take away from the feeling of luxury. Crafting the perfect wedding car requires forethought and marrying modern chic looks with traditional stylings. If done correctly, one can go for alluring styles like a classic limousine paired with a custom floral arrangement or a sleek sports car adorned with personalized ribbon trimmings. Even though there are many ways to blend modern glamour and classic nostalgia when creating a wedding car, it is important to reflect on the theme and overall style of the nuptials when deciding what to do.

For instance, if the couple has chosen timeless colors such as black and white for their wedding venue, then updating an older model of a car can provide an equally unique look that won't draw attention away from the established theme. Furthermore, personalized features like using initials instead of floral designs or utilizing less bold colors than traditional pink or red decals could help tie together the whole wedding aesthetic without making the vehicle blend into the background.

Overall, when finding unique ideas for a wedding car, one should remember not to overload their choice with too many "old-fashioned" elements that risk detracting from both their wedding and the love story. With creativity and forethought, couples can create an impressive statement that perfectly matches their overall style and theme while still showing off how much they cherish each other's company.
Join The WeddingVibe Today!
You can feel confident and excited about your big day with the help of expert tips to guide you toward making the perfect choice. At WeddingVibe, we are confident that we can help you achieve your dream wedding. We are excited to help you make your wedding day a success and create memories that will last a lifetime! Join us today and discover amazing deals for your dream honeymoon and destination wedding!
Free Wedding
Giveaways + Sweepstakes
Enter sweepstakes & giveaways and enter to win a free honeymoon when you join. New winners are announced every week!