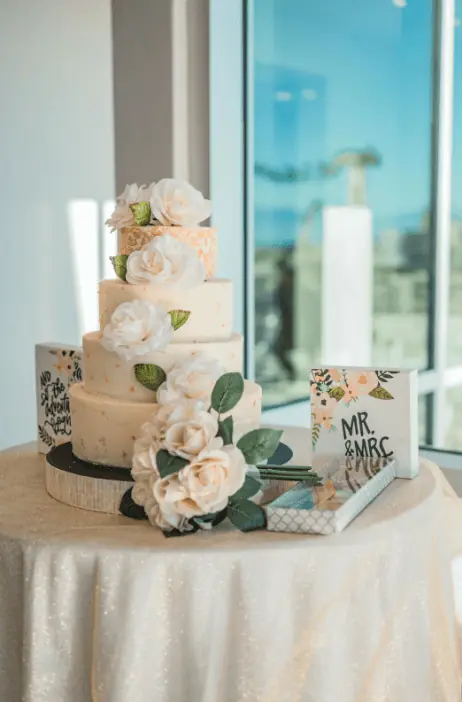 This is it: the big day. You've filled out your seating chart, bought the favors, and taken care of a million and one details. Now, you and your fiancé must get ready to tie the knot, and your wedding cake is the perfect finishing touch. You're looking for something unique that will impress your friends and family— something that will make your heart swoon. Well, you've come to the right place. We've compiled a list of sweet and truly one-of-a-kind wedding cake ideas, and you're about to find the perfect complement for your special day. Read on and get ready to fall in love, because we're about to turn your wedding cake dreams into an amazing reality!
Delicious Flavors to Choose From
When it comes to the flavors of your wedding cake, the options are seemingly endless. From classic strawberry and vanilla to unique rosewater and honey lavender, couples can choose from a range of delicious flavors for each tier. If you're looking for something traditional but still want to improve your cake, try classic combinations like salted caramel or French vanilla with raspberry buttercream. For a more modern twist, why not go for tropical flavors like pineapple coconut or lime zest with basil meringue? Or incorporate a few different fruit-based flavors on one layer to make a flavor medley such as passion fruit, mango, and lemon.

No matter what route you decide to take with your cake flavors, be sure to consider both the taste and appearance of the cake when making your decision.
Classic or Unique Combinations

Using classic combinations is a great way to incorporate tradition and familiarity into your wedding day without having to reinvent the wheel. These options often include fruit-based flavors like raspberry, strawberry, blueberry, etc. Traditional flavor pairings like vanilla bean and fresh cream can also be chosen if desired.

On the other hand, selecting unique combinations gives you the opportunity to create something that's totally new and special by using ingredients that complement each other in unexpected ways. For instance, lavender honey cakes with a refreshing lime curd filling have recently become quite popular among couples looking for something different. If you opt for a savory cake instead of a sweet one, consider combining roasted vegetables, herbs, and cheese for a delectable savory tower.

No matter what type of flavor profile you choose for your cake, make sure both layers pair well together and that there's a contrast in color and texture between them. With so many flavor possibilities—both classic and unique—you can explore endless combinations until you find something that perfectly suits your special day.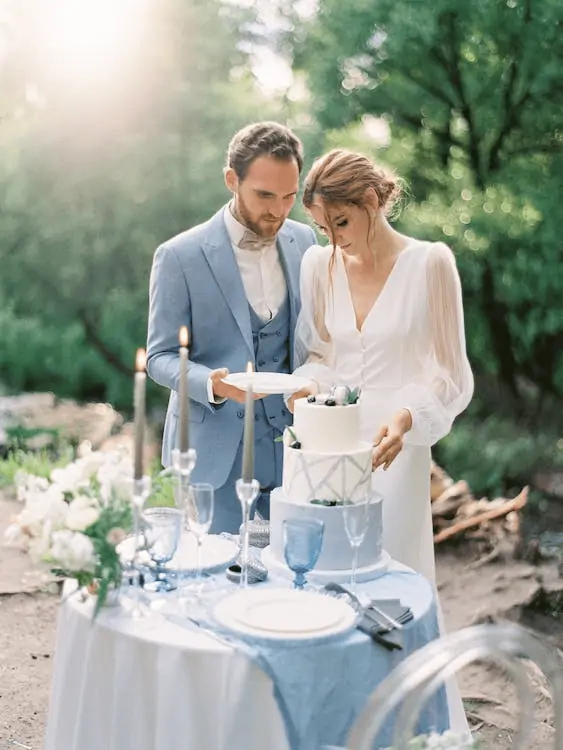 Elegant Design Ideas
When it comes to cake design, couples should also consider the elegance factor of the entire look. Do you want something sophisticated and elegant to truly match the overall theme? Using traditional patterns and components, such as sugar flowers, cascading petals, a sugar bow, and layers of intricate designs, both on paper and in sugar work, can achieve this. If a more modern or contemporary style is desired, then geometric designs or abstract lines may be used along with mixed media decorations.

If a couple is having difficulty deciding between classic and modern designs, they should consider the venue, floral arrangements, and overall wedding color palette before making a final decision. Each option will convey different messages, but both may result in an elegant look. For instance, an ornate and classic cake design could add another layer of romance to a rustic outdoor affair, while modern geometric lines could add an upbeat feel to an urban-chic soiree.

Regardless of the type, cake designs should always reflect the couple's taste and personality while seamlessly working with their event's theme in order to provide an ultimately timeless look that guests can appreciate. To achieve this, couples can research designers who specialize in creating beautiful cakes that capture the essence of their love story while making a statement at their wedding reception. With thoughtful planning and attention to detail, every wedding cake has the potential to become part of a couple's lasting memories.
Statement Centerpiece Cake
When it comes to planning the perfect wedding, there is no better way to draw attention to the big event than with a statement centerpiece cake. This impressive cake is the most important part of your event and will make an unforgettable grand entrance. It can be both elegant and unique in design while also making a sweet and memorable statement.

There are plenty of options when it comes to statement centerpieces, and you don't have to settle for just one. Cupcakes are a popular style of cake that can be decorated as individual bouquets or grouped together in tiers for a more traditional look. Another option is having a three-dimensional design, such as a fondant figure or name plaque with bold colors, lettering, and swirls. Whether you go with the classic or modern look, each can highlight your wedding day with fabulous flair.

The most important factor in deciding on a statement centerpiece cake is making sure you like it. Don't just choose a design because someone else told you it was "the best." After all, this cake represents your relationship—something that should be treasured and enjoyed for years to come.

Creating a stunning wedding centerpiece doesn't have to be overwhelming if you keep the big picture in mind when designing. Keeping in touch with your inner creative genius could result in the perfect combination of elegance and uniqueness for your statement centerpiece cake!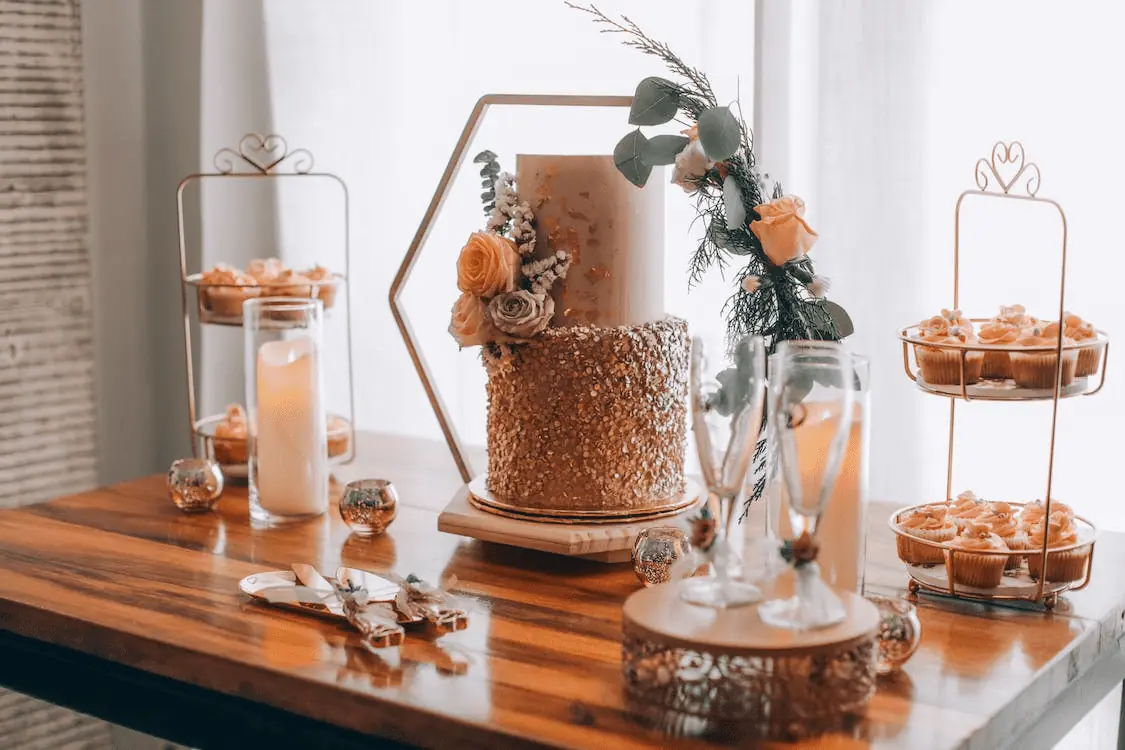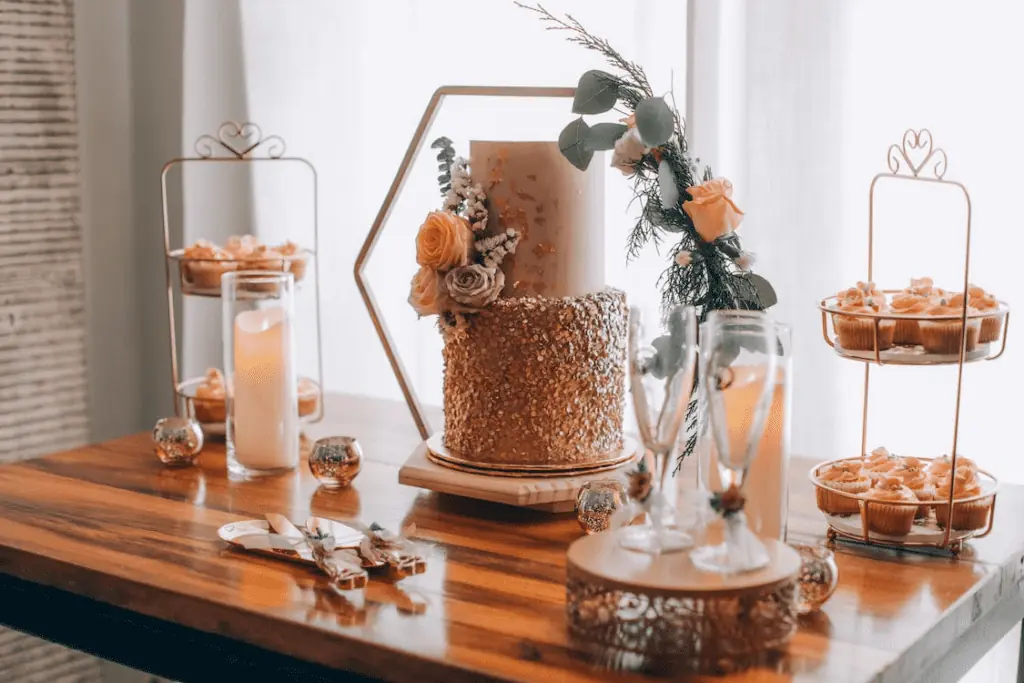 Perfect Serving Options
When it comes to serving options at a wedding, the sky's the limit! From tiered cakes to cupcake towers, you can create an unforgettable experience for your guests that is sure to please them. Of course, there are pros and cons to every option, so it's important to consider both sides when making your decision.

Choosing tiers of cake or cupcakes as your sweet treat lets you serve each of your guests the same delicious dessert. The downside is that guests don't always get the same size slice and may feel disappointed with a smaller piece. Alternatively, if you opt for individual desserts such as bite-sized pies or petit fours, each guest can enjoy a unique tasting experience while also eliminating guest comparison bias. On the flip side, individual desserts do require more time and effort on the part of staff or caterers, as they need to be prepped and served one by one.
Tempting Cake Themes for Your Wedding Day
There is a wide range of themes to choose from, including classic, modern, romantic, and contemporary. For some couples, deciding which theme to choose can be the most challenging part of their wedding planning.

Classical themes have been popular among couples for many years due to their timeless elegance and sophistication. This theme often includes neutral colors such as white, cream, and ivory, with gold or silver accents. The combination of these colors creates an elegant and traditional look that never goes out of style. When designing a cake with a classic theme, adding embellishments such as sugar pearls or lace can take it to the next level.

Modern themes are becoming increasingly popular among young couples looking to make a statement on their big day. This trend typically involves bright colors such as magenta, turquoise, and aqua, along with shapes like ombre ruffles or textured tiers. Innovative ideas like these allow couples to show off their style in a bold way.

For those who are looking for something romantic, choosing soft pastel colors such as pink and lilac is the ideal way to showcase your shared love. Embellishments such as floral motifs and intricate piping can give your cake the extra romance it needs for your special occasion. Alternatively, you could adopt a rustic theme by using natural elements like greenery and twine-wrapped tiers for an extra homey feel.

On the other hand, if you're hoping for something more contemporary, a trendy marble design or an asymmetric cake topped with geometric patterns could be just what you're looking for. Blending bold geometrics and metallic elements will guarantee an eye-catching display that no one will forget anytime soon. Whether modern or classic, there are endless possibilities when it comes to creating the perfect cake for your big day!
Memorable Memories to Make
Creating a wedding cake that commemorates your special day and all the beautiful memories of your relationship is truly a wonderful thing to cherish. Adding intimate touches to your cake can make it even more special and highlight the love you have for each other. These little touches will surely help guests cherish the unique memories you share long after the festivities are over.
Join the WeddingVibe today and get ready to be inspired by endless wedding ideas, exciting giveaways, and the amazing chance to win a luxurious Sandals Honeymoon!
Free Wedding
Giveaways + Sweepstakes
Enter sweepstakes & giveaways and enter to win a free honeymoon when you join. New winners are announced every week!