You have waited for years and years to start planning your wedding day. The time has finally arrived and you have no idea where to begin. You have attended so many weddings over the years and they all seem to blur into one in your mind. You're so excited for your big day, but you want it to be a little bit special and unique. You want your guests to be blown away by the gorgeous setup, your stunning dress and bespoke touches that they've never seen before. Here are just a few ways in which you can achieve this.

A Stunning Wedding Venue

The first element of your wedding day that will make an impact on the guests is your stunning wedding venue. As soon as you discover an amazing destination that hosts unique weddings, you won't be able to resist. If you want your guests to experience that "wow" moment as soon as they walk by, you need to be selective about where you get married. You will know if you have chosen the right venue as soon as you see it.

Bespoke Wedding Favours

There are so many different wedding favour ideas out there, but most of them have been done before. If you really want to put a smile on your guests faces then why not give them something truly tailored to them? One amazing, bespoke idea that many people won't have witnessed before is a personalised poem for each individual guest. All you need to do is write a few facts about each guests on their place name, put it into a rhyme and it will make them feel so special.

Balloons Instead of Flowers

An inexpensive and effective way to make an impact on your guests is with balloons instead of flowers. There are so many amazing balloon companies out there that can really make a huge difference to your wedding venue; balloons are often a fraction of the price of flowers too. From balloon arches to centrepieces, this is a surefire way to make your special day stand out.

A Bridal Speech

Let's face it, you're going to be wearing a completely show stopping gown as a bride, so why not find a way to show it off even more? You don't have to stick to traditions when it comes to making a speech and your wedding; it's time to have your say on your big day. You don't just have to leave it to the best man, the groom and father of the bride to say a few words on your wedding day. Stand up, say your own speech and every single one of your guests will be blown away.

As long as your wedding day is unique and personal to you, you shouldn't care what anyone else thinks. Of course you want to make sure everybody had an amazing time, but you and your partner need to be completely happy too. Consider some of the ideas mentioned above and you will soon feel inspired for your big day.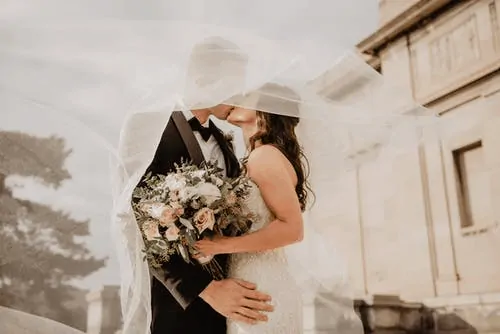 Free Wedding
Giveaways + Sweepstakes
Enter sweepstakes & giveaways and enter to win a free honeymoon when you join. New winners are announced every week!