A wedding is a major life event. There are numerous decisions to be made, whether you are planning a small, intimate ceremony or a large event. Whether or not to have a traditional wedding ceremony is a crucial choice. Formal weddings are often regarded as more traditional and elegant, but they also present unique challenges.
The Benefits of Having a Formal Wedding
One of the primary advantages of having a formal wedding is the elegance, style, and tradition that it entails. Formal weddings are often more lavish, with more attention paid to details like decor and attire. The dress code for formal events for both guests and the wedding party is typically stricter, ensuring that everyone looks their best. A formal wedding can also be a chance to honor the cultural or religious traditions of your family, giving your special day more depth and meaning.
Another benefit of a formal wedding is that it allows for a longer celebration. The ceremony and reception can be more elaborate, with more time for guests to enjoy themselves. This may be especially helpful for couples who are having guests fly in from far away to celebrate their big day. A formal wedding also creates a more memorable experience for your guests, leaving a lasting impression on everyone in attendance.

Lastly, a formal wedding ceremony gives the couple a chance to make memories and take pictures that will last a lifetime. There may not be many opportunities to capture natural moments during the ceremony. However, capturing some of the most important moments on camera or video can help make sure that these special memories stay with the couple long after their wedding day.
Gathering Loved Ones Together in Celebration
A formal wedding ceremony lets you experience traditional marriage and share your love with family and friends. This is a chance to make memories and celebrate your love with loved ones who may have helped you prepare. Having your closest friends and family members there can be a touching experience and give the wedding a feeling of nostalgia that can't be recreated.
Having a Dress Code to Follow for the Ceremony
After deciding to host a formal wedding, the next step is choosing a dress code. A dress code for guests can help your wedding party look uniform. You may request a bow tie, black tie, cocktail dress, or semi-formal attire for guests.
Choosing a ceremony dress code has pros and cons. On the one hand, a dress code lets you create a unified look and ensure that each guest is dressed appropriately for the level of formality at your event. It also ensures everyone looks their best and avoids fashion faux pas that may detract from the overall elegance of the ceremony. However, insisting that everyone dress a certain way may be difficult or costly for some guests, especially if they don't already own any formal attire and would have to purchase something new specifically for the wedding. This could also leave some members feeling uncomfortable or out of place if they are not used to wearing such attire.

With all this in mind, it's important to weigh out these considerations carefully when designing your dress code so you can find something that works for the majority of guests.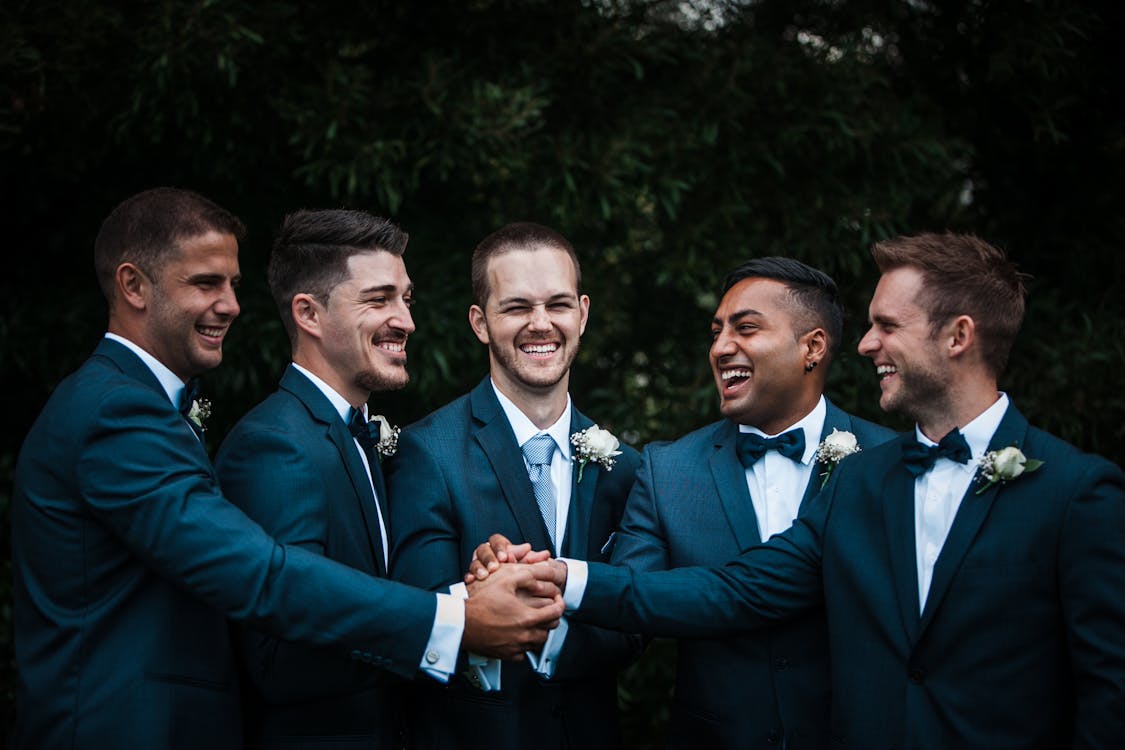 The Drawbacks of Having a Formal Wedding
The drawbacks of having a formal wedding are something to consider as well. It is essential to think about the scope of what one can handle when planning a more grand affair. There's the expectation of larger guest lists, dress codes, expensive decorations, and overly lavish centerpieces that can quickly break the budget. This could ultimately leave the newly married couple in debt or feel overwhelmed by the process and experience. Moreover, guests may feel uncomfortable with a rigid dress code or find the decor too extravagant for their taste. Additionally, formal weddings might not promote an atmosphere conducive to relaxation and socialization; instead, they could feel quite intense and stuffy.

It is important to ask yourself if a formal wedding is necessary or if more casual options might be just as meaningful while being easier to manage. While formal weddings are stunning to behold, they can take a lot of work to organize and may end up costing far more than expected. However, couples who want this ceremony should plan ahead and consider all their options.

In the end, having a formal wedding does have some problems, and couples should be aware of those before making their final decision.
High Cost and Expensive Budget for Planning and Decorations
Another big problem with having a formal wedding is that it costs a lot of money to plan and decorate. Formal weddings require more detailed specifications when it comes to preparations, decorations, and adornments, which can quickly add up. Utilizing expensive linens, flowers, centerpieces, table settings, and seating arrangements is all part of making a formal wedding ceremony look as elegant and flawless as possible. Even the dress code alone requires several expensive garments. Although there may be short-term cost savings if one opts for less formal decor or attire, there is no denying that these decisions will have long-term effects in terms of compromising the classic feel of a formal event.

Also, if a couple wants to have their wedding outside, they may need to spend more money renting a tent and setting it up so that the event stays formal. This is especially true if rain is expected throughout the day. It is a good idea to communicate with one's caterer, florist, and other vendors to get an understanding of how much they charge when looking at planning a formal wedding ceremony.

Whether you choose to have a formal wedding ceremony or not is ultimately your choice. But you have to think about the risks that come with a more formal event, like extra costs and budgeting worries. Even though extra financial burdens can be discouraging, they also give you a chance to get creative with how you manage your money and still reach your classic aesthetic goals. Do your research and talk to professionals to determine how much each part of planning your special day will cost. This will reduce financial stress and keep behind-the-scenes issues from ruining your day. Before making sure your happy day plays out like a fairytale romance novel, it's important to know the different parts of a successful event.
Extra Pressure to Make It a Romantic Event
When choosing a formal wedding ceremony, consider how much pressure there is to make it romantic. On the one hand, you could say that a well-planned formal wedding with decorations, candles, music, and even cake displays make for a naturally romantic atmosphere. However, this can add to the stress of planning a large event as couples feel pressured to pull out all the stops or risk making their big day less than memorable.

Despite this potential pressure, when planned correctly, a formal wedding ceremony can be a beautiful and memorable occasion that allows partners to share their love with family and friends. The upward trend of destination weddings over recent years has also enabled couples to escape some of the more tedious tasks associated with elaborate set-ups. Regardless, couples should remember that regardless of setting and format, at its essence, a special occasion such as a wedding should be segmented in ways that allow celebrations that capture who they are as individuals and as a couple.
Overall Considerations When Choosing Between Formal and Casual Weddings
The couple's budget is also important to consider when weighing the pros and cons of both types of weddings. All weddings cost money, but formal weddings usually cost more than casual ones because tables, chairs, and sometimes even staff need to be rented. Additionally, many venues might charge a higher venue fee when hosting a more formal event. Lastly, couples should make sure that what they're choosing adheres to any religious or cultural expectations they may feel obliged to follow.
Sign Up To WeddingVibe Now!
Ultimately, this decision is up to the couple—if they feel comfortable going against tradition and having an unconventional wedding ceremony, then that's completely fine too. It all depends on what fits best in terms of their sensibilities and wallets.
Join the WeddingVibe today for wedding ideas, an opportunity to win a Sandals honeymoon, and other wedding offers.
Free Wedding
Giveaways + Sweepstakes
Enter sweepstakes & giveaways and enter to win a free honeymoon when you join. New winners are announced every week!