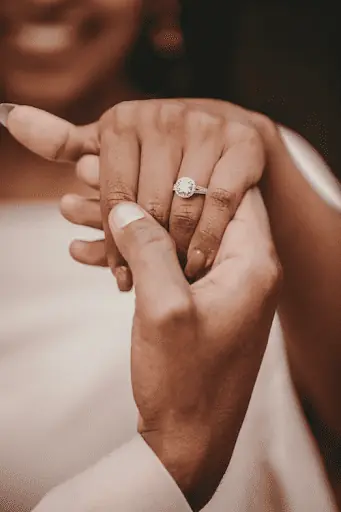 From solitaires and cushions to princesses and pears, the world of engagement rings is
plentiful and diverse, offering a range of captivating cuts and designs to choose from.
While pre-designed rings such as those at Secrets Shhh have their own appeal, many
couples are opting for custom engagement rings to create a unique symbol of their love
and commitment.
In this article, we will outline the pros and cons of designing your own engagement ring, to
help you make an informed decision about whether a custom-made ring is right for you or
your partner.

Pros of Custom Engagement Rings
● Personalization: A custom engagement ring offers you complete creative control
over the design, materials, and details allowing you to create something that
perfectly reflects your partner's personality and style. From the choice of metal
and the shape and size of the stone to any additional embellishments, such as pave
diamonds or colored gemstones, designing your own ring will give you free rein to
personalize your ring.
● Exclusivity: Unlike traditional options, a custom engagement ring is one-of-a-kind,
making it a unique piece of jewelry that will not be found anywhere else. As well as
being a great conversation starter, this element of exclusivity can endow the ring
with greater meaning, emphasizing it as a symbol of your love and commitment to
your partner.
● Quality: When you work with a reputable jeweler to create a custom engagement
ring, you can be sure that the quality of the materials and craftsmanship will be to a
high standard. Designing your own ring also offers peace of mind knowing that the
diamond or gemstone you choose is of high quality and ethically sourced.
Cons of Custom Engagement Rings
● Cost: While custom engagement rings offer the benefits of personalization and
exclusivity, they can also be more expensive than traditional rings due to the extra
time and expertise required. In addition to the cost of materials, you may need to
pay for additional consultations and revisions to ensure that the design is just right.
If budget is a concern, it is advisable to work with a jeweler to explore engagement
ring options that fit your financial constraints while still achieving a personalized
design.
● Time: When creating a custom engagement ring, it's important to keep in mind that
the design and creation process can take longer compared to traditional rings. This
extra time can present challenges, especially if you have a tight timeline or are
planning a surprise proposal. Working with a reputable jeweler who can provide
realistic timelines is key to ensuring that your custom ring is completed in a timely
manner.
● Uncertainty: While a custom engagement ring can be an exciting way to create a
unique and meaningful symbol of your love, it can also bring uncertainty about the
final product. Relying on the jeweler to bring your vision to life can be stressful,
which is why it's important to choose a reputable and experienced jeweler who can
guide you through the process and provide detailed sketches or 3D models to help
you visualize the final product and ensure that it meets your expectations.

By considering the pros and cons of customization, you can choose an engagement ring
that you and your partner will cherish for a lifetime.
Free Wedding
Giveaways + Sweepstakes
Enter sweepstakes & giveaways and enter to win a free honeymoon when you join. New winners are announced every week!