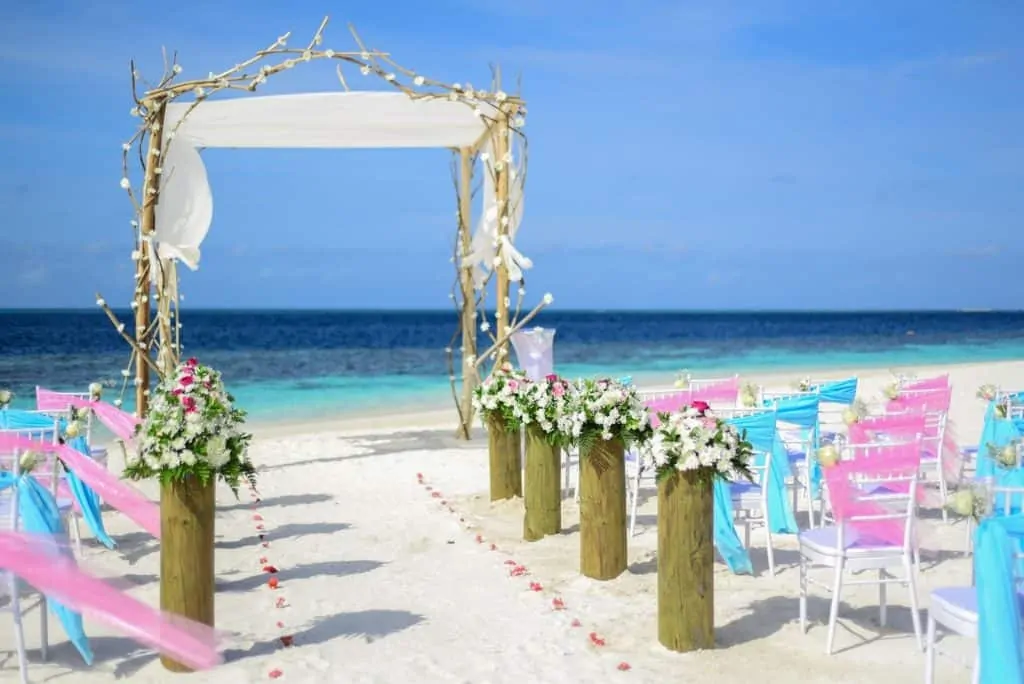 Destination weddings are a great idea for a memorable vacation for everyone invited. It's an ideal way to start your honeymoon. Many people are following this trend nowadays, and turning the entire wedding into the trip of a lifetime. There are some drawbacks, however, to getting married abroad, and it's important to consider whether it's right for you.
If you're planning a wedding in a beautiful faraway location your guests have got to get there as well. Having said that by incorporating the local setting, you could even save money on certain features. Here are some of the pros and cons of a destination wedding.
Pro – Package deals
Many destination weddings are sold as complete package deals. This might make it easier when you're making the difficult decisions. Resorts tend to coordinate ceremony essentials such as a marriage license and officiant. Even though you're planning the wedding from afar, you'll have the information you need at your fingertips.
Con – Red tape
If you choose to arrange your own destination wedding rather than leaving it up to the resort, you could encounter a lot of red tape. Organizing a marriage license in a foreign county for example could be problematic. Many people choose to avoid this however by signing the official documents at home. Even if you celebrate your dream Wedding abroad in Quito, you can still do the paperwork beforehand.
Pro – More intimate
Destination weddings tend to have a smaller guest list. This is due to the fact that it's unrealistic to expect hundreds of guests to travel to the same location. Having a smaller wedding means you can avoid those family and friends you weren't comfortable inviting. It also means you'll save money on your destination wedding in the long run. You'll spend money on flights, but you'll save a great deal on the reception.
Con – Certain guests may not be able to attend
Whereas you'll hopefully get to avoid inviting certain people, those who you actually want there may not be able to make it. If your close friends and family have work commitments or financial constraints, they may not be able to travel. It's a good to plan your destination wedding with these people in mind.
One of the main disadvantages of planning a destination wedding is the guest list. On the one hand, you can keep it small, but then you have to make cutthroat decisions. The cost of travel can add complications for your guests as well.
Pro – Save money on your honeymoon
Often people plan a destination wedding combined with a honeymoon in the same or a nearby location. This means you can save money on your honeymoon, and celebrate in style. You'll be able to get more out of your dream destination. Why not incorporate local culture into your wedding as well? A destination wedding is a great way to extend your honeymoon and have fun in the sun for longer.
Only you can decide whether a destination wedding is right for your special day.
Free Wedding
Giveaways + Sweepstakes
Enter sweepstakes & giveaways and enter to win a free honeymoon when you join. New winners are announced every week!