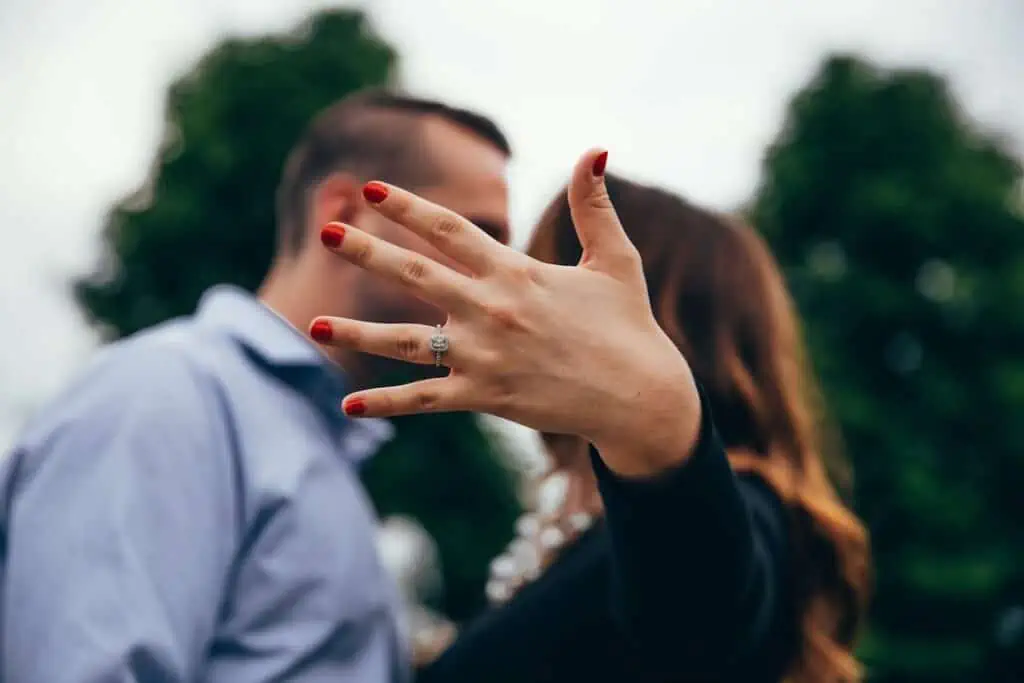 Imagine the look of delight on your partner's face as you unveil an engagement ring that perfectly encapsulates their taste, personality, and love for you – a ring they can't wait to show off to the world. Just like Cinderella's glass slipper, the perfect engagement ring exists.
In our "Ultimate Guide to Choosing the Perfect Engagement Ring", we unfold a treasure trove of tips and advice to help you navigate through the glittering maze of carats, cuts, clarity, and colors. Unearth these sparkling gems of wisdom and embark on a journey toward finding the ultimate symbol of your enduring love story!
Understanding Your Fiancée's Preferences
Choosing the perfect engagement ring is a daunting task for many. However, one simple way to make the process easier and more successful is to pay close attention to your fiancée-to-be's style and preferences. By understanding what she likes and dislikes, you can narrow down the options and select the ideal ring that matches her style.


Diamond preferences
When it comes to engagement rings, diamonds remain a timeless and popular choice for the center stone. However, there are many factors to consider when selecting the perfect diamond for your fiancée's ring.

The most important aspect to consider is the "Four Cs" of diamonds: carat weight, clarity, color, and cut. These four criteria can affect the price, quality, and overall appearance of the diamond.

Carat weight is a wonderful way to appreciate the substantial weight of a diamond. Diamonds that weigh more are typically more expensive and rarer than smaller ones.

Clarity refers to the presence of blemishes and inclusions inside or outside of the diamond. The more flawless a diamond is, the greater its value.

Color is a beautiful and unique characteristic of a diamond, showcasing its natural brilliance. The less color a diamond has, the rarer it is, and thus the more valuable it becomes.

Cut refers to the exceptional proportions and exquisite symmetry of a diamond. A well-cut diamond will have better sparkle and brilliance compared to one that is poorly cut.

While larger diamonds may be more valuable, smaller ones with higher grades on the other three Cs can be just as stunning and valuable at a lower price point. It ultimately comes down to your personal preferences and budget, which means you have the freedom to choose what suits you best!
Style preferences
When it comes to choosing an engagement ring, one of the most important factors to consider is your fiancée's style and preferences. Not only will this ensure that the ring is something she loves, but it will also add a touch of sentimentality to the experience.

If your fiancée-to-be likes delicate and feminine jewelry, then you might want to consider a dainty band with a small diamond or other gemstone. On the other hand, if she prefers bold and statement pieces, then you might want to look into rings with larger stones or unique settings.

It can be helpful to take a look at your fiancée's current jewelry collection as well. What types of metals does she wear? Does she prefer silver or gold? Does she usually wear classic pieces or more modern designs? By taking note of these details, you can get a better idea of her style and choose a ring that complements it perfectly.

Of course, there are plenty of ways to incorporate personal touches into an engagement ring beyond just the setting and style. Consider adding an engraving on the inside of the band, choosing a birthstone instead of a diamond, or incorporating a family heirloom into the design. Ultimately, what matters most is that the ring speaks to both you and your fiancée as a symbol of love and commitment.

Choosing an engagement ring is like selecting a piece of artwork for your home. You want to choose something that not only matches your décor and personal taste but also gives you joy every time you look at it. In this case, envision your fiancée as the beautiful home where the ring will eventually find its place – what kind of artwork (i.e., ring) will perfectly complement her style and bring her joy every time she gazes upon it?


Exploring Different Ring Styles and Sizes
When it comes to engagement ring styles, there are many different options to choose from. Some popular choices include the classic solitaire setting, the glamorous halo setting, and vintage-inspired designs.

Solitaire rings feature a single diamond or gemstone set in a simple band, making them a timeless choice that can work well with any personal style. Halo settings, on the other hand, surround the center stone with smaller diamonds or gemstones, giving it a larger appearance. This style is perfect for those looking for some extra sparkle and glamour.

Vintage-inspired designs often feature intricate details like filigree or etching on the band, giving them a romantic and nostalgic feel. Other popular styles include three-stone rings (which symbolize the past, present, and future) and side-stone rings (which feature small diamonds or gemstones on the band for added drama).

Ultimately, the style you choose will depend on your fiancée's tastes as well as your budget. It's important to keep in mind that while certain styles may be more trendy at the moment, classic designs like solitaires will always be in style.



Understanding ring sizes and fits
The size and fit of an engagement ring are crucial factors to consider when selecting a ring. A well-fitted ring not only ensures comfort but also helps keep the ring secure. No one wants to lose their engagement ring! Therefore, knowing the right size for your fiancée's finger is essential.

It's important to keep in mind that different fingers may have different sizes, even on the same hand. Factors like temperature, time of day, and moisture levels can affect the size of the finger as well. When measuring for a ring size, it's best to do it at a time when the finger is likely to be at its largest, such as in the afternoon or evening.

There are various methods to measure ring sizes, including using a ring sizing chart or having a jeweler take measurements with specialized tools. One accurate method is by wrapping a thin piece of paper around the finger and marking where it overlaps, then measuring the length in millimeters.

Keep in mind that some engagement rings cannot be resized without compromising the design or quality of the ring. It's vital to consult with a trusted jeweler to ensure that the ring can be adjusted if needed without affecting its appearance or durability.


Selecting the Right Metal for the Ring
Choosing the right metal for an engagement ring can be overwhelming since there are various options available. The most popular choices are platinum and gold; however, each has its pros and cons to consider.

Platinum is a durable, rare, and naturally white metal that doesn't require rhodium plating to maintain its color. It's hypoallergenic and will not tarnish or fade over time. On the other hand, platinum is one of the most expensive precious metals, making it out of reach for some.

Gold is a classic choice that comes in various colors, including yellow, rose, and white gold. It's more affordable than platinum, yet it still has significant value. Gold can be alloyed with other metals to enhance its strength and color.

However, some individuals may have an allergic reaction to certain alloys used in gold. Additionally, gold rings require replating periodically since they can lose their color over time.

Other precious metals include palladium, white gold, and titanium; each has its own characteristics worth considering.
Balancing Budget and Quality
When shopping for an engagement ring, it's important to balance quality and budget. While you may want to splurge on the perfect ring, it's essential to set a realistic budget and stick to it. Determine what you can afford without sacrificing more important financial goals like savings or debt repayment.

Another consideration when balancing budget and quality is whether to buy an engagement ring online or in-store. Online retailers often have lower overheads than traditional brick-and-mortar jewelers, but are they as trustworthy or able to help the customer? In-store locations offer the advantage of being able to view and compare rings in person, with some technical support available if needed. However, It's worth considering whether an online retailer could offer better prices, and with good return policies, one should be able to return anything that might not fit properly or malfunction during the fabrication process.

Think of your engagement ring as an investment – not just an expense. Just like a stock market or cryptocurrency investment, it's essential to do thorough research and make informed decisions. Take the time to shop around for deals and favorable financing options (once you've decided on a retailer).
Consider signing up for mailing lists and cashback opportunities from companies like WeddingVibe that offer wedding sweepstakes and giveaways. Keep in mind, too, that resizing options should be considered.

Sign Up for WeddingVibe Today!
Finding the perfect engagement ring is an exciting and meaningful step toward a lifetime of love and happiness.
WeddingVibe is the perfect partner to help you transform your dream wedding into an unforgettable reality. As we embark on this exciting adventure together, our commitment remains strong, and our dedication is limitless.
By joining WeddingVibe, you open the door to a world of incredible benefits that will enhance your wedding planning journey and make it even more enjoyable. With incredible deals for your ideal honeymoon and unforgettable destination wedding options, we have everything you need to create a celebration of love that will surpass your wildest dreams! Make sure you seize this amazing opportunity to create unforgettable memories that will last a lifetime.
Join WeddingVibe today, and together, we will make your dream wedding a reality!
Free Wedding
Giveaways + Sweepstakes
Enter sweepstakes & giveaways and enter to win a free honeymoon when you join. New winners are announced every week!