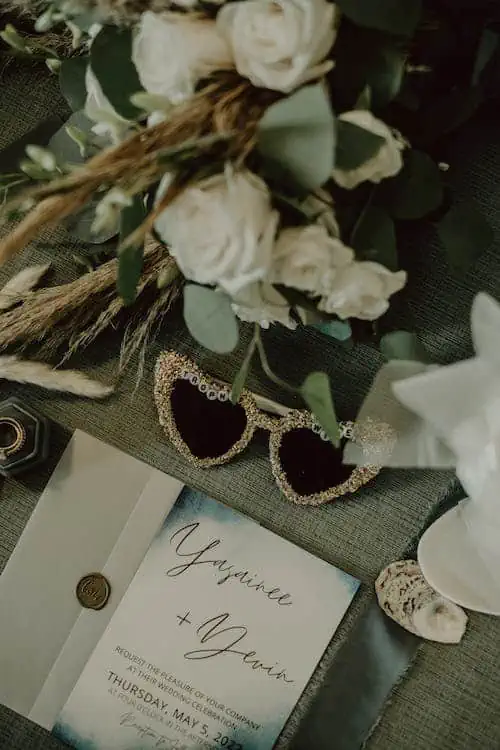 Wedding invitations are essential for setting the tone and reflecting the personality of the couple. Custom invitations with a professional designer can help nail down the look, theme, and color scheme of the wedding, which will be required for almost every aspect of planning.
Invitations serve as a guide for almost every aspect of wedding planning; for example, the wedding scheme can be used as inspiration for the cake and floral arrangements.
Understanding Wedding Invitation Design Elements
Wedding invitations are one of the most important aspects of your big day, as they offer guests a glimpse into what they can expect from your wedding theme and style. When it comes to designing your wedding invitation, it is essential to understand the various design elements that go into creating a stunning and memorable invitation.

One of the most crucial design elements to consider when choosing your wedding invitation is typography. The font you select for your invitation will set the tone for the entire event and can communicate anything from seriousness to fun and playfulness. A classic serif font, such as Times New Roman or Baskerville, will convey elegance and tradition, while a more contemporary sans-serif font like Helvetica or Futura can speak to a modern approach.

Another vital design element is color, which communicates meaning and emotion in nonverbal ways. Colors can set the tone for your entire event and give your guests an insight into what they can expect from your wedding day. For instance, muted pastel colors might evoke a romantic garden wedding, while bold and bright hues might hint at a lively beach party-inspired nuptial.

The texture is another element that you should consider when designing your wedding invitation. Materials like velvet can add depth and dimension to your invitation design and elevate it beyond just paper. Texture conveys an inviting feeling to guests as they run their fingers over intricate designs, adding both visual interest and physical substance.

Illustrations are another beautiful way to infuse personality into your wedding invitation suite. These can be simple line drawings or complex illustrations inspired by the couple's hobbies, shared interests, or anything representing their journey together. An illustration is an excellent way to convey any specific details about the event or venue through icons where words may not do them justice.

Ultimately, understanding these different design elements means that you have greater creative control over the look and feel of your invitations instead of settling on a traditional design without any added personality or uniqueness. By combining these five elements, you can create the perfect balance of style and elegance to match your wedding vision.
Importance of Theme and Color Scheme
Integrating a theme into your wedding invitation suite is an excellent way to set the tone for your special day and give guests an idea of what to expect from your event's ambiance. Your wedding theme encompasses the overarching look and feel of the day, including things like color schemes, decor, and even your dress code.

Your color scheme plays a significant role in creating the overall tone for your event, which makes it essential to match it with your invitation design. When choosing your color palette for invitations, you should consider colors that complement each other and fit seamlessly into your wedding theme. You should also take into consideration both subtle and standout colors that reflect the ambiance you are going for.

Another aspect to think about while integrating a theme into your wedding invitation designs is whether they represent what makes you unique as a couple. For instance, if you bonded over a shared love of books, incorporating typography on vintage-style paper will give it a personalized touch. By infusing elements that reflect their interests or quirks as a couple, the invitees will get an insight into what makes them tick, making them forever unforgettable.

Integrating Personal Styles
When it comes to wedding invitations, it's important to remember that they're not just pieces of paper with some text on them. They're a representation of the couple's love story and personalities. That's why it is essential to integrate personal styles into the invitation design that reflect the couple.

For instance, couples who are avid travelers can include a world map in their invitation design with little planes flying from one country to another. Similar to this, couples with a shared love of music can choose an invitation suite based on their preferred musicians or albums.

Think of your wedding invitation as a snapshot of your relationship. What are the things that make your love unique? Is there any sentimental item that holds a special place in your heart? Use that as inspiration while designing your invitation.

It's essential to personalize the wedding invitation because it will set the tone for all other elements of the wedding. Guests will get a sneak peek into what to expect on the big day by looking at the invitation.

However, avoid going overboard with personalization and including anything offensive or inappropriate. Remember that wedding invitations serve as official documents and should maintain a certain level of formality and decency.


Tips on Customization of Wedding Invitations
Customizing wedding invitations ensures that they are unique, personalized, and speak out loud about the couple's identity. You want your invitation suite to be an accurate reflection of you as individuals and as a couple.

Some tips on customizing include incorporating your preferred fonts and colors and adding graphics or artwork you both love. You might also consider designing a monogram featuring initial letters combined elegantly.

Just like a wedding gown should fit the bride's personality and style, wedding invitations should embody the couple's preferences. It is necessary to work closely with a designer to create an invitation suite that is both breathtaking and functional.

Customizing your invitation has numerous benefits: it sets the tone for your event, gives guests a glimpse of your theme, serves as a keepsake or memento of the big day, and anticipates response cards efficiently.

Working with Professional Designers
Choosing the perfect wedding invitation design is no easy task, which is why many couples opt to work with professional designers. These experts have the skills and knowledge to bring your vision to life in the most beautiful and personalized way possible. But how do you find the right designer for your needs? And what should you expect if you work with one?

First, start by doing some research online to find designers that specialize in wedding invitations. Browse their portfolios to get a feel for their style and expertise. Read reviews from previous clients to see if they were satisfied with the designer's work and customer service.

Once you have a shortlist of potential designers, reach out to them to discuss your ideas and preferences. A good designer should be willing to listen to your needs and offer suggestions on ways to make your invitations more unique and personalized.

Keep in mind that working with a professional designer may come at a higher cost than ordering pre-made invitations online or at a stationary store. However, the added cost may be worth it if you want a truly one-of-a-kind design that reflects your personalities as a couple.

Think of it this way: Your wedding day is one of the most important days of your life, and your wedding invitation is the first impression that guests will have of what's to come. Investing in a professional designer can ensure that this first impression is not only memorable but also sets the tone for the entire celebration.
Managing Invitations Timeline and Budget

Set a realistic budget for your invitations before starting the design process. This will help you avoid overspending or having to cut corners later on.

Work closely with your designer to ensure that the design process stays on track and within the allotted budget. Be upfront about your budget constraints so that they can provide options that fit your needs.

Keep in mind that extra add-ons like custom envelopes, wax seals, or hand calligraphy may come at an additional cost. While these details can make your invitations stand out, they are not always necessary and can quickly add up in terms of cost.

Think of managing your invitation's timeline and budget as a balancing act. You want to ensure that you have enough time to design and send out your invitations while also staying within your set budget.

It's important to send out your invitations on time—typically 8–10 weeks before the wedding date—to allow guests enough time to RSVP and make travel arrangements if necessary. Sending save-the-date cards well in advance—at least one year before destination weddings—can also be helpful.

Managing your invitation timeline and budget requires careful planning and organization. Consider working with a wedding planner or day-of coordinator who can help you stay on track and manage logistics throughout the entire planning process.

Remember, choosing the perfect wedding invitation design is just one aspect of wedding planning. By working with a professional designer and managing your timeline and budget carefully, you can ensure that this first impression sets the tone for a truly unforgettable celebration.
Join the WeddingVibe today!
WeddingVibe is the ultimate resource for all things wedding-related! From the perfect wedding invitations to the best vendors and honeymoon planning, we are here to ensure that your big day is truly unforgettable!
We are committed to making your entire wedding planning journey smooth and worry-free. Discover the endless possibilities on our website as you explore our exclusive honeymoon deals and packages, wedding ideas, and more.
And that's not all – we also strongly believe in giving back to our amazing couples! Visit our website today and seize the opportunity to enter our wedding giveaways and sweepstakes! You could be the lucky winner of incredible prizes that will truly elevate your wedding experience.Trust WeddingVibe to be your incredible wedding companion. Sign-up with us now!
Free Wedding
Giveaways + Sweepstakes
Enter sweepstakes & giveaways and enter to win a free honeymoon when you join. New winners are announced every week!