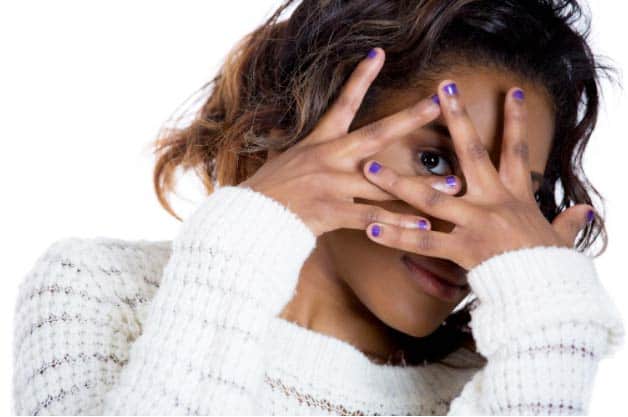 Some brides dream about their perfect wedding day and love the attention of being in the spotlight. Other brides face the actual ceremony with absolute dread. While the picture may be perfect with every detail falling into place, introvert brides tend to clam up when the cameras—and the guests—place them at the center of all the attention.
For introverts, the realization that the engagement will lead—possibly—to a huge wedding in a ceremony filled with hundreds of guests leads to complete panic. Extroverts love attention, introverts loathe it. In fact, I almost had a panic attack before walking down the aisle. My hands trembled horribly during the ring exchange. Today, I would plan a different wedding. There wouldn't be a huge guest list. I might even opt for a private beach wedding! I wouldn't give into what the magazines told me I should do…because there is no single definition of the perfect wedding.
While the ceremony was tough, there were still aspects that captured my personal vision of the perfect wedding. And I can attest—from experience and from a few hindsight regrets—that quiet introverts deserve a dream wedding that captures pure perfection.
So for all of my fellow introverts, here are a few suggestions on how to plan (and survive) your dream wedding:
Planning
I planned my wedding from out of state during college. So my mom and dad actually met with many of the venues. When it was time to choose flowers or other details (like the cake), my fiancé was involved in meetings with a lot of the vendors (especially the taste testing). If he wasn't there, my mom came along. I don't know that I would have been happy or comfortable handling it all solo. If social situations make you anxious, have your mom, a friend or fiancé tag along and offer advice and feedback during vendor meetings. Since my parents paid, I also felt they had a right to know and approve expenses.
The Guest List
Our guest list numbered in the hundreds. While not everyone attended, the number of people at the ceremony still seemed intimidating to me when the church doors opened. As the bride, you will be the center of attention. It's OK to limit your guest list to a number that makes you comfortable. While parents may often pay, you do have a voice. Speak up…because, trust me, your parents do not want you to panic before walking down the aisle. Talk to your fiancé and come up with a guest list that makes you both happy. If you need to cut guests, opt to cut work colleagues, extended family and distant friends. And, you know, eloping is always an option!
Alcohol
Don't imbibe on your wedding day to loosen up. Yes, alcohol might be known as liquid courage, but drinking can backfire horribly. A vomiting bride does not photograph well. Too much alcohol, while lowering inhibitions…also may REALLY lower inhibitions. You might say something completely inappropriate to the wrong person…or you may end up stripping in the middle of the reception. Don't chance the embarrassment and keep drinking to a minimum. Just remember, today everyone has a camera and a video recorder on their phone…you may go viral in all the wrong ways! You do not want your wedding hashtag associated with intoxicating pics!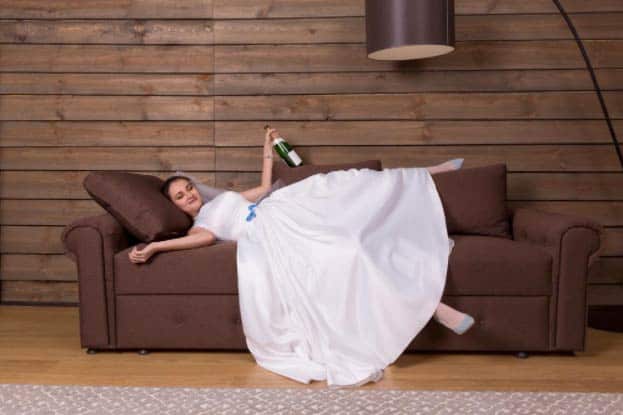 Receiving Lines
One of the most awkward experiences at my wedding was worrying about what to say to every guest. As the guests of honor, you have to make the rounds. We held a receiving line after the ceremony, which allowed us to greet and thank every guest. Receiving lines are great, because they keep moving and conversations must be quick. Prepare a few talking points ahead of time, so you don't feel put on the spot.
Nix the Traditions You Don't Like
We opted for the bouquet toss and the garter toss—two popular traditions. I hated the garter toss! While I'm not insanely modest, the garter toss just caused too much attention. If you don't want the spotlight on you, drop those 'center of attention' moments. Most brides today have nixed the garter toss altogether…it is a little sexist!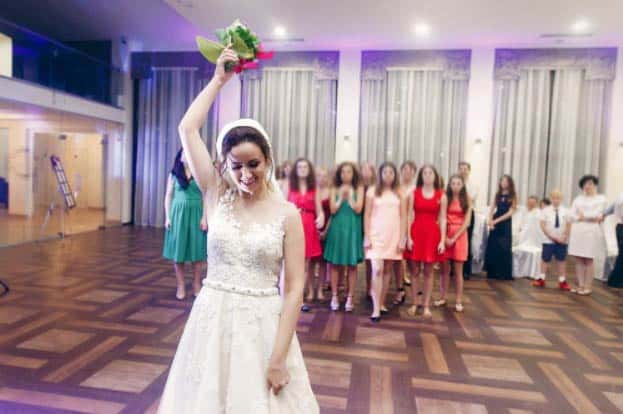 Introvert brides have more difficulty with wedding planning and the actual ceremony than their outgoing extrovert counterparts. Plan the perfect wedding for you and make sure those plans mesh with your personality and your social comfort zone. Your wedding should be a day you anticipate…not dread!
Free Wedding
Giveaways + Sweepstakes
Enter sweepstakes & giveaways and enter to win a free honeymoon when you join. New winners are announced every week!