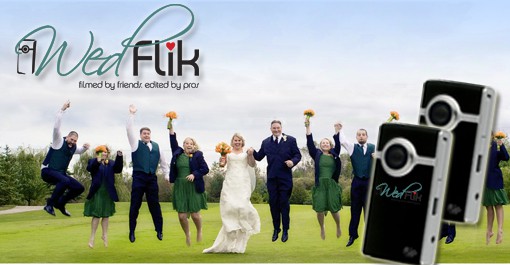 Your wedding video is YOUR love story, so why not have it filmed from the perspective of the people that know you the best and care about you most; your family and friends! WedFlik makes this possible!
WedFlik is a company with 40 years of experience in the wedding industry.  They have perfected the concept of creating your own wedding video by making it easy, fun and affordable. And they really do make it easy.
WedFlik sends you five, HD quality, easy to use point-and-shoot video cameras. You can then distribute the cameras to your friends and family at your discretion (a good strategy may be to make sure that a couple cameras end up in the steady hands of some of the more "responsible" members of the family, a few go to the more sentimental members of the family, and at least one goes to that fun uncle in the family who is sure to provide and capture some comedic relief).
After filming, you collect the cameras and simply send them back to WedFlik (WedFlik even provides the box to send them back in, AND pays the postage!) Then WedFlik takes it from there. They offload all of the footage from each camera, and provide you with an HD digital download of all of that wonderful wedding footage.
They also offer several different package options, in which WedFlik edits your video footage, and creates a professionally edited highlight wedding video on a custom personalized laser-labeled keepsake DVD.
You can choose from different video lengths, and you have the option to let WedFlik and their professional editors select the scenes, or you can chose a package that lets you get hands-on and chose the scenes by using the WedFlik Story Maker Website.
One of the best parts of having a wedding video is watching it with your friends and family and revisiting all of the fun and loving moments. But for those friends and family that are too far away to come watch the video with you in person (or those that you need a little break from…..) WedFlik offers packages where they host the video online for a year, so everyone can watch and enjoy it, no matter where they live.
In comparison to a traditional videographer, one of the biggest advantages of WedFlik is obviously cost, (packages start at just $349).
Videographers are wonderful.  But the reality is, they can only be in one place at one time.  And there will be many things happening in many different places on your wedding day. Having 5 WedFlik's cameras covering the action gives you 5 times as much footage, and 5 times the angles and perspectives, much of which you would miss out on seeing with a traditional videographer.
Most wedding videos begin before the ceremony, and end when the bride and groom leave the reception. But with WedFlik, you are on your own schedule, which allows you to get bonus footage; arrival of out-of-town guests, day-before spa outing, rehearsal dinner, brunch, gift opening, bachelorette party…..
So if you want a new, fun and affordable way to create a unique, personal wedding video that you will cherish for a lifetime, check out WedFlik!
CLICK HERE to learn more about WedFlik!
Free Wedding
Giveaways + Sweepstakes
Enter sweepstakes & giveaways and enter to win a free honeymoon when you join. New winners are announced every week!